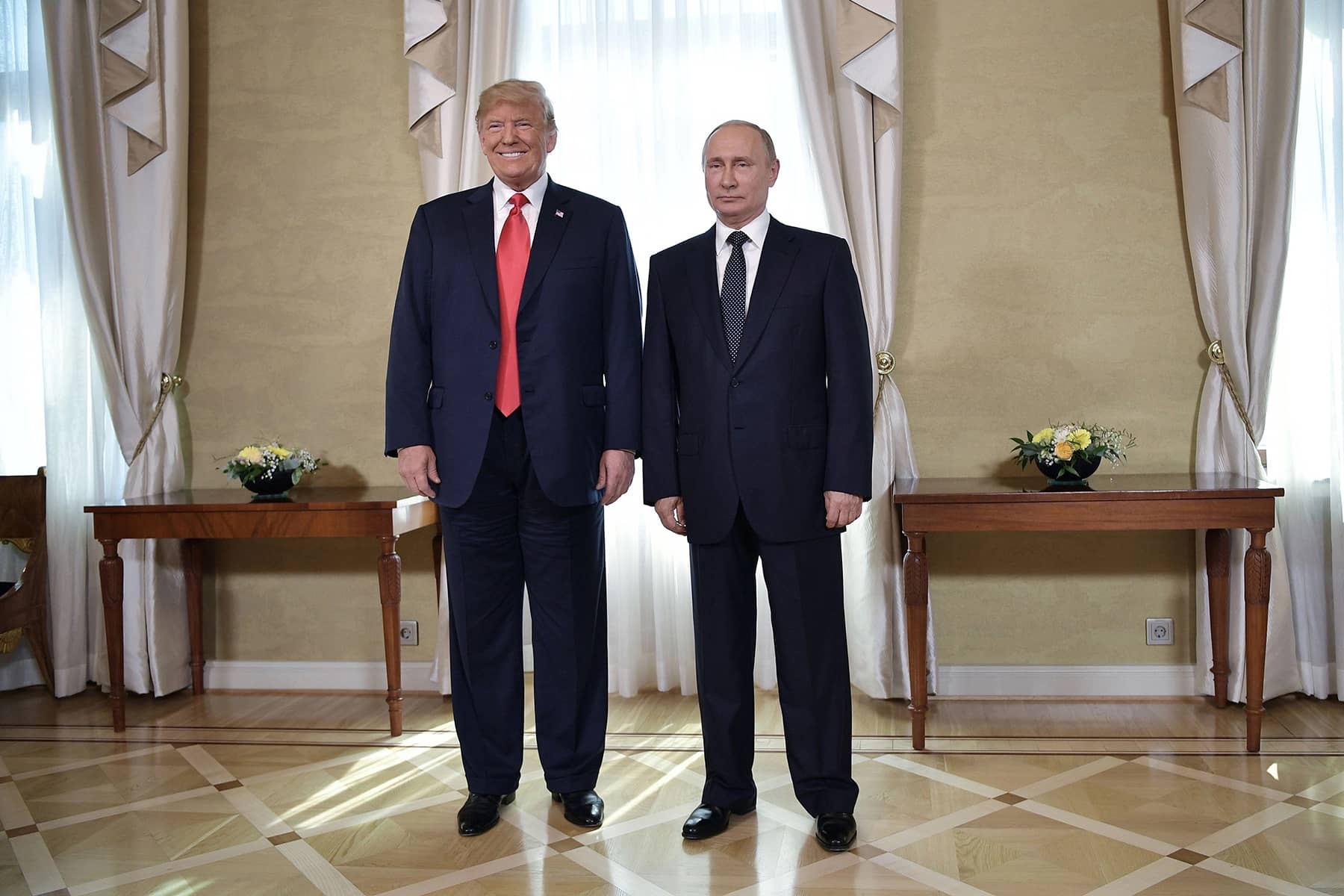 Vladimir Putin planned to conquer Ukraine by May 9, Russia's annual "Victory Day" celebrating the defeat of Nazi Germany. Instead, he failed miserably and is a global pariah. NATO and U.S. support for Ukraine made all the difference.
But consider this: Putin fell just one U.S. presidential election short of swift and complete success in Ukraine. Prior to the 2020 election, then-President Donald Trump told aides that he planned to withdraw the U.S. from NATO in his second term. And as recently as April 21, 2022, Trump boasted that, as President, he threatened our NATO allies, saying that he would not defend them against a Russian attack. The Trump-Putin alliance was always hiding in plain sight. But Putin's war on Ukraine has made many of the dots easier to connect.
Putin's Motive, Means, and Opportunity
Addressing his nation in 2005, Putin called the collapse of the Soviet Union "the greatest geopolitical catastrophe of the century." Restoring it required the conquest of Ukraine, but he needed help to accomplish that mission. Enter Donald Trump.
The entire U.S. intelligence community, special counsel Robert Mueller, and the bipartisan report of the Senate Intelligence Committee concluded that Russia interfered with the 2016 election to help Trump win.
Launched in February 2017, the Trump-Russia Timeline at BillMoyers.com documented Putin's efforts, as well as Trump's presidential actions rewarding Russia's dictator. When last updated in early 2021, the Timeline had over 2,000 entries. More than 600 relate to Ukraine. Here's a sample:
Paul Manafort
In 2007, Paul Manafort worked as a paid consultant for Ukraine's pro-Putin dictator. By March 2016, the dictator had been deposed and Manafort was broke. Although deeply in debt, Manafort went to work without pay on the Trump campaign. By May, he was its chairman.
Summer 2016: Manafort began pushing the Kremlin lie that Ukraine was responsible for hacking Democratic National Committee computers. For the next four years, that lie became a pervasive Trump talking point.
July 2016: Working behind the scenes, Trump's campaign weakened a Republican Party platform plank that would have armed the Ukrainian popular resistance with weapons to combat Russia's ongoing attacks in Crimea. After Manafort's repeated denials, another Trump adviser eventually admitted that Trump himself had insisted on the change.
Later that month, Boris Epshteyn, a Russian-born Trump adviser, spouted Kremlin propaganda about the illegal seizure of Ukraine's Crimean peninsula in 2014, telling CNN: "Russia did not seize Crimea. We can talk about the conflict that happened between Ukraine and the Crimea… But there was no seizure by Russia. That's an incorrect statement, characterization, of what happened." (Epshteyn is now part of the Trump team urging states to "decertify" the 2020 election of President Biden, which is a legal impossibility.)
August 2016: Manafort met in Manhattan with his Kyiv-based business associate, Konstantin Kilimnik, who had just flown in from Ukraine. Kilimnik was a Russian-Ukrainian dual citizen and former Soviet military officer with ties to Russian intelligence. He and Manafort discussed a so-called "peace plan" for Ukraine that was actually a "backdoor" for Russia's permanent control of eastern Ukraine.
Trump Won!
November 2016: A few days before the U.S. presidential election, the pro-Kremlin leader of the nationalist Liberal Democratic Party of Russia proclaimed that if Trump won, "Russia would 'drink champagne' in anticipation of being able to advance its positions on Syria and Ukraine."
November 9, 2016: When Russia's Parliament learned of Trump's election, it erupted in applause.
January 2017: At the Manhattan Loews Regency Hotel on Park Avenue, Trump's personal attorney, Michael Cohen, met with Trump's business associate, Felix Sater, and Andrey Artemenko, a pro-Putin lawmaker from Ukraine. Artemenko and Sater gave Cohen a supposed "peace plan" for Ukraine.
July 2017: Trump met with Putin in Helsinki. Over the next several months, Trump promoted Putin's lie, telling aides on several occasions that Ukraine had interfered in the 2016 election to help Hillary Clinton. At one point, Trump told a senior aide that he knew Ukraine was the real culprit because "Putin told me."
Trump Extorted Ukraine
April 2019: After Volodymyr Zelensky became Ukraine's president with an overwhelming 73 percent of the popular vote, Putin simplified the process for residents of eastern Ukraine's Donbas region to obtain a Russian passport. Meanwhile, Trump promoted the Russian lie that Ukraine had interfered in the 2016 U.S. presidential election.
June 2019: Trump ordered a hold on distributing $250 million in military aid that Congress had authorized to help Ukraine defend itself against Russia's ongoing attacks.
July 25, 2019: "I would like you to do us a favor though…" Trump said to Zelensky in their now-infamous phone call. He was holding U.S. military aid hostage to demands that Zelensky: 1) promote Putin's lie that Ukraine interfered in the 2016 election; and 2) smear Trump's likely opponent in the 2020 election, Joseph Biden.
September 2019: During a joint appearance on the sidelines of the United Nations General Assembly meeting, Trump urged Zelensky to "get together" with Putin and "solve your problem."
The Putin-Trump Lie Persisted
November 20, 2019: As Republicans on the House Impeachment Committee and throughout Capitol Hill defended Trump's extortion of Zelensky by pushing Russia's lie that Ukraine had interfered in the 2016 election, Putin told an economic conference in Moscow: "Thank God, no one is accusing us of interfering in the U.S. elections anymore; now they're accusing Ukraine."
November 21, 2019: Fiona Hill, a former member of the National Security Council and a leading authority on Russia and Putin, testified before the House Impeachment Committee:
"Based on questions and statements I have heard, some of you on this committee appear to believe that Russia and its security services did not conduct a campaign against our country — and that perhaps, somehow, for some reason, Ukraine did. This is a fictional narrative that has been perpetrated and propagated by the Russian security services themselves.
"The unfortunate truth is that Russia was the foreign power that systematically attacked our democratic institutions in 2016. This is the public conclusion of our intelligence agencies, confirmed in bipartisan Congressional reports. It is beyond dispute…."
But Hill's admonition did not stop Trump and his allies from continuing to push Putin's lie.
November 22, 2019: On Fox & Friends, Trump repeated Putin's lie, saying, "[A] lot of it had to do, they say, with Ukraine."
November 24-December 1, 2019: Appearing on Fox News Sunday, Senator John N. Kennedy (R-LA) said he did not know if Ukraine or Russia was responsible for hacking the DNC server and Clinton campaign emails. Appearing on "Meet the Press" a week later, Kennedy said falsely, "I think both Russia and Ukraine meddled in the 2016 election. I think it's been well documented."
December 2, 2019: Politico reported that the Republican-controlled Senate Intelligence Committee investigated and found no evidence to support claims that Ukraine interfered in the 2016 U.S. presidential election.
December 9, 2019: "We have no information that indicates that Ukraine interfered with the 2016 presidential election," FBI Director Christopher Wray told ABC News.
Trump Remains Loyal to Putin
Trump's initial take on Russia's 2022 invasion was to call Putin "savvy" and a "genius." He has showered endless praise on the Russian dictator, never uttering an unkind word about him. Russia's state-controlled media has replayed all of it.
President Biden and a united NATO deprived Putin of the "Victory Day" celebration that he desired this year. But Putin isn't finished — with Ukraine, Trump, or American democracy. Recently, U.S. intelligence agencies assessed that Putin may increase his efforts to interfere with upcoming U.S. elections.
Compared to the obstacles that Putin encountered in Ukraine, undermining American democracy is his path of least resistance to a momentous Russian "Victory Day" down the road. As Trump and his Republican allies suppress voting, place Trump's minions in critical state positions that could influence election outcomes, and push bogus post-election audits that destroy voter confidence, they have become Putin's accomplices.
Drеw Аngеrеr, Rіа Nоvоstі, and Аlеxеі Nіkоlsky / Pool