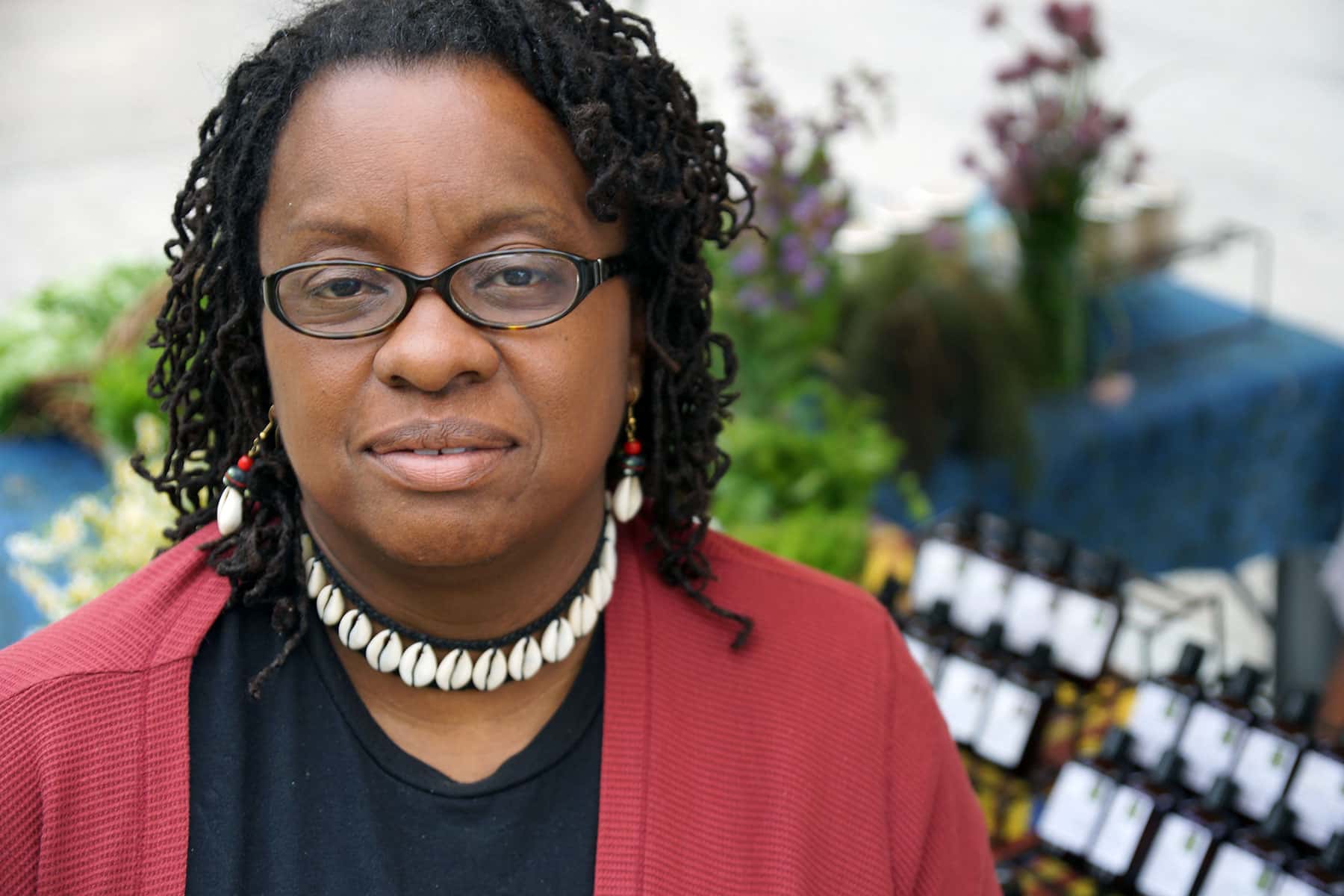 Seeds, Soil, and Soul, a new summer camp program at the Body and Soul Center and Alice's Garden focusing on "STEAM" (science, technology, engineering, arts and math).
Venice R. Williams, executive director of Alice's Garden and a Lutheran minister, is enthusiastic about the summer camp. It consists of one-week sessions for elementary and middle school children.
"It brings together Venice the farmer and Venice the minister," Williams said, adding that people rarely think of her as "Venice, the farming minister. That's what this program brings front and center."
While it's easy to picture Williams, on a hot summer day working with young people in the garden, she seems equally at home at the Body and Soul Center, a year-round facility that houses the Alice's Garden business office. Like the garden, it offers community cooking classes, and programs about health, wellness and spirituality.
Although Williams comes from a family of farmers and gardeners, including her parents, grandparents and great-grandparents, she said she never thought of urban gardening as her future career. She laughed remembering occupations she considered. "My plans were to be a teacher, a child psychologist, an anthropologist at one point, or a dancer," said Williams, whose first name is pronounced "Venus," like the planet.
Her family history, work in the church, and love for community, food and all things healthy landed her at Alice's Garden, in the Lindsay Heights neighborhood. In 2006, Seedfolks Youth Ministry, under Williams' leadership, was invited to the garden to expand youth programming and help develop agricultural programming at Alice's Garden.
"The power of the plant can impact our lives in so many ways," Williams said. "It's important for me that people understand where their food comes from because you need to be sure that when you go to a farmers' market, farm or garden that the products you see are what they say they are."
Urban green space
Alice's Garden was established 30 years ago as a space for people to gather together to learn how to grow and cook their own healthy organic food. In 2011, the organization won a Milwaukee Award for Neighborhood Development Innovation (MANDI) for public space that helps build the community, as well as a Mayor's Design Award.
In this technology age, it's easy for people to be by themselves or to socialize only with people in their immediate circles, according to Williams.
"There's no question to me that part of what Alice's does is bring folks out of isolation," Williams said. The garden introduces people who would otherwise never meet, she added.
Tracy Hrajnoha, director of partnerships and community engagement at Neu-Life Community Development, said Neu-Life has been working closely with Alice's Garden for years.
"We've been gardening there even before Venice was the director," said Hrajnoha, who manages teen workers who are responsible for taking care of the garden.
"The garden offers that necessary green space in an urban community," Hrajnoha said. "There are so many vacant lots in the community that the garden is in and using the space for good, the community and people to work outside and work in the land, is really healing."
Alice's Garden offers yoga classes, cooking classes, reading circles and programs such as Healthy Mom Healthy Kids, Fieldhands and Foodways, Reclaiming and Nourishing Family Traditions, and Seedfolks Roots and Shoots Club. Fieldhands and Foodways, which celebrates the food traditions of African Americans, honors the garden's historical setting as the birthplace of the Underground Railroad in Wisconsin.
But, Williams noted, "It's the food that draws people in."
Visionary leader
Ylonda Glover, president and chief strategy officer of Tri-Success Management Institute, has known Williams for more than 20 years.
"Venice is a visionary," Glover said. "She is very open and very honest to everyone."
Glover has what she calls a "layered" connection to Alice's garden. She lives three blocks away, is a friend of Williams' and provides board development and governance, strategic planning and business consulting to the garden and the Body and Soul Center.
"At the garden you get a place of hope, understanding, the ability to be courageous and authentic with people of different backgrounds," Glover said.
Williams joked that she uses gardening as the carrot, pun intended, to get people to come into the garden to improve their quality of life. Gardening is the obvious activity that takes place at Alice's Garden, but it is not the only thing.
"You're sharing not just your gardening knowledge and wisdom at Alice's, but you're sharing your lives," Williams said.
Marcia Caton Campbell, executive director of the Center for Resilient Cities, first met Williams about eight years ago when the center began working with Alice's Garden. The Center for Resilient Cities is a non-profit that does sustainable community development, which involves working to build communities that are good for people and the environment through collaborative partnerships. The center redesigned the garden in 2010.
"Venice is an extraordinary person with a huge expansive vision of what the world could and should be," Campbell said. "She makes everyone feel welcome at the garden and is great with empowering people to take things on."
Campbell added that whenever she goes somewhere with Venice, at least a dozen people touch base with her. "Her impact is so broad."
For Williams, the best part of her work is meeting or hearing from people who have been influenced by her work. She recalled a woman who approached her to say, "I watched you raise your children and every time I parent I think, 'What would Venice do?'" Or another woman who 15 years later thanked her for "that night you let me sleep on your couch."
Williams said that moments such as these occur frequently. "It's not about those awards … it's about the fact that someone is a better mother or someone can now use his or her voice when they feel like they didn't have one."
What motivates her most? "To be able to share a vision with other people who also have incredible ideas and good energy and want to see change happen in people's lives and in this city. That's one of the best rewards of this work for me," Williams said.