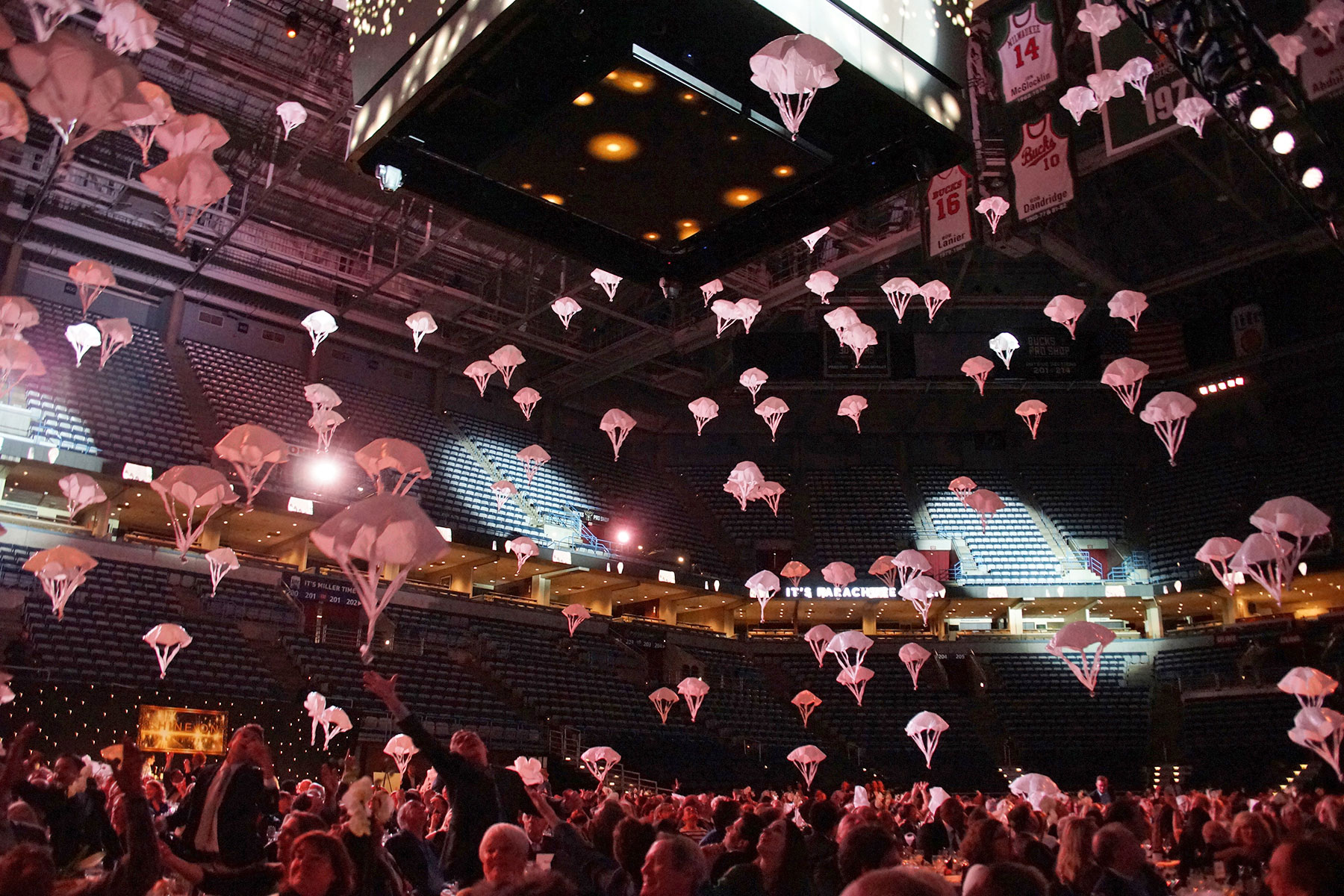 The BMO Harris Bradley Center held a special final season fundraiser and celebration on April 11 honoring Center benefactor Jane Bradley Pettit.
The tribute event collected $401,200, more than twice the $200,000 campaign goal, to benefit 16 local charities dedicated to helping women, children, and families in metro Milwaukee.
The Bradley Center saved professional basketball in Milwaukee when it opened for the 1988-1989 season. It was a state-of-the-art NBA arena that could seat 18,633. Thirty years later, as the Milwaukee Bucks prepare to open a new area in the fall, the sold-out Shine On program was one of the final celebrations hosted at the sports complex before its eventual demolition.
Center Board Chairman Ted Kellner and Gail Lione, chairwoman of the Center's charitable arm, revealed the fundraising total, honoring the gift, impact, and legacy of Mrs. Pettit and the BMO Harris Bradley Center. Held on the arena floor, the event drew more than 900 people, including Mrs. Pettit's children, grandchildren, and great-grandchildren for dinner and an evening of shared memories.
"When we announced the Pay it Forward fundraising campaign last fall, we knew there was no better way to celebrate Mrs. Pettit's generous gift and the incredible history and lasting legacy of the BMO Harris Bradley Center," Kellner said. "Six months later, we are amazed and deeply touched by the community's heartfelt response. The overwhelming success of this campaign is testament to the profound respect our community continues to have for Jane Bradley Pettit and everything her gift has meant to all of us."
Pay it Forward recipients, chosen in conjunction with the Jane Bradley Pettit Foundation and her family, reflect groups and causes Mrs. Pettit supported during her lifetime. They included Big Brothers Big Sisters of Metro Milwaukee, Boys & Girls Clubs of Greater Milwaukee, COA Youth & Family Centers, Hunger Task Force, Literacy Services of Wisconsin, Milwaukee Center for Children and Youth, Milwaukee Public Library, Milwaukee Public Television/PBS Kids, Neighborhood House of Milwaukee, Next Door, Our Next Generation, PEARLS for Teen Girls, Sojourner Family Peace Center, St. Ann Center for Intergenerational Care, St. Marcus Lutheran School, Walker's Point Youth and Family Center
"My grandmother had a generous heart, and her giving was all about people," said Sarah Zimmerman, a BMO Harris Bradley Center Board member and Mrs. Pettit's granddaughter. "It's wonderful to see the way the Center has touched so many people over its lifetime and to know that the final season will support the impactful and transformative work of 16 fine organizations who will continue to make our community better even after the Center closes its doors."
In addition to the Pay it Forward announcement, the Shine On program included videos, music, speakers and other activities celebrating the gift and its impact. Guests also received a commemorative coffee table book highlighting 30 years of BMO Harris Bradley Center sports, entertainment, and memories.
The best days of the Bucks came at the Milwaukee Exposition, Convention Center and Arena (MECCA), when Kareem Abdul-Jabbar and Oscar Robertson led the Bucks to their only NBA championship in 1971
The Milwaukee sports landscape was different in the 1980s. It was clear that the MECCA needed replacing. With a capacity of only 11,000 and no suites, its days as an NBA venue were numbered. Adding to the uncertainty was the possibility of the Bucks leaving Milwaukee after it became apparent the city was not interested in funding a new arena.
Herb Kohl, who would go on to become a U.S. Senator, bought the team for $18 million to keep the Bucks in Milwaukee. Jane Bradley Pettit, heir to the Allen-Bradley fortune and a prominent Milwaukee philanthropist, donated $90 million for construction of the new arena.