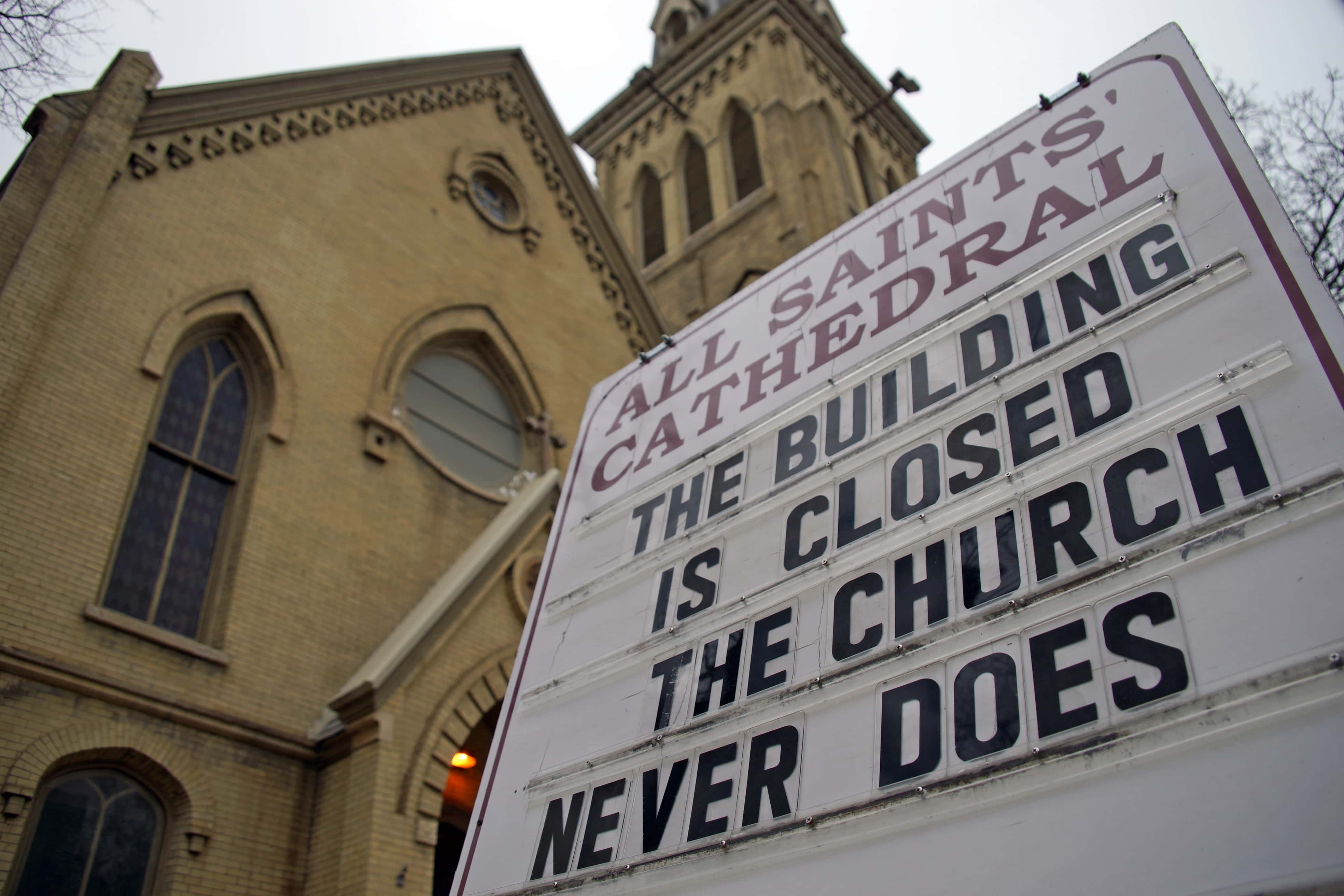 The Interfaith Conference of Greater Milwaukee issued a strongly worded joint-response on April 8 to attempts by State leaders to allow for in-person worship services during a highly contagious pandemic that is sweeping across Wisconsin.
In a letter sent to Governor Tony Evers on April 3, Assembly Speaker Robin Vos and his Assembly Republican colleagues made a specific request regarding the "Safer at Home" emergency order. The representatives asked the governor to work the faith community to allow for in-person worship services, particularly for Easter which is Sunday, April 12.
"During this crisis, it is more important than ever that we allow Wisconsinites to observe their individual faiths," wrote Speaker Vos. "To that end, we ask that you work with Wisconsin churches and temples to allow them to hold Easter or Passover services, even if it's outside. For many of us, being a part of these services will offer much-needed solace during these uncertain times."
The request was presented just days before the Speaker and his Republican associates blocked all attempts to make the April 7 primary election safe for the public, endangering Wisconsin residents – particularly people of color – in what was widely characterized as a political power grab.
The Archdiocese of Milwaukee has already canceled all in-person Holy Week and Easter Masses over concerns about the coronavirus pandemic. Services instead will be livestreamed in English and Spanish.
It is the height of irresponsibility and denial of scientific fact for Wisconsin Republicans to act like religious gatherings should be an exception to a statewide stay at home order. Speaker Vos made the demands to curry favor with his Party's conservative base, not at the request of religious leaders.
Milwaukee Mayor Tom Barrett, who watched a Palm Sunday service online on April 5, said religious gatherings in other states have been linked to large coronavirus outbreaks. He felt that state lawmakers did not care about public safety.
"This disease does not have a religious exemption. As much as I would love this disease to have a religious exemption, a family exemption, a voting exemption, it does not," said Mayor Barrett said. " And it's not just the people who would attend these services, but it would be the people that they would infect. It is disappointing that somehow we have so many people in state government right now who want to make believe that we're exempt from this thing."
To affirm their position on the "Safer at Home" order issued by Governor Evers, faith leaders from across Wisconsin joined together to release a statement of support for the COVID-19 closures, and restrictions of in-person gatherings.
As faith leaders in Wisconsin, we have chosen to demonstrate our love of neighbors by closing our doors during the COVID-19 pandemic. In some cases, our moratorium on all public worship and meetings was put in place even before the State order because we believed this was the best way to protect the greatest number of people and slow the spread of this virus.

The action of Governor Evers helps people to understand the severity of this moratorium. Is it a sacrifice? Yes. People of faith understand sacrifice and what it requires to give oneself in love for others.

Accordingly, we are troubled by suggestions of government leaders that the "Safer At Home" order be lifted on the occasion of upcoming holy days. The collective moratorium is a wise decision that protects both people in the community and our faith organizations. To pull back from that decision – on a case-by-case, congregation-by-congregation, temple-by-temple, mosque-by-mosque, synagogue-by-synagogue basis – puts an undue burden on faith leaders at a time when their energies are best turned elsewhere.

Moreover, those most likely to attend such services are older persons who are particularly vulnerable to the effects of the virus. For our faith groups, this time has been a time of great creativity. Clergy are gathering their people for worship and study through Zoom, YouTube, and Facebook Live throughout the week. Faith organizations are teaming together to offer joint services. Clergy and lay leaders are also reaching out to one another on a regular basis in a number of ways utilizing both new and old technology.

Put simply, social distancing has not required spiritual distancing. Though we will miss our in-person celebrations during holy days, we know our gatherings will be even sweeter and more meaningful when we are at last able to be together again safely, on the other side of this pandemic.

Worshipping in this way has not only attracted our regulars but is an easier entry point for some who, for whatever reason, are hesitant to enter our buildings. While we are grateful for the desire of government leaders to protect religious freedom, we have learned that with freedom comes responsibility. Freedom is freedom for the service and care of others.

As faith leaders in Wisconsin, we agree that the teachings of our various traditions require faithful responsibility and protection of others, and we will continue to strongly urge our respective faith members not to congregate for purposes of communal worship in this challenging time.
Faith organizations supporting the statement by the Rt. Rev. Steven A. Miller, Bishop of The Episcopal Diocese of Milwaukee; and Pardeep Singh Kaleka, Executive Director of the Interfaith Conference of Greater Milwaukee include:
Wisconsin Council of Churches
American Baptist Churches of Wisconsin
Buddhist Peace Fellowship, Milwaukee
Religious Society of Friends, The Milwaukee Meeting
Episcopal Church, Diocese of Milwaukee
Southeast Wisconsin Unitarian Universalist Congregations
Evangelical Lutheran Church in America, Greater Milwaukee Synod
United Church of Christ, Southeast Wisconsin Association
Islamic Society of Milwaukee
United Methodist Church, Milwaukee District
Jewish Community Relations Council/ Milwaukee Jewish Federation/ Jewish Federation of Madison
Wisconsin Council of Rabbis
African Methodist Episcopal Church, Milwaukee District
Presbyterian Church (USA), Presbytery of Milwaukee
Sikh Religious Society of Wisconsin
Sikh Temple of Wisconsin
The Church of Jesus Christ of Latter-day Saints, Milwaukee North and South Stakes
Hindu Temple of Wisconsin
M.T.O. Shahmaghsoudi School of Islamic Sufism
Moravian Church in North America, Western District
The
Milwaukee Independent
began reporting on what was then referred to as the mysterious "Wuhan Virus" in January 2020. Other local media did not picked-up on the story until many weeks later. Our early features focused on the economic impact, social issues, and health concerns long before other Milwaukee news organizations even mentioned the coronavirus. Over the following year, we have published hundreds of articles about the pandemic and how it has affected the lives of Milwaukee residents. This extensive body of work can be found on our
COVID-19 Special Report
page, a chronological index of links by month. Our editorial voice remains dedicated to informing the public about this health crisis for as long as it persists.
For medical resources, please visit the
CDC's COVID-19 page
or the
Wisconsin Department of Health Services
. All editorial content published by
Milwaukee Independent
can be found at
mkeind.com/COVID19
. With a mission of transformative journalism, our staff is free from commercial bias and are not influenced by corporate interests, political affiliations, or a public preferences that rewards clicks with revenue. As an influential publication that provides Milwaukee with quality journalism, our award-winning photojournalism and features have helped to achieve a range of positive social impact that enriches our community. Please join our effort by entrusting us with your contribution. Your Support Matters -
Donate Now