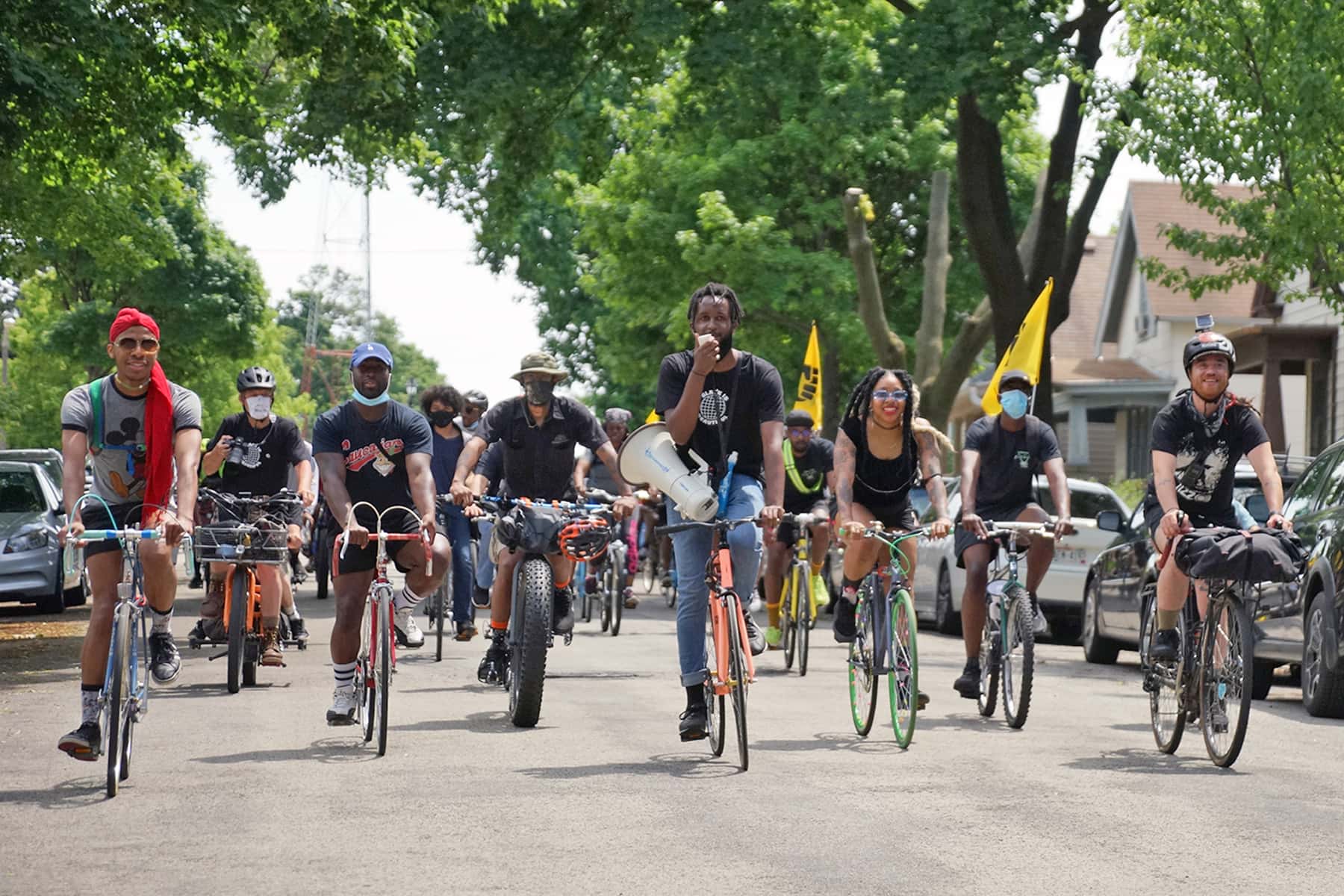 © PHOTO NOTE: All the editorial images published here have been posted to the Milwaukee Independent's Facebook Page. That collection of photos contains the MI copyright and watermark for attribution, and may be used for private social media sharing.
Thousands of people from all over Milwaukee participated in a special "Black Is Beautiful Ride" on June 21. Led by WebsterX, Darius Smith, and Zed Kenzo, the effort was designed to dispel the negative perceptions within white society about people who have a dark skin color.
The 16-mile route on the last day of the Juneteenth weekend went across Milwaukee's diverse neighborhoods. It was a chance for organizers to go beyond the "Black Lives Matter" message, and remind the public that black skin is beautiful too. Bicycles were used as a practical tool for the protest, but also as an instrument for community healing.
"The Black is Beautiful initiative is a message for Milwaukee, to help people remember that our skin is actually beautiful," said Sam Ahmed, who goes by WebsterX for his musical career. "We say 'Black Lives Matter' a lot, which I think is an incredibly important message. But we also need to change how people think about beauty by celebrating our skin color. We have to advocate that positive image, because even the dictionary gives a negative definition for what 'black' means."
The idea for the ride was came about after WebsterX saw a protest t-shirt, and combined it with his love of biking. That recreation helped him endure the social isolation that came with the COVID-19 pandemic, while improving his physical and mental health. In the aftermath of the George Floyd killing and almost a month of continuous daily demonstrations, WebsterX felt that Blacks in Milwaukee could use a purposeful break from the turmoil.
"Aside from promoting the message, the ride is intended to be a mental health break day for people to get together and get out on their bikes," added WebsterX. "It's also an initiative to get more black people to start riding bikes for their physical health, and for white people to join us in solidarity."
The event took place on the 24th day of protests in Milwaukee and was promoted as "a moment to collectively exhale as a community." The marches and chanting would continue, but for one day people of color needed "to feel the wind in our face again. Black Lives Matter. Black Mental Health Matters too."
For individuals who did not have a bicycle, Bublr sponsored a free ride for the day. "Black Is Beautiful" t-shirts were a popular item to commemorate and support the event, with almost $16,000 raised before the ride started. The proceeds will be divided between two local community organizations that serve people of color, Walnut Way and Leaders Igniting Transformation (LIT).
The route began at Kilbourn Park and followed a mobile DJ west – with music provided by Mr. New York – to Washington Park, then South through the Menomonee Valley, east through Walker's Point, north through downtown, and finally ending at Gordon Park. Thousands of people joined the ride, some also with skateboards and roller skates, as the peaceful and orderly crowd moved through the city with minimal disruption to traffic. While an occasional Milwaukee Police vehicle was seen driving by, law enforcement officers were absent from the 6 hour ride.
WebsterX, Smith, and Kenzo had just over a week to plan the event, and were also joined by Steve Roche, Lex Allen, and Christopher DeAngelo Gilbert, who also helped with the after party held at Gordon Park.
Organizers also placed black and brown people at the front of the ride, so that the public could see how beautiful their skin was. White allies followed in support. This extensive photo essay, comprised of more than 300 images, is both a visual documentation of the event and a celebration of the purpose behind the ride.
© Photo
Lee Matz, with special assistance by Claudio Martinez
These headline links feature the daily news reports published by Milwaukee Independent about the George Floyd protests, the revival of the Black Lives Matter movement that followed, and their impact on the local community in for 8 months from May to December of 2020.