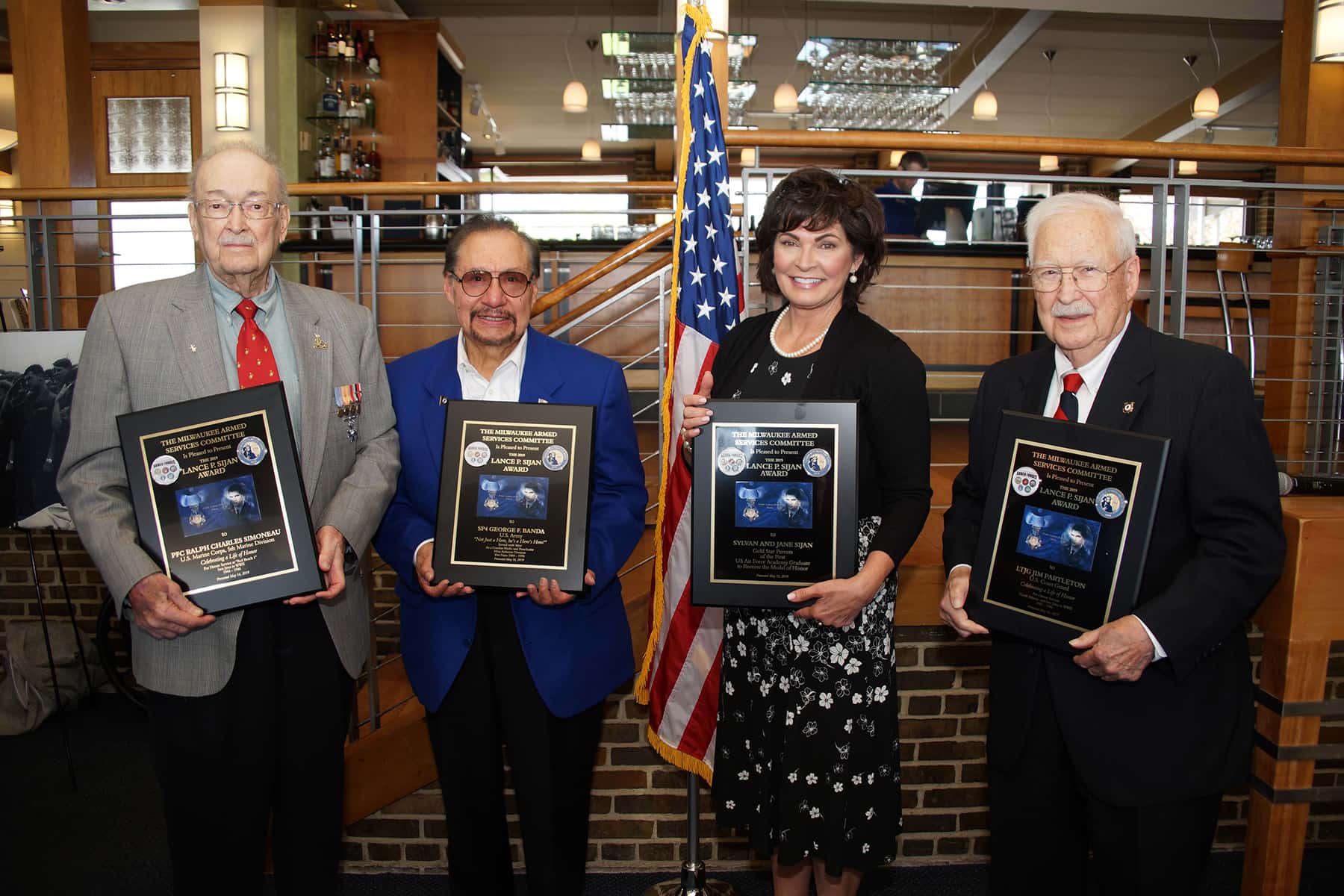 The 2019 Lance Sijan Award Ceremony took place at the Milwaukee Yacht Club on May 16, as the last tribute during Milwaukee Armed Services that recognized local individuals for their valor and service.
Honored at the event were Ralph Charles Simoneau, Jim Partleton, George Banda, and Gold Star Parents Jane and Sylvester Sijan. ​The award was named for Captain Lance Peter Sijan, USAF, the first Medal of Honor recipient from the U.S. Air Force Academy.
A native of Milwaukee Bay View neighborhood, Sijan was an F-4 pilot in Vietnam whose plane went down over enemy territory. Although badly injured, he initially evaded capture but was eventually taken prisoner. His constant resistance and efforts to escape inspired other captives.
Sijan died in 1968 from his injuries, torture, and starvation while in captivity. It was not until other captives who returned after the war and told his story that he was posthumously awarded the Medal of Honor.
Guy Gruters also attended the ceremony as a special guest, a fellow POW and friend of Lance Sijan. Gruters completed more than 400 combat missions over North Vietnam. He was shot down twice and captured the second time on December 20, 1967, spending five years as a Prisoner of War.
"As POWs we lived in dungeon conditions, and one day we had a discussion. It was really tough to live a day at a time, and it looked like we were going spend the rest of our lives there. Some guys wondered what chance we had to make it. So I said, I don't feel sorry for as so much as I feel sorry for our wives and our parents. And the guys asked me what I was talking about. I said, 'I'll give you a choice. Either you were here in a prison camp and your wife and your parents are home, or you are home and your wife and parents are in prison camps – under the same conditions. You don't know anything about them, you don't know what they're going through, you don't know if they're alive, you don't know if they're coming home. What would you take?' To a man they said 'I'd rather be here.' We were in bad shape, but when your heart is torn out on a daily basis, there's nothing you can do. This had to be really tough situation, and that's what Janine's parents went through all those years." – Guy Gruters
About the award recipients
Private First Class (PFC) Ralph Charles Simoneau of Germantown, Wisconsin, served in the U.S. Marine Corps from October 22, 1943 to July 21, 1946. He volunteered for the 2nd Raider Battalion, which combined with other units to form the 5th Marine Division. Upon reaching Iwo Jima, Simoneau and his unit hit "Red Beach 1" on the first of two waves that included 50,000 Marines. None of his fellow Marines or sailors had any idea that they would be fighting in one of the toughest and bloodiest battles in the history of the U.S. Marine Corps.
In total, the 3rd, 4th and 5th Marine Division suffered more than 21,000 casualties, with 7,000 KIAs, during the Battle of Iwo Jima. Seventeen of the twenty-seven Medals of Honor earned on Iwo Jima were awarded to the Marines and Sailors of the 5th Marine Division. Only four of those who participated in the original assault waves survived the battle. Simoneau was one of those survivors. Simoneau spent 36 days on Iwo Jima before getting back on ship.
Immediately after he was discharged, Simoneau enrolled in the Milwaukee State Teachers College, where he met his future wife. He eventually went to work for the Milwaukee County Transit System (MCTS), and retired at the age of 62 after a 30-year tenure.
Lieutenant Junior Grade Jim Partleton, of Mequon, served in the U.S. Coast Guard from 1942 to 1946 and was honorably discharged at the end of WWII. Partleton's first deployment was to the North Atlantic, providing weather reports and then engaged in anti-submarine patrols. After receiving a commission, he steamed about 40,000 miles through the Panama Canal to Pearl Harbor, to the Marshall Islands, Guam, the Philippines, Noumea, and the capital of New Caledonia in the South Pacific. Partleton participated in the landings at Iwo Jima in February 1945 and Okinawa in April of 1945.
The late Jane and Sylvester Sijan were the Gold Star parents of Lance Peter Sijan, the U.S. Air Force Academy's first graduate to receive the Medal of Honor posthumously. The Sijan's supported the USAF, the 440th Tactical Wing of the USAF, and the 128th ARW of the USAF/USAF National Guard for many years. Their devotion to their son and his memory was unrelenting and they did many things for the community in his name. For their strong support, Jane and Sylvester received the first Citizen Lance Sijan Award. It was accepted by their daughter and Lance's sister, Janine Sijan-Rozina.
Specialist 4 George F. Banda, U.S. Army, served with valor as a Combat Medic and Parachutist with the 101st Airborne Division in Vietnam. A graduate from Milwaukee Boys Technology and Trade School in 1968, he received his draft notice in December. Upon completion of Basic Training Banda went to Combat Medic school and qualified as an Army parachutist.
Banda served with distinction in Vietnam from December 1969 through November 1970 spending almost all of the time conducting small unit missions in the jungle. However, his most distinguished service was documented in two remarkable actions, on April 23, 1970 in Thua Thien-Hue Province and May 6, 1970 in Quang Tri Province, for which he was awarded the Silver Star and the Bronze Star with Valor.
Following his military service, Banda became a Firefighter and Emergency Medical Technician (EMT) for Milwaukee County's Mitchell International Airport Fire Department frm 1983 to 2006. He has continued his serve to his community and country through volunteer service that has been extensive and significant.
Milwaukee Independent: When did you first learn about Lance Sijan, and what was his impact on you?
George Banda: I first learned of Captain Sijan back in 1976 when Lance's parents received the Medal of Honor that was awarded to Captain. Sijan posthumously by President Gerald Ford. It was on the news. I learned later of his ordeal of 46 days alone in the jungles of Vietnam severely injured trying to elude capture. As a Vietnam veteran and assigned to a recon platoon. I remembered what it was like being in the jungle with just a small squad deep in enemy territory. "It was terrifying". I thought, this was no ordinary man, to do what he did was extraordinary and took immeasurable determination, strength and guts. For me his example has shown me that you never give up, that no matter what you are confronted with, you have to push on. If Lance could push himself forward against all odds. How could I not try to do the same in my life, and I don't have the extreme challenges that he faced. No mater how bad I believe I have it at times, no way is it as horrible as Captain Sijan had it alone and severely wounded in the jungles and as a POW in Vietnam. "No Way!"
Milwaukee Independent: What does it mean to you to receive an award in Lance's name?
George Banda: I felt so honored just to be nominated and I'm totally blown away by being selected as a recipient of such a prestigious Honor. I mean this is the Captain Lance P. Sijan Award. I have met a few of the past recipients and to be included among them is quite humbling. I still feel like I haven't done enough to warrant this. I feel now that I must do more.
Milwaukee Independent: What would you like the public to remember about Lance Sijan?
George Banda: He was a wonderful human being, a son, a brother, an uncle, a friend A wonderful example of America's Best. Someone from the neighborhood who "done good." A patriot who loved his country and gave his last full measure without question or complaint. All schools should have a program highlighting hometown veterans like Captain Sijan.
Milwaukee Independent: Did you learn any lessons from your Vietnam experience that you still apply today?
George Banda: That tomorrow is never promised. That you hold the ones you love close and never take them for granted. That you love life fully and show love to others.