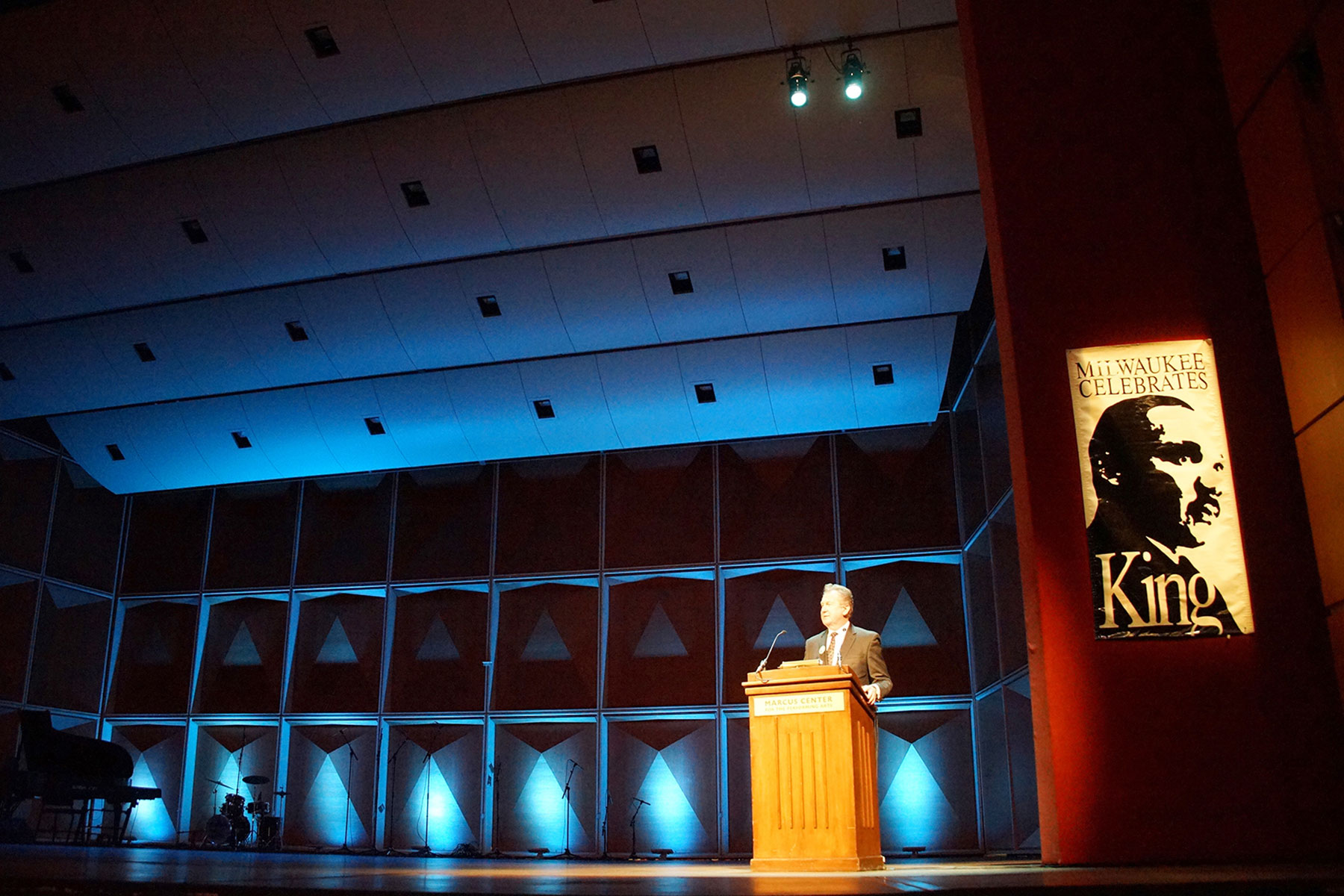 "We all have an obligation to stand up for truth and justice, regardless of who is being targeted." – Ameen Atta
These audio segments were recorded during the 34th Annual Dr. Martin Luther King, Jr. Birthday Celebration at the Marcus Center for the Performing Arts on January 14.
The features include remarks from civic leaders and elected officials, along with presentation from students who won the speech contest. The statements reflected different aspects of Dr. King's dream of equality, but all challenged the audience to stand up against injustice.
"My feet pound on the roads of Milwaukee. The roads are alive with truth, the truth that people would cover their ears to when it was spoken. The people of Milwaukee must realize that through the freedom to protest, with our words, we can achieve justice and provide decent education for every child. If we begin to realize how to achieve justice through truth, our world can change. People must stand up and use their power to speak the truth and protest against those who defy it. Equal education for all is an essential part for people to learn the truth of equality… Martin Luther King Jr. marched, spoke, and dreamed of equality. I have marched for truth, I want to speak up for justice, and I dream of a world where my school can offer the opportunities children need to flourish no matter their race, religion, or financial class. In order to make this change I must continue to march strong and proud for what I believe in… I am going to speak up because I will achieve justice, and I hope you will join me."
– Daisy Kiekhofer, Golda Meir, Grade 8
"It is important to recognize and call out injustice in all forms without exception. But if we want to do something about it, the effort will require more than just yelling. We have to get active." – Chris Abele, Milwaukee County Executive
33rd Annual Dr. Martin Luther King, Jr. Celebration

32nd Annual Dr. Martin Luther King, Jr. Celebration