Chasing the unfulfilled promises of fair housing over the decades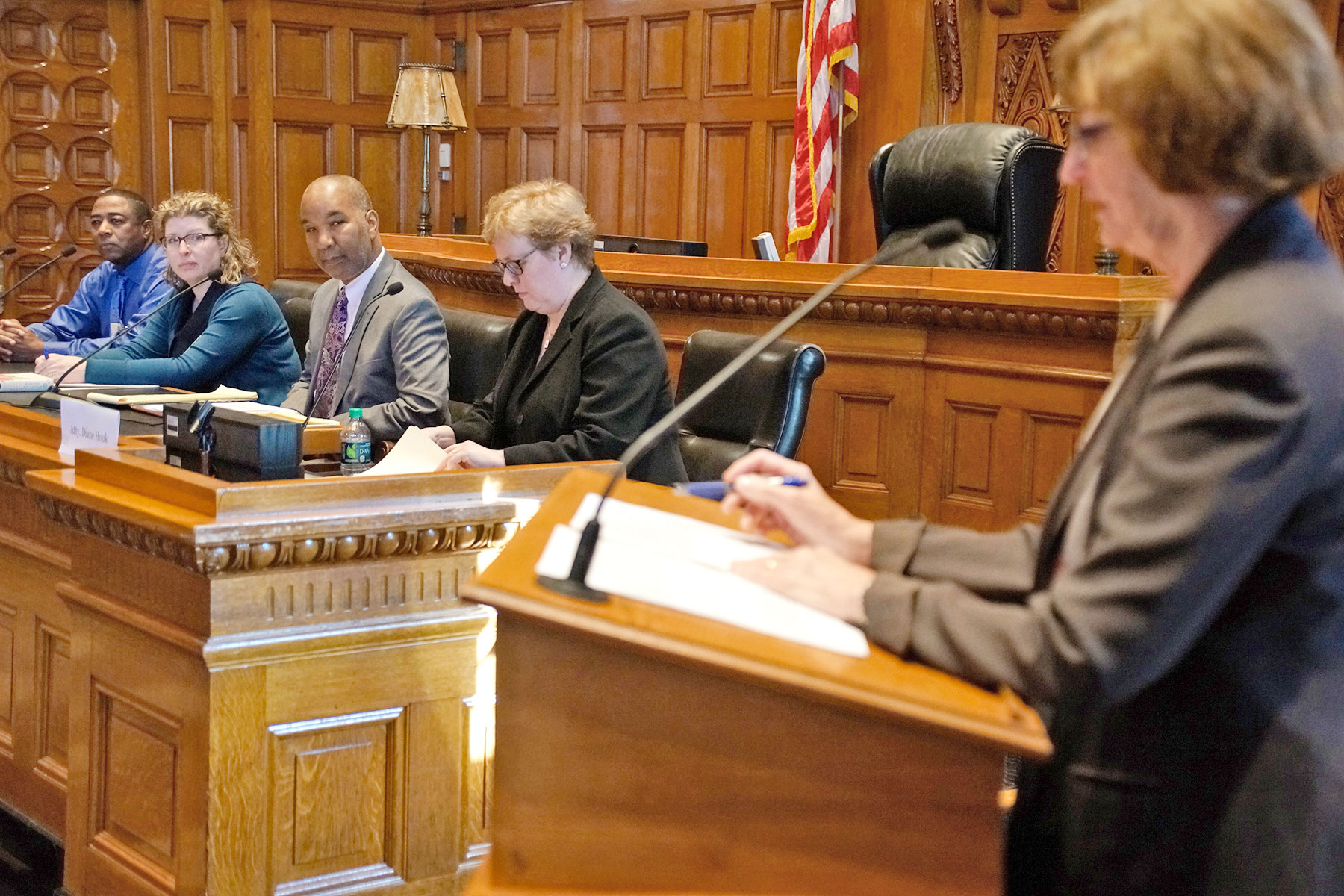 One of the nation's leading fair housing attorneys, and former Senior Trial Attorney at the Civil Rights Division of the U.S. Department of Justice in the Housing & Civil Enforcement Section, Diane L. Houk was the keynote speaker at the "The Promise of the Fair Housing Act 50 Years Later: A Look at the Past, Present and Future" event on March 14.
Hosted by the Eastern District of Wisconsin Bar Association and the Wisconsin Association of African-American Lawyers, the speakers and panel commemorated the 50th anniversary of the fair housing marches, and the passage of the Fair Housing Act.
The program highlighted events that led to the eventually the passage of the Fair Housing Act, and look at national fair housing stories as an indicator of what the future holds for Milwaukee.
Moderated by the Honorable Patricia J. Gorence, Magistrate Judge of U.S. District Court for the Eastern District of Wisconsin, panelists included Earl Bracy, Psy.D., Bracy Psychological Services LLC and 1967-68 Fair Housing Marcher; James H. Hall Jr., Esq., Hall, Burce & Olson SC and former President of the NAACP Milwaukee Chapter; and Kori Schneider Peragine, Metropolitan Milwaukee Fair Housing Council
The presentation by Diane L. Houk covered a broad history of the local fair housing situation, impacted by national events, including, the role of Wisconsin Federal Courts in enforcement of the Fair Housing Act, the changing nature of housing discrimination over thirty years, and Milwaukee's governmental-directed discriminatory housing policies
The audio segments were recorded live during the event, and the companion images highlight the civic leaders and members of the public who attended.
About
A compiled list by James H. Hall, Jr. features the contexts that shaped the establishment, evolution, and current condition of housing opportunities for racial minorities in Milwaukee.
An overview of issues related to housing discrimination practices
Racial Steering – real estate brokers show certain properties and neighborhoods to
only blacks or whites.
Block Busting – Real estate brokers would panic white homeowners to sell their homes at below market value with warning that their neighborhood was turning majority black.
Insurance Redlining – Insurers' practice of refusing to insure or to vary the terms of insurance because of some neighborhood characteristics (racial or ethnic factors)
Hyper-segregation – A community that is highly segregated on all five measures of segregation (evenness, exposure, clustering, centralization and concentration).
Dr. Marc Levine has noted that according to a 1980 study, eight cities in the U.S. were considered hyper-segregated: Buffalo, Chicago, Cleveland, Detroit, Los Angeles, Milwaukee, New York and St. Louis. By 2014, Milwaukee was the only city on the list of eight that was still hyper-segregated.
Predatory Lending – Predatory lending is any lending practice that imposes unfair or abusive loan terms on a borrower. These include adjustable rate mortgages and "Interest Only" rates. It is also any practice that convinces a borrower to accept unfair terms through deceptive, coercive, exploitative or unscrupulous actions for a loan that a borrower does not need, does not want or cannot afford. Communities of color have been the target of such predatory practices. These practices contribute to high foreclosure rates in minority communities.
Reverse Redlining – This occurs when sub-prime mortgages, loans and other negative financing tools are targeted to black and other racial minority communities.
Eminent Domain – Laws that give the government power to take over private land for slum clearance and development purposes.
Occupy Wall Street Movement – A protest movement against financial institutions that started in New York in 2011. It grew to other cities and countries. It drew attention to the fact that 1% of the people have the greatest share of the wealth. The movement focused on the haves and the have nots.
Community Reinvestment Efforts – A movement of organizations that focused on getting financial institutions to make investments and housing loans to under-served areas and racial groups. Numerous organizations such at the National Community Reinvestment Coalition (NCRC) have undertaken this task.
The NCRC found widespread discriminatory practices by financial institutions relative to housing loans based on credit scores.
Low-Income Housing Tax Credit (1987) – It provides tax subsidies for investors who develop low-income housing.
Atlanta Journal Constitution Newspaper – In 1989, it reported Milwaukee had the nation's highest racial disparity in mortgage loan denials. Blacks were denied mortgage loans four times more often that whites. It was the first systematic study of mortgage loan denial rates in the U.S.
Barriers to Home Loans – Subtle forms of discrimination that limit racial minorities' chances of getting home loans include such things as name discrimination, linguistic profiling, predatory lending, and density zoning. The impact of down payments and credit history have also been barriers to home ownership for African Americans and other racial minorities.
Facts on The Federal Housing Administration (FHA) (2012) – A listing of new rules that FHA implemented since 2009 related to FICO Scores (based on five measures: new credit; length of credit history, payment history; credit mix and amount owed) and down payment.
Fair Lending Action Committee (FLAC) – A group formed by Mayor Norquist and Governor Thompson consisting of lenders, regulators, community groups, labor unions, etc., to deal with Milwaukee's loan denial disparity issue.
NAACP vs. American Family Mutual Insurance (1990) – The National Association for the Advancement of Colored people (NAACP), the American Civil Liberties Union (ACLU) and the U.S. Department of Justice filed suit against American Family Insurance charging it with redlining practices in the black community by refusing to write insurance policies in African American communities. In 1995, the suit was settled for $14.5 million. It included $9.5 million for community programs and $5 million for victims of discrimination by American Family Insurance.
Associated Bank – In 2015, Associated Bank settled a $200 million lawsuit with the U.S. Department of Housing and Urban Development, which had accused the bank of disproportionately denying mortgage loans to racial minorities in Milwaukee and elsewhere during 2008-2010. It is the largest settlement of its kind that HUD had ever reached.