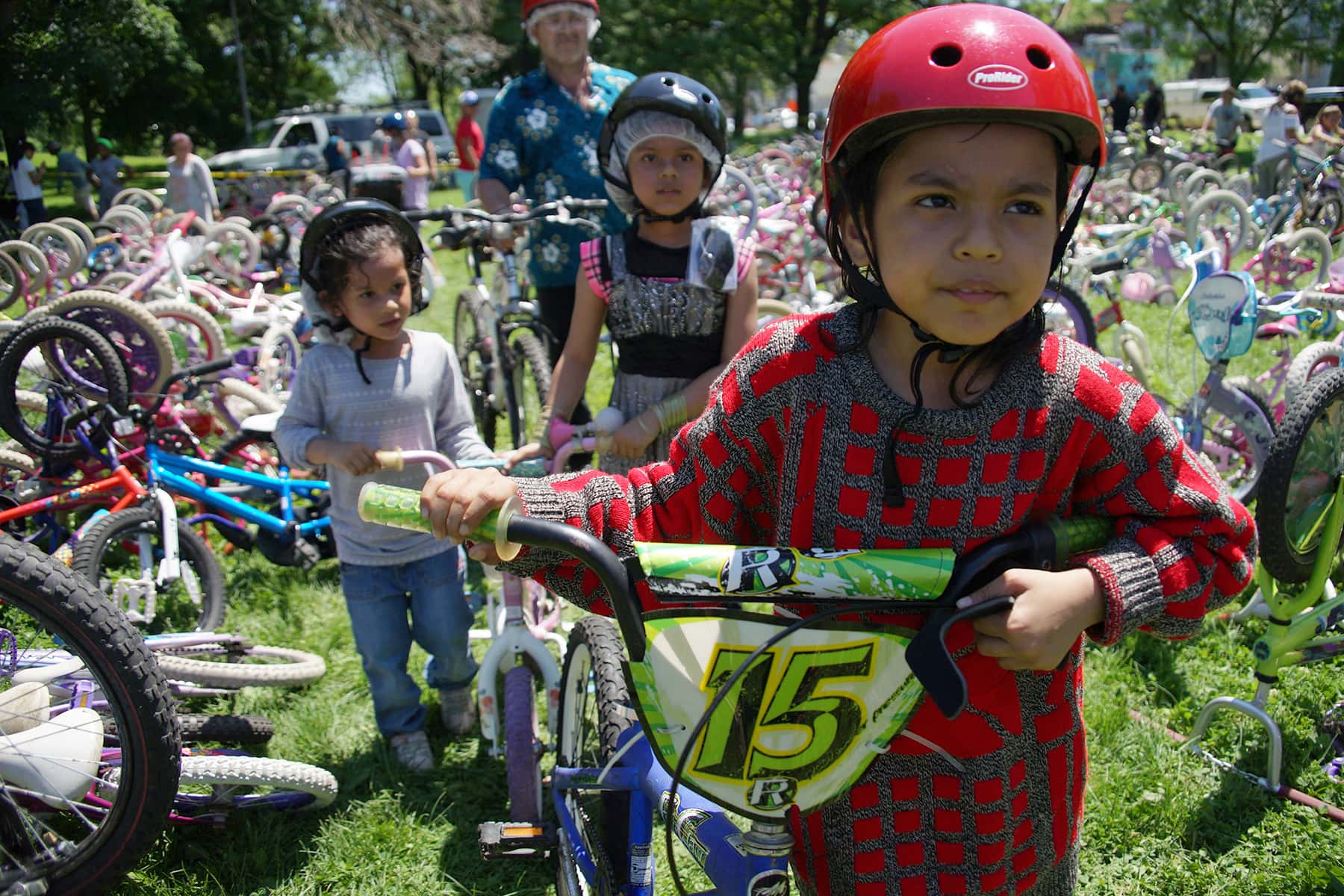 The 8th Annual Sixteenth Street Bike Day was held at Kosciuszko Park on June 29, giving away hundreds of bicycles to south side children and promoting healthy and active lifestyles through safe family biking.
The theme for the free 2019 event was "Community Health in Motion," which also offered bike tune-ups, learn-to-ride clinics, bike safety education, Zumba and Salsa dancing, games for kids, and healthy food demonstrations from WIC nutritionists to a crowd of area families.
"I've seen people come back year after year, sometimes bringing back a bike that they got here and outgrew to exchange for a new bike," said Michael Kryshak, Managing Partner of Rebel Converting. "Families are definitely riding their bikes more around this area, and for some it is an inexpensive form of transportation."
Kryshak coordinated the bicycle donation program with Lake Express in May. The Lake Michigan high speed ferry service offered round trip tickets in exchange for bikes in good working condition. Lake Express collected hundreds of two-wheelers and is the biggest donation resource for the annual bike day.
In order to obtain a free bicycle, families had to visit six of the various educational stations and get a stamp in their event passport. Children were then fitted for a helmet and given a bike lock, donated by Milwaukee-based Master Lock. In under three hours, close to one thousand bikes were given away. Organizers wish they could hold the event more frequently and see other parts of Milwaukee hold similar events.
"I think a bicycle is part of the solution for every problem facing our community. It's not going to fix everything from an economic standpoint, but for the environment, individual health, and so many local issues it makes our neighborhoods stronger," said Dr. David A Waters MD, Pediatrician with Sixteenth Street. "In my opinion, every kid in Milwaukee should have a bike in their life. That is a ticket to living healthier."
The bike giveaway is special because it is an opportunity for the south side community to engage in a local green space as a family and have fun. In addition, it enables and encouraging a new form of fitness activity. Giving away bikes is important because there are many social benefits to riding. Equally important is to show kids the fun of being active and outside within their community.
Sixteenth Street Bike Day was a collaboration between dozens of local businesses and organizations, joining together to support health education. Fans also waited in line for photos with special guest appearances from Milwaukee Brewers Players.
"Our players and wives are excited to be able to connect with kids and families in the community to encourage healthy activity and movement," said Katina Shaw, Vice President of Community Relations and Family Liaison with the Milwaukee Brewers. "We're proud to partner with Sixteenth Street and contribute to the wave of positive change in this great neighborhood."
The event originally started as a healthy choice initiative for the south side community. Dr. Waters recognized that the obesity epidemic going on in America was also affecting the population of the Sixteenth Street Community Health Centers. He felt that seeing people for health check-ups once a year, and telling them simply to eat better and exercise more was not sufficient. The grassroots idea developed into a community event at Kosciuszko Park, giving away bicycles as a better option to high cost intervention.
"We see a lot of joy, which is a wonderful thing. There's nothing more beautiful than watching a kid get a bike for the first time," added Dr. Waters.
Community health is at the center of Sixteenth Street's mission and work. For 50 years, it has been providing quality, family-based health care, health education, and social services free from linguistic, cultural, and economic barriers.
"Creating community-led opportunities for south side residents to come together to learn about and engage in healthy activity is extremely important to moving individuals and the community as a whole towards sustainable, healthy change," said Tatiana Maida, Manager of Sixteenth Street's Healthy Choices Program. "What better way than safe biking to get individuals and families physically active."