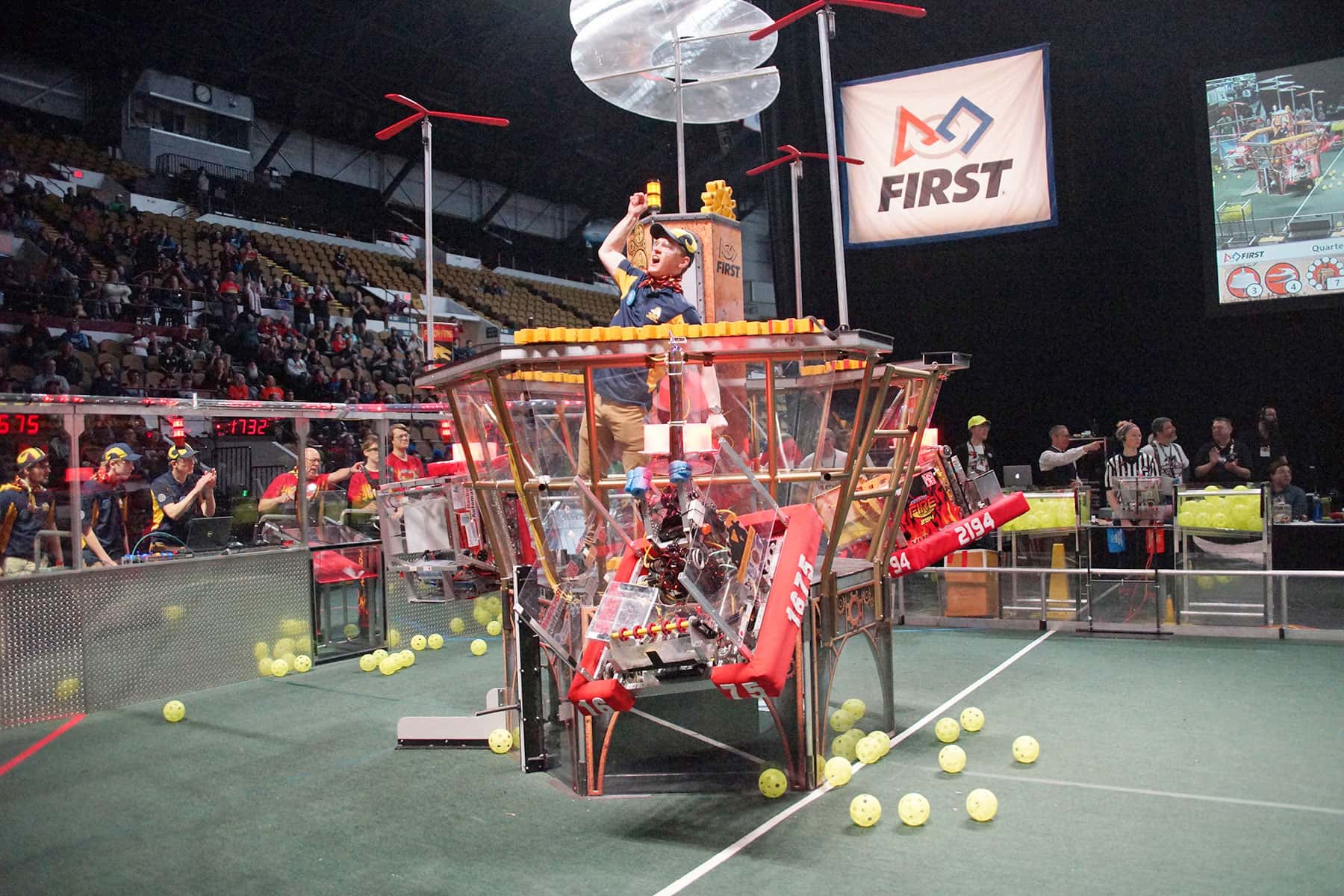 Downtown Milwaukee hosted a battle between minds and robots at the annual FIRST Robotics Competition on March 24 and 25.
Roughly 6,500 pounds of metal, gears, and electronics were used by more than one thousand high school students as teams competed at the steampunk themed engineering challenge. The FIRST Robotics Competition match for 2017 was called FIRST STEAMWorks. Based on an era in which technology relied on steam power, the teams built and operated robots to prepare airships for long distance travel.
FIRST (For Inspiration and Recognition of Science and Technology) has redefined winning for these students because they are rewarded for excellence in design, demonstrated team spirit, gracious professionalism and maturity, and the ability to overcome obstacles. Scoring the most points is a secondary goal, with winning defined as building skills and partnerships that last.
These images were taken during the preparation and qualifying day on March 23, and the final day of the event on March 25. They highlight the enthusiasm and skill of high school students, using their minds to compete in areas representing Science, Technology, Engineering, Arts, and Math (STEAM).
FIRST STEAMWorks competition:
Matches begin with robots touching their Alliance Station wall. Teams may preload up to ten fuel elements and one gear on each robot. Fuel is available in hoppers placed around the perimeter of the field. Additional fuel and gears are available at the alliance loading station.
During the first 15 seconds of the match, robots are autonomous. They work to reach their baseline, score fuel in their boiler, or deliver gears to their airship. During the following two minute period, human drivers remotely control their robots.
Robots continue to gather fuel from the field and the hoppers to score in the boilers. They also collect and deliver more gears. Human players, located behind the Alliance Station Wall, deliver gears and recycled fuel to robots through the Loading Stations.
Steam pressure builds as fuel is added to the boilers. The high boiler produces more steam per unit of fuel than the low boiler. The more fuel scored in the boiler, the higher the steam pressure climbs. Alliances earn points for the amount of steam pressure built.
Each airship has four rotors with some gears missing. Gears delivered to the airship lifts are retrieved by the airship pilots, who then place them in the gear train to engage and spin up the rotors. Each rotor requires an increasing number of gears to become engaged.
Points are awarded for each airship rotor turning by the end of the match. Toward the end of the match, Pilots deploy ropes for their robots to climb aboard. Alliances earn points for each robot secured aboard the airship at the end of the match.