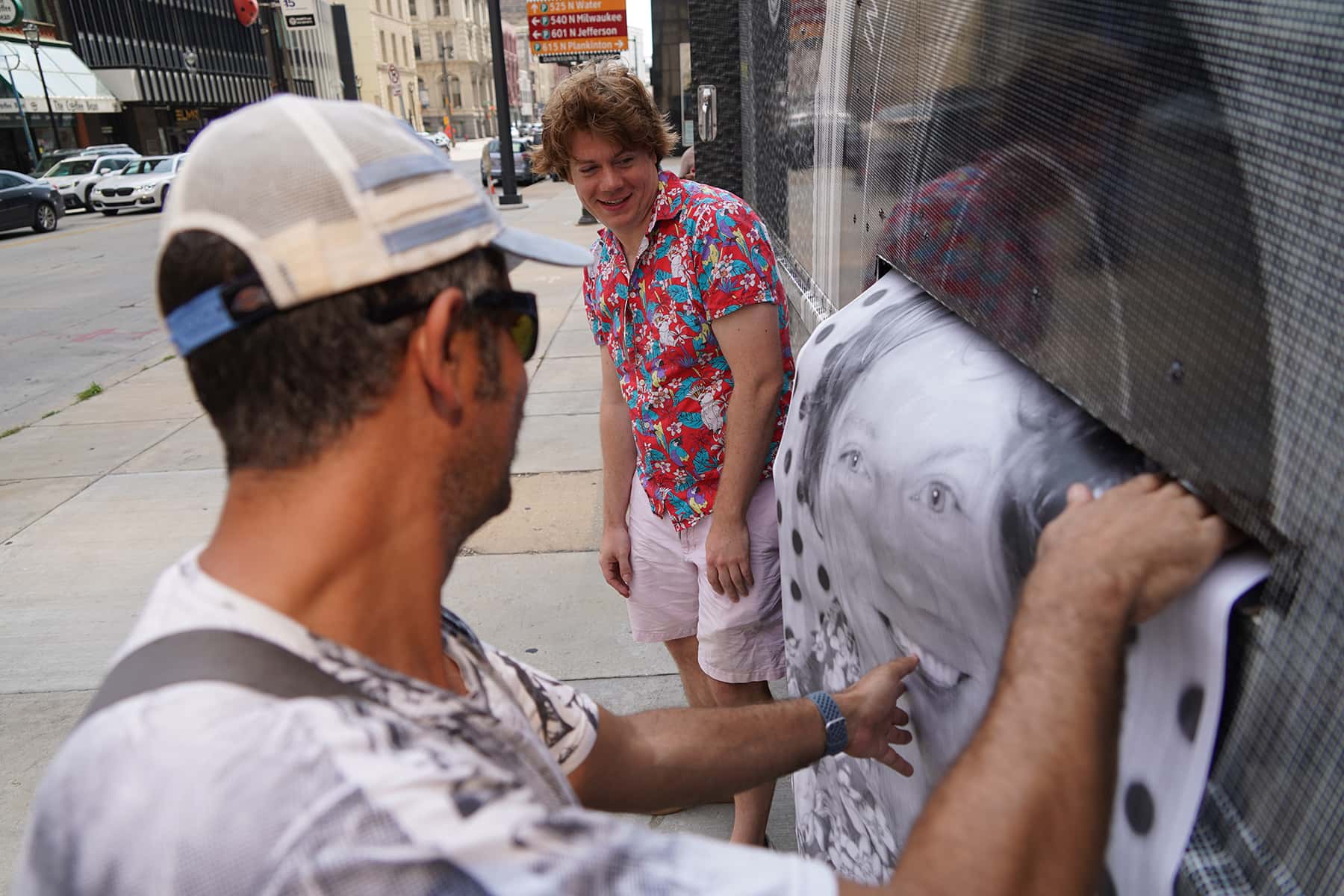 Milwaukee Downtown BID #21 ended its Jumpst(ART) Downtown summer campaign with a visit from the largest global participatory art project on August 27.
The "Inside Out 11M" project, a partnership between French artist JR and Emerson Collective, parked at Chase Tower on the corner of Water Street and Wisconsin Avenue. The visit by the "Citizenship for U.S." photo booth truck marked the second stop of a 16-city tour across the United States, aimed at creating a portrait of America that highlights both our diversity and unity.
Other U.S. tour stops include Madison, Las Vegas, Denver, Philadelphia, and Washington DC. The tour underscores public support for creating a pathway to citizenship for the 11 million undocumented immigrants contributing to America's future, including Dreamers, Temporary Protected Status (TPS) holders, farmworkers, and other essential workers.
"The portraits are intended to be a reminder that behind the policies are real people with real stories that include all Americans – citizens, immigrants, and indigenous. The project provides communities and local leaders a unique platform to amplify their voices and urge Congress to move the country forward with solutions by creating a path to citizenship," said Milwaukee Downtown BID #21 in a statement.
After winning the TED Prize on March 2, 2011, the French-artist JR launched the Inside Out Project. Using his own artistic practice as inspiration, the participatory platform helps individuals and communities to make a statement by displaying large-scale black and white portraits in public spaces. Through their "Actions," communities around the world have sparked collaborations and conversations.
Over the past decade, more than 400,000 people spanning 138 countries across every continent have participated in the Inside Out Project. It has created over 2,000 thematic "actions" centered on a range of topics including diversity, community, feminism, racism, climate change, education, children's rights, and art. The posters are displayed in outdoor spaces that are visible to the public. The group action installations are documented and shared online.
The Milwaukee public was invited to participate in the project's latest initiative. About 175 people downtown had their portraits taken for Inside Out 11M – Milwaukee and printed at 36 x 53 inches in the self-contained photo truck. The large-scale prints were then installed on the plaza along the Milwaukee River. The mural, comprised of the faces of local community members, was on display over the weekend.