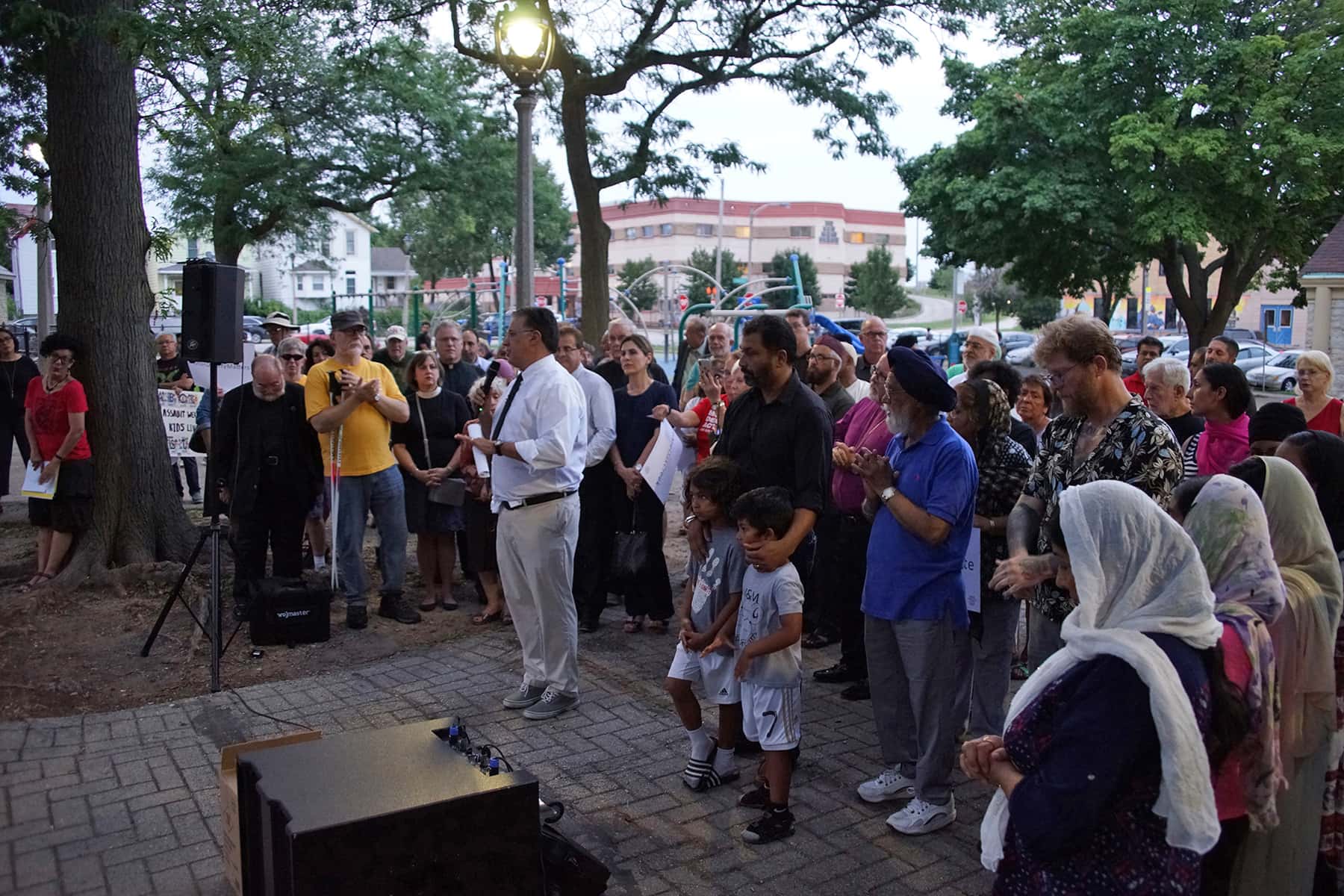 Within hours of back-to-back mass shootings in El Paso and Dayton over the August 3 weekend, hundreds of Milwaukee residents gathered at Walker Square Park on the city's south side on August 5. They expressed outrage and frustration over the nation's inability to confront the epidemic of domestic terrorism, coinciding with the 7th anniversary of the hometown massacre at the Sikh Temple of Wisconsin.
Thirty-five faith-based organizations from Milwaukee and Wisconsin came together to demand an end to gun violence, and stop an era of hate promoted by President Trump and his supporters for political gains. With 251 mass shootings in only 216 days of 2019, the relentless cycle of devastation has propelled people from tragedy to tragedy with no time to mourn.
"What I see in my daily life is the slow motion mass murders that occur in our community that don't get the headlines like we saw over the weekend. But it is those headlines that I believe will ultimately galvanize this community, this state, and this nation, to take the steps that are necessary to reduce the violence in our country," said Mayor Tom Barrett. "The gun manufacturers and the NRA believe that in two weeks we will go back to our ordinary lives and forget about this. That can't happen. It is the actions we take after this that will lead to fundamental change."
The non-profit and non-partisan advocacy organization, Forward Latino, had less than 12 hours to organize the vigil that honored the victims of Gilroy, El Paso, Dayton, and Oak Creek. Darryl Morin, President of Forward Latino, said that he went to sleep on Saturday night trying to make sense of the tragedy, only to wake up on Sunday and learn of a new one.
"Sadly, this mass shooting epidemic of hate has been fueled by our nation's president for no more than political gain and self-interest. We have repeatedly heard him refer to members of our community as murderers, drug dealers and rapists," said Morin. "We have seen him manufacture crisis after crisis with misleading and inflammatory statements. We have seen him offer to pay the legal bills of Americans willing to attack other Americans who did not support him. We have seen him repeatedly refuse to condemn white supremacists, and on numerous occasions defend his statement that some white supremacists are 'very fine people,' a statement made following the tragedy in Charlottesville, Virginia."
Community and faith leaders joined Morin in calling on every member of the United States Congress to denounce hate speech, condemn white supremacy, and pledge to once and for all pass meaningful gun reform. The gathered crowd also demanded immediate action, holding signs accusing the president of hate speech and chanting "enough is enough."
"We know something is desperately wrong, and it has to change," said Milwaukee County District Attorney John T. Chisholm. "But the only way it is going to change is when people of faith and people of good will come together, in the midst of tragedy, and commit to making that change a reality."
The vigil date had special meaning in the local community. The largest mass shooting in Wisconsin history took place at the gurdwara in Oak Creek on August 5, 2012, where 40-year-old Wade Michael Page fatally shot six people and wounded four others before committing suicide. A lone gunman entered a crowded Walmart in El Paso, Texas on August 3, and used an AK-style semiautomatic rifle to kill 22 and wound 24. Just over 12 hours later in Dayton, Ohio, a man wearing body armor opened fire in a crowded downtown neighborhood using a 223-caliber semiautomatic rifle with a 100-round drum magazine, killing 8. The two mass shootings in less than 24 hours left at least 31 dead and about 50 injured. The events shook a nation that has willfully ignored near weekly body counts that targeted public spaces.
"I don't just think about this on the anniversary of the Sikh Temple shooting, I think about it all the time. I'm not a Sikh so I wasn't going get killed that day. I'm not gay so I wasn't in Orlando at the club. But you can't go to a festival, a synagogue, or church, because we all in danger right now," said U.S. Congresswoman Gwen Moore, who began her address to the crowd with a scream of frustration. "We know what the problem is, we need to get rid of these weapons of mass destruction."