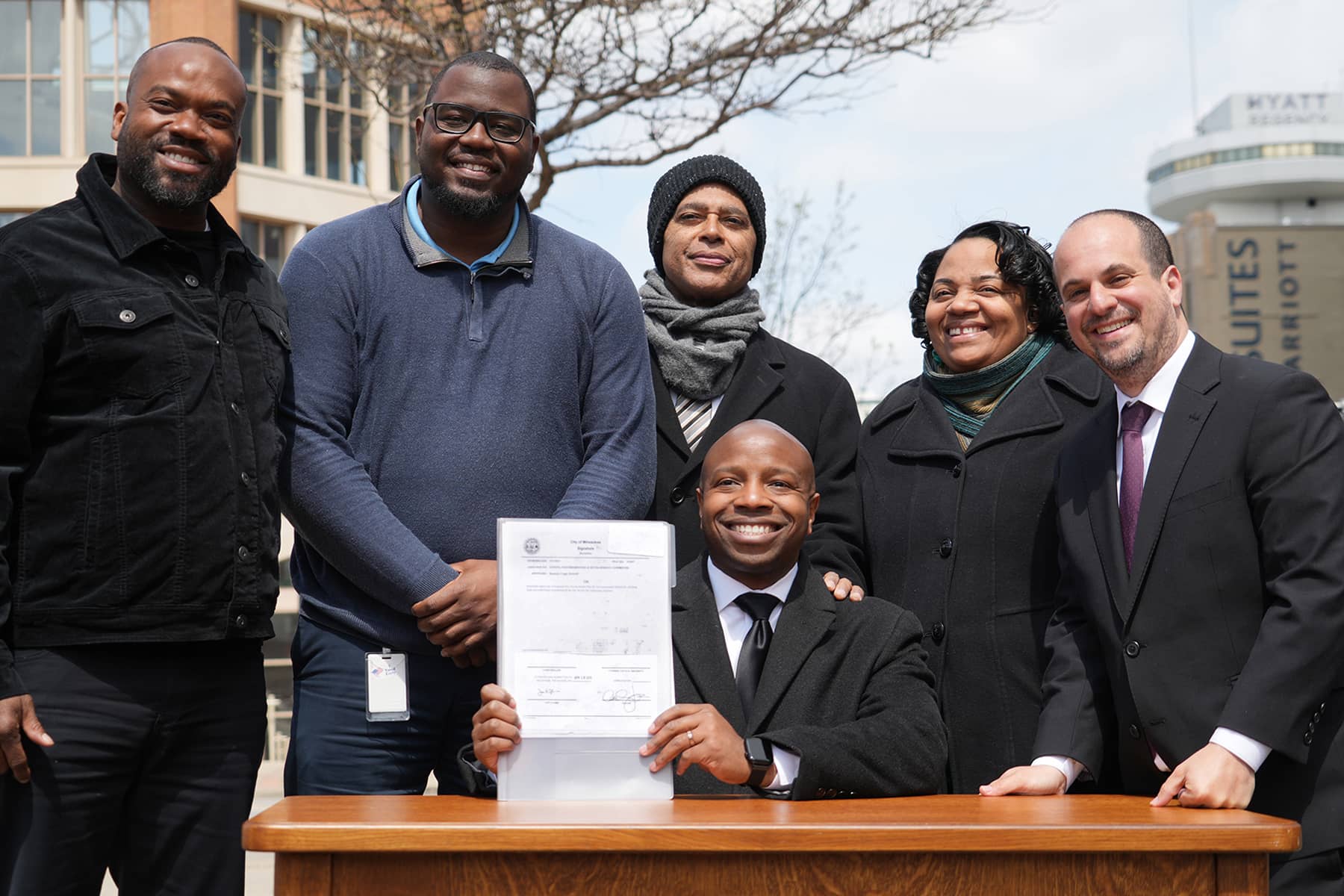 Mayor Cavalier Johnson signed Common Council file #221817, a resolution approving the funding for the construction of a new public plaza to be named in honor of Milwaukee politician, attorney, jurist, and civil rights activist, Vel R. Phillips.
Mayor Johnson was joined by members of the Milwaukee Common Council, Phillips' son Michael Phillips, and local leaders and stakeholders.
"The City of Milwaukee has been working very closely with the Philips family to ensure the future Vel R. Phillips Plaza respects and honors her legacy. Named in recognition of the iconic political activist and civil rights leader, the site will add to the positive momentum taking place in the Westown neighborhood, which is witnessing a string of exciting development, investment, and activity. I am a strong supporter of gathering places and plazas," said Mayor Johnson. "From economic development benefits and expanded public transit connections, to cultural and educational opportunities that are accessible for all, gathering places enhance the quality of life in our communities."
The City of Milwaukee originally shared a proposed Vel R. Phillips Plaza in May 2019, with the expectation that it would be completed in time for the 2020 Democratic National Convention. But lack of federal funding for an expansion of The Hop streetcar, and COVID-19 put the plan on hold.
"We've got this plaza underway, and a sculpture of my mom that is going up in Madison – it will be the first sculpture of an African American woman on state capitol grounds in this country," said Michael Phillips. "So we look forward to 'Vel Phillips Year' in 2024 and moving forward."
Phillips added that the Wisconsin Historical Society Press was working on a biography about his mother that was expected to publish next year as well.
Vel R. Phillips was both the first African American and first woman elected to the Milwaukee Common Council, the first female judge in Milwaukee County and the first black judge in the State of Wisconsin.
She was the first woman to hold the office of Secretary of State in Wisconsin and the first African American to win a statewide election. Up until her passing in April of 2018, Phillips was an active leader in pushing for social justice, education and equal opportunities for minorities in Milwaukee.
"I think people from across the globe who will be coming here for conferences and conventions, and just visiting, will have a tremendous experience. Not only with the amenities of the site, but also with the history that they learn while they are here in the plaza," said Alderwoman Milele A. Coggs. "I think it can serve as a bit of inspiration as well. Not just for tourists, but also for those catching the bus on our transit system, or residents just walking downtown. The plaza serves as a reminder of the fact that between the date we are born and the date that we pass – the little dash of time that we have on this earth, when we use it to improve the lives of others, the mark we leave will be remembered."
The future Vel R. Phillips Plaza will be located south of Wisconsin Avenue between North 5th Street and North Vel R. Phillips Avenue. The Milwaukee Common Council unanimously approved an amendment to Tax Incremental District (TID) #48 (Park East Corridor Redevelopment) that will provide $15,750,000 for the construction of the approximately 30,000 square foot plaza, a 2,900 square foot food/beverage retail space, a manicured garden, a flex space that could host farmers markets, food trucks or other community events, an informational kiosk, public art installations, and a station to accommodate Milwaukee County's Bus-Rapid Transit Line.
The financing package also includes $4.35 million for infrastructure and lighting improvements in the area and $500,000 for the Commercial Revitalization Grant Program that provides financial assistance to commercial property owners for building renovations and improvements.