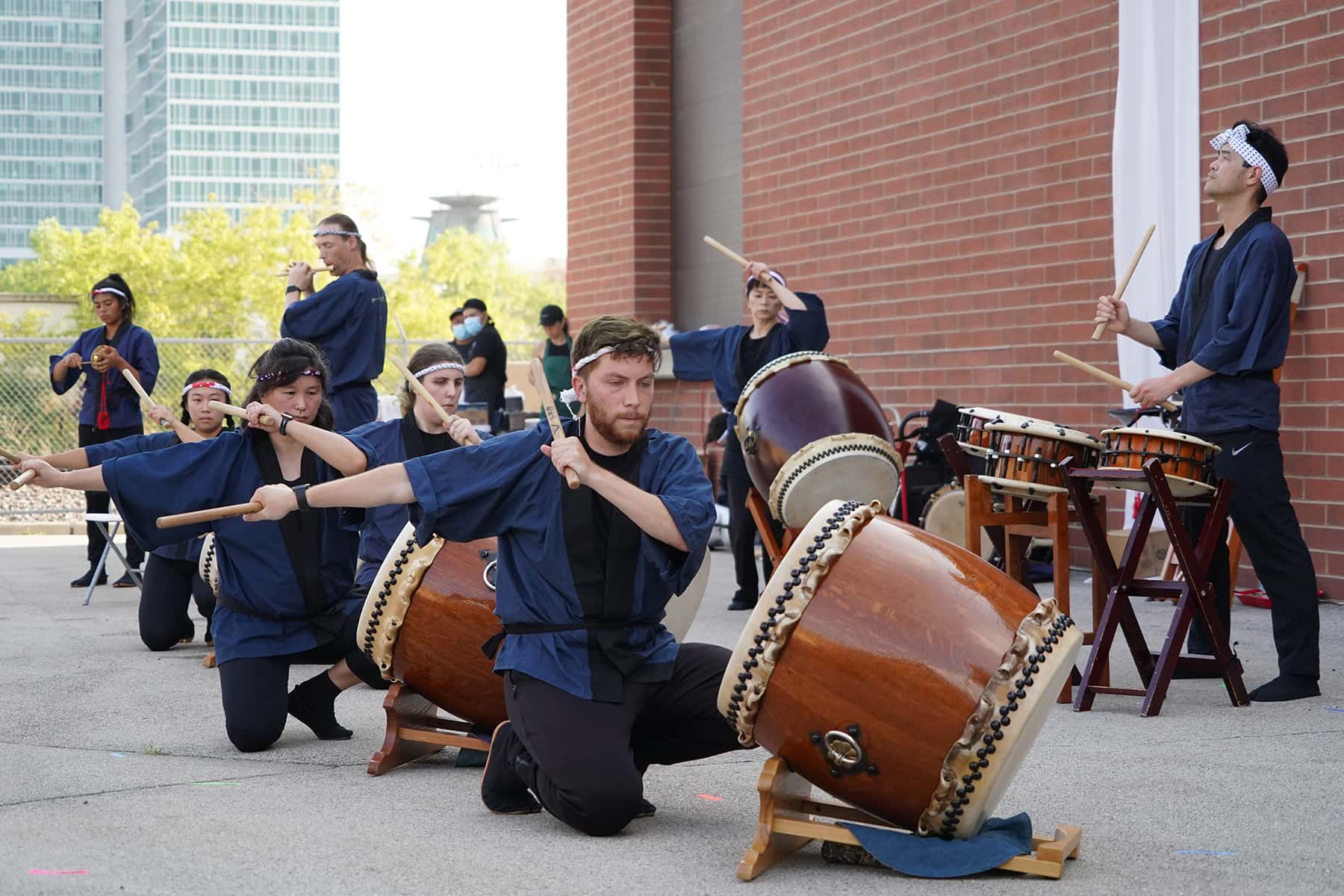 Milwaukee Taiko Group Hibiki performed a free Japanese drum ensemble on August 27, outside The Warehouse art museum in support of its "Art Japan: 2021-1921" exhibition.
Formed in 2009, the Milwaukee-based taiko drum group has performed for educational institutions, local companies, and community organizations. The musicians are focused on promoting interest in and understanding of Japanese culture through taiko drumming. In Japanese, "Hibiki" means "echo sound."
"This is the first large group of people we have had in two years because of the pandemic," said John Shannon, managing director of The Warehouse. "So when the performance is finished, I think the shared experience will help give us a special connection that we have been missing."
The musical tradition has a mythological origin in Japanese folklore. Outside of festivals, taiko drumming remains popular in Japan because of groups like Kodō that include a contemporary style to the ancient art of percussion.
Located in the Menomonee Valley, The Warehouse was a former factory built in 1924. The five story building at 1635 W. St. Paul Avenue is now an art museum, and it also provides fine art storage for the midwest region. Since it opened in 2017, it remains the first and only facility in Wisconsin that commercially offers storage, protection, and preservation of artwork to collectors, artists, and institutions.
The exhibitions presented at The Warehouse are from the private collection of Jan Serr and John Shannon, Wisconsin residents who have acquired 4,000 pieces of art over the past 50 years. The art museum is their cultural gift to Milwaukee, and it is open to the public for free.
"Art Japan: 2021-1921," which runs through September 24, features work from some of Japan's most important artists of the last 100 years. With over 126 works in the exhibition from 41 artists, the art, ideas, and studio practices are shown in depth through several works.
Also included are paintings, drawings, modern and contemporary prints, silver and gold leaf constructions, as well as ceramics, basketry, textiles, and recently acquired fiber art. The exhibition leans toward the contemporary but has deep roots in traditional Japanese methods and materials.
In addition to including modernist woodblocks from famed artist Tsukioka Kogyo (1869-1927), a special part of the exhibition pays homage to Toko Shinoda, who died March 1, 2021 at age 107. Shinoda worked with sumi ink paintings and prints, blending calligraphy with abstract expressionism. In the late 1940s and 1950s, she lived in New York City and exhibited with Mark Rothko, Robert Motherwell, and others. Her work is in the Museum of Modern Art, the Guggenheim, the Metropolitan Museum of Art, and the Art Institute of Chicago.
"Art Japan" is second of a three exhibit series from Asia. "India" was displayed previously, and "Photographs of China" opens on October 8, curated by Annemarie Sawkins.
"What I like about the Japan exhibit is that it focuses on the contemporary art, then goes back one hundred years to show where those influences came from," said Danielle Paswaters, Museum Coordinator. "As a Milwaukee native, what I find interesting about the collection is that it allows me to experience something that I'm not familiar with and feel a connection with it. As a community, that's how I think we build understanding."