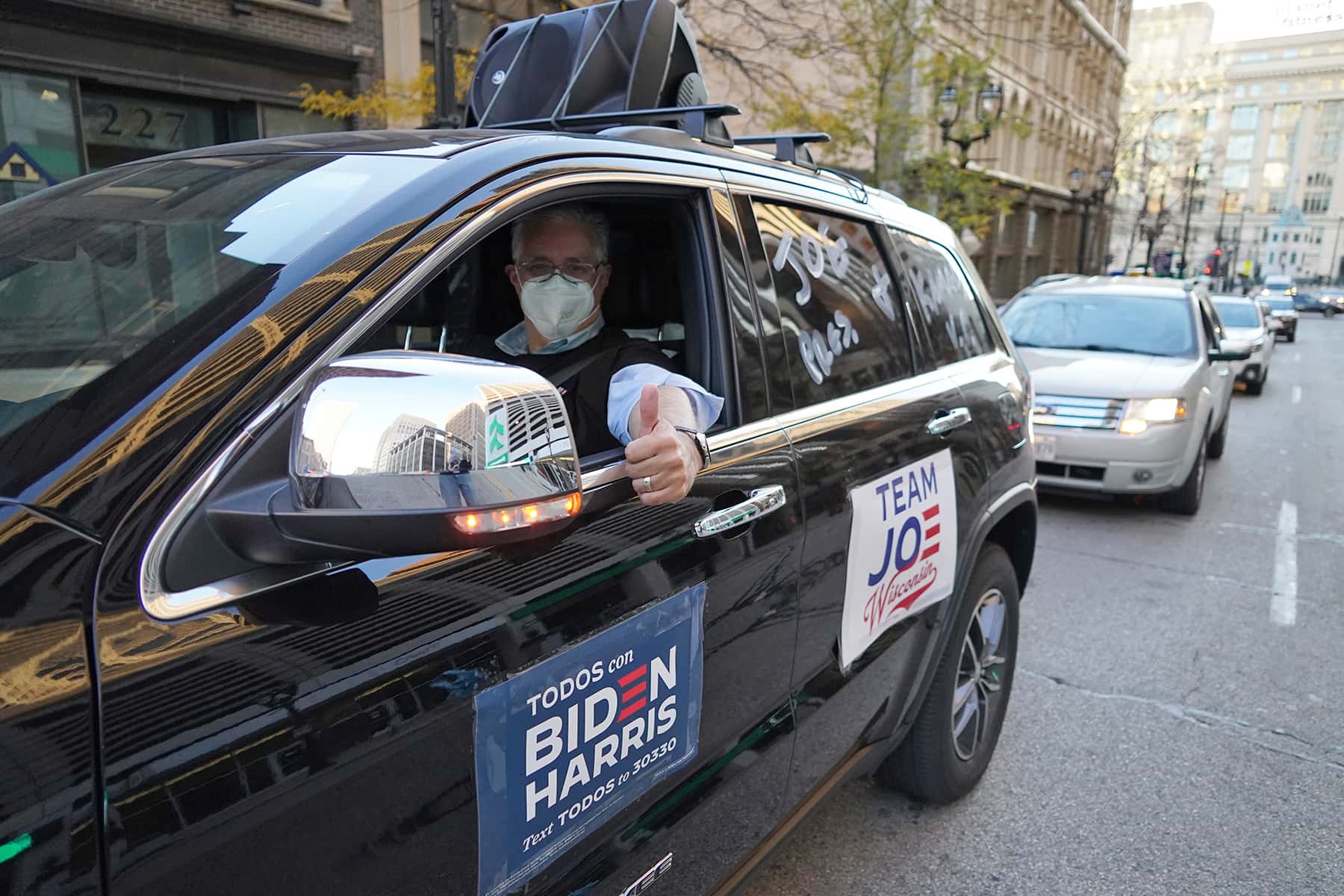 Four days after Election Day, the final key states finished enough of their vote count for the Associated Press to project Joe Biden as the 46th president of the United States. Across the nation, supporters celebrated victory on November 7. In Milwaukee, residents held a car rally to commemorate the election results.
As COVID-19 continues to explode across Wisconsin, due to the negligence of state Republican legislators and the Trump Administration, voters embraced social distancing restrictions while sharing their excitement for the president-elect.
The caravan of Biden voters and supporters of American democracy started from Milwaukee's west side, and drove through downtown, the Third Ward, and Walker's Point in a loop from suburban to urban areas and back.
The several dozen vehicles that participated were all adorned with Biden campaign signs and words of celebration. From city streets to neighborhood sidewalks, people of all genders, ages, and ethnicities shared their mutual excitement as the car rally passed by with music and horn honks.
"America is back. This is time for celebration. It's a time to look to the future, but most importantly, it is a time for healing," said Mayor Tom Barrett, who kicked off the rally. "We are a nation that needs to be healed. And, we need a leader who will not spend 4 years dividing us, pitting us against each other, or looking for reasons to criticize people."
Mayor Barrett acknowledged that Milwaukee and the nation faced serious challenges, especially because of the pandemic.
"We know about the economic fallout that has resulted from this health crisis, causing millions of people around the nation to lose their jobs," Mayor Barrett added. "We also know that there is a need for racial equality and justice that can no longer be ignored in this nation or this community. That's why we need Joe Biden to be our president. That's why Joe Biden was elected."
The rally was organized by state Representative Christine Sinicki as a way to help area residents express their joy after a long and exhausting election season. And as a way to recognize the historic day, that saw as a black woman and daughter of immigrants become the Vice President-elect.
"This race was personal for so many of us, and so much work was put into this race by everybody here," said Representative Sinicki before rally participants started their engines to begin the victory drive.