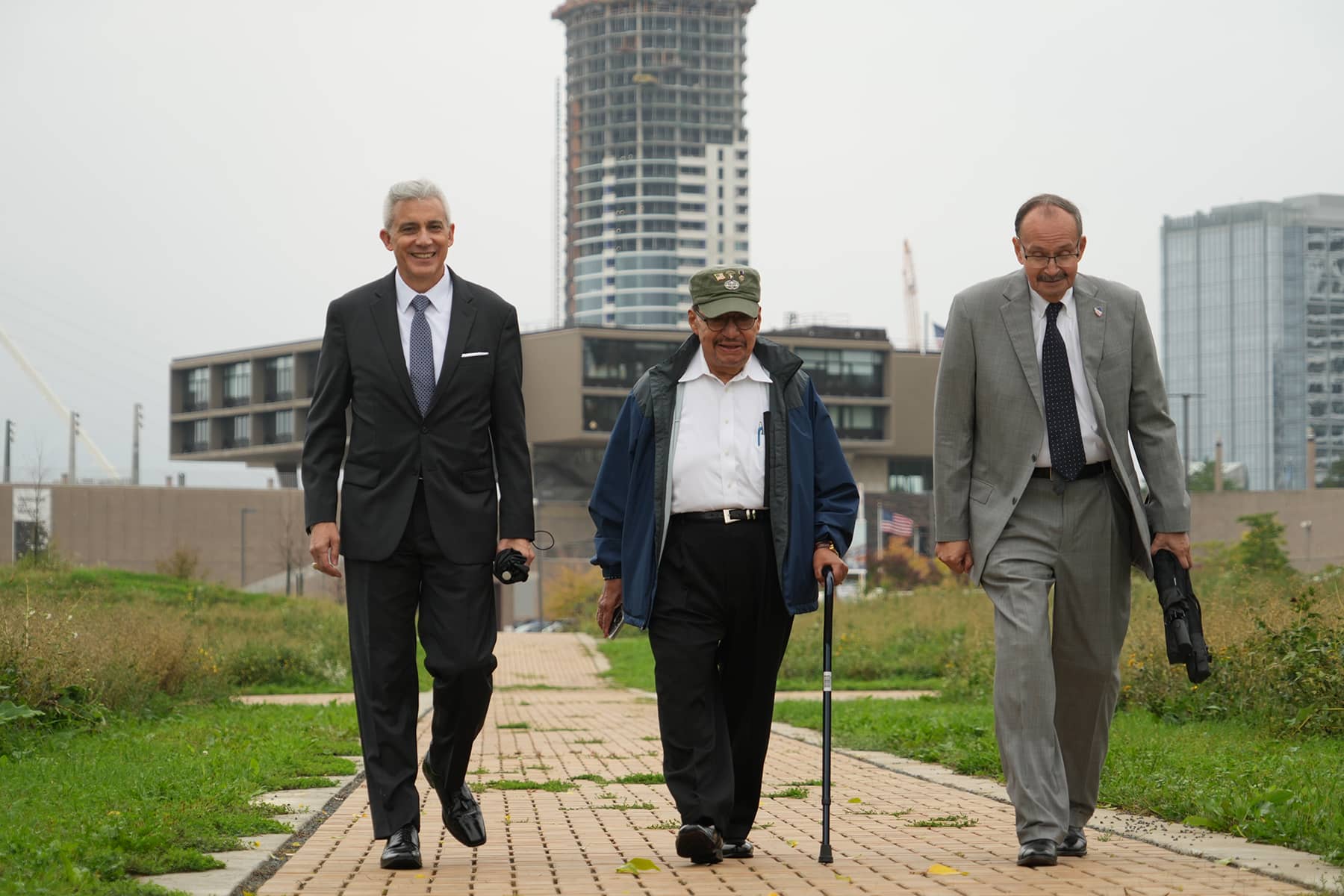 Milwaukee honored the valor of its Latino veterans during Hispanic Heritage Month 2023 with a visit from the Deputy Assistant Secretary of Defense and a special banquet at the Milwaukee County War Memorial Center on September 27.
James Saenz, the Deputy Assistant Secretary of Defense for Counternarcotics and Stabilization Policy, was invited to Milwaukee by Forward Latino and the American GI Forum. Saenz previously served 30 years as an officer in the U.S. Army's Special Forces, with combat experience in Desert Storm, numerous counter-narcotics missions, and anti-terrorism operations around the globe.
"During National Hispanic Heritage Month, we celebrate the diverse history of generations of Latinos whose aspirations and achievements have shaped the soul of our nation," said Saenz. "Latinos have helped chart America's course since our start, as doctors and engineers, artists and entrepreneurs, and as leaders in science, business, labor, governments, the military, and across grassroots movements, to push our country to grow, prosper, and pursue its highest ideals."
Spanish heritage has a rich and diverse culture, bound by a common language with ancestral foundations. But many of the similarities tend to end there. From Spain to Mexico, from Panama to Puerto Rico, from Ecuador to Chile, and Peru to the United States, Latinos are global and reflect a wealth of cultural diversity. These cultures are unique in their own ways, but share the same core values of family, hard work, and community.
"I think the public in general needs to remember that Latinos and Hispanics have been here fighting and dying to protect our nation, and our freedoms from the very beginning," said Darryl Morin, National President of Forward Latino, a non-profit, non-partisan, advocacy and service organization dedicated to assisting the Hispanic community.
Morin and George Banda, a Latino and Milwaukee native who was a highly decorated combat medic in Vietnam, were joined by other Latino veterans to give the Deputy Assistant Secretary of Defense an introduction to Milwaukee County sites honoring its local veterans for their service.
> READ: A Gallery of Heroes: War Memorial Center opens Wisconsin's first Medal of Honor exhibit
> READ: Ceremony honoring 30th anniversary commemoration of Vietnam Memorial held at Milwaukee's Veterans Park
"After graduation, I found the call to military service to be inspired," said Saenz. "Even after more than 30 years of service around the globe and here at home, I'm still inspired to serve. I feel very privileged to serve my nation."
Latinos from Spain, Mexico, Cuba, Puerto Rico, the Dominican Republic, and Venezuela, have fought in every major military United States conflict in American history, from the Revolutionary War to the Global War on Terror.
"Recruiting and retaining Hispanics remains critical to help our military. Without participation from one-quarter of our population, it will be very difficult for us to maintain a fully trained and always ready force to defend the constitution of this country," said Saenz.
> READ: Vietnam combat medic George Banda honored at tribute to Latino veterans
> READ: George Banda: Honoring lost friends in vigil to Vietnam veterans at the Wall
After visiting the SE Wisconsin Vietnam Veterans Memorial and General Douglas MacArthur Statue, Dan Buttery, President of the Milwaukee County War Memorial, gave a tour of the historic building, including the new Medal of Honor exhibit and Latino Legacy of Valor display.
Buttery explained that people often ask why the War Memorial, built between 1955 to 1957, looks like a bunker. He said that was the intention when Eero Saarinen designed it.
When Saarinen was commissioned to envision what the War Memorial would look like, he interviewed four veterans who survived D-Day. Those conversations inspired him to create a look reflecting the elevated German bunkers, called pillboxes, that confronted the Allies as they stormed Omaha Beach.
The pillboxes were designed by Rommel to provide an elevated advantage for shooting as many soldiers as possible. Rommel knew that if the Allies made it past the beach, Germany would lose the War.
Saarinen's initial design called for extending the land about 200 yards out into water, as an homage to the beach, distance, and the experiences of soldiers on June 6, 1944. That part of the design was not implemented.
"This is my very first time in Milwaukee, and I had the opportunity to spend some time at the War Memorial. Wow, what an absolute treasure it is," added Saenz. "I think the city of Milwaukee and state of Wisconsin are absolutely blessed to have this here."
The Deputy Assistant Secretary of Defense's day concluded as the keynote speaker for the "Out of Many, One" Banquet.
Other speakers at the event included Milwaukee County Executive David Crowley, Chairwoman of the Milwaukee County Board of Supervisors Marcelia Nicholson, and Paula Nelson, Past President of Stars & Strips Honor Flight.
It was also announced that Forward Latino had partnered with Stars & Strips Honor Flight to help Latino veterans participate in the free program.
> READ: Every day is a bonus: local veterans take inspirational journey to DC on honor Flight's 61st mission
The American GI Forum (AGIF) is a congressionally chartered Hispanic veterans and civil rights organization founded in 1948, with chapters throughout the United States.
The September 27 event celebrated contributions by Hispanic and Latino Americans to secure our nation's independence, and the sacrifices made to defend its founding principle – that all people are created equal.
Banda and other Latino veterans were highlighted to make sure their stories were not lost in the pages of history.