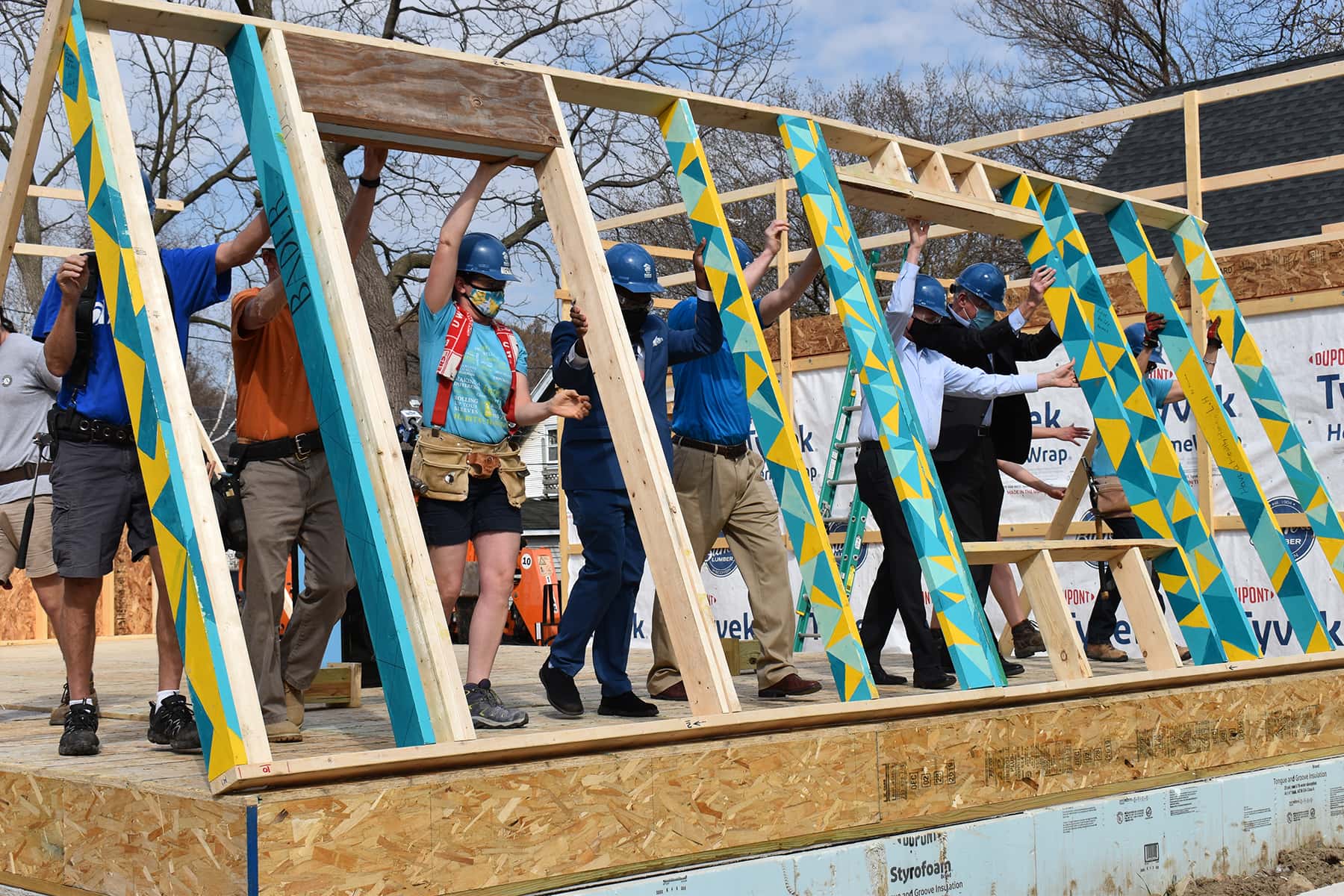 The first walls were raised on an affordable homeownership initiative at 3455 N. 3rd Street in the Harambee neighborhood on April 7, ushering in a new phase of community development for the area over the next several years.
Mayor Tom Barrett, CEO of Bader Philanthropies Dan Bader, and City Development Commissioner Lafayette Crump joined Milwaukee Habitat Executive Director Brian Sonderman to kick off the initiative during a press conference at the work site where one of three new homes were actively under construction. The milestone event concluded with a ceremonial wall raising, and a signing of well wishes on the studs by the four speakers.
"Here in the Harambee neighborhood, Habitat's mission is to build homes, communities, and hope," said Sonderman. "And given the events of the last year, we believe these homes are a sign of hope. Not only for the homeowners who will live in them, but also for the neighborhood and for our entire city."
With the Harambee Affordable Homeownership Project, Milwaukee Habitat for Humanity plans to serve 250 families in need over the next four years across Milwaukee's northwest side. That total includes the construction of more than 80 affordable homes in the Harambee and Midtown neighborhoods, where only 22% of residents own the house they live in.
In the four-county metro Milwaukee area, nearly three out of four Black families do not own the residence they live in, while nearly three out of four white families do. It is one of the worst racial homeownership gaps in the United States.
"How do you create hope in people's lives? If you take the word 'HOPE' and you break it down into its letters, it basically gives you the ingredients," said Mayor Barrett. "The first letter 'H' is 'home,' that is the starting point. The second letter 'O' is 'opportunity,' an economic opportunity to support yourself and your family. The third is 'P' for 'purpose,' that there is a reason we are on this earth. And if you have a purpose in your life you are much more likely to have hope. And the final letter, the final ingredient, is 'E' and that is 'education.' If you have an education, that gives you better tools to be able to have hope in your life. So, home, opportunity, purpose, and education are the ingredients of hope. But it all starts with home."
Affordable homeownership is important in Milwaukee because too many families in the community struggle with unsafe, expensive, and overcrowded rental units. Homeownership is also one of the biggest factors in the creation of generational wealth, an economic opportunity that has been historically denied to people of color. The disparity goes back decades to the 1930s, when governmental policies like "redlining" created institutional inequalities.
Studies show that homeowners have an average net wealth that is 400% higher than renters with similar demographics and earnings. In Milwaukee, 1-in-3 renters spend more than half or more of their income on housing. Of those families, 23% are more likely to have difficulty purchasing food, 28% are more likely to be without health insurance, and almost twice as many are likely to be without a vehicle.
"One of the things that I've learned over the years is the importance of community," said Bader. "Communities are essential. They are the glue – the secret sauce – that makes everything happen. And what we have here is a collection of community members who have come together to build homes for some wonderful families who are going to live here. What I'm really excited about is watching over the next year as these empty lots are converted into houses, and then when families move in and make them homes."
Milwaukee Habitat's affordable homeownership program has made access to homeownership possible for low-to-moderate income families who often face obstacles of extremely high interest rates or large down payments from traditional lenders. A typical mortgage payment for a new Habitat home is on average between $500 to $800 per month. The value offers a real alternative to paying rent, for families that earn below Milwaukee's median income and have seen homeownership as a possibility that was out of reach.
"When we have these big economic projects, one of the things that we tout about Milwaukee is the availability of the workforce. The demand for work is here, there are people who ready and willing to work," said Commissioner Crump. "And there are also people who are excited about the opportunity to become homeowners. The demand is there and we all have to be a part of meeting that demand. We can create the opportunities for people to live the lives they deserve and that they are hoping for."