Brewers legend Robin Yount recognized for years of citizen involvement in helping the Armed Forces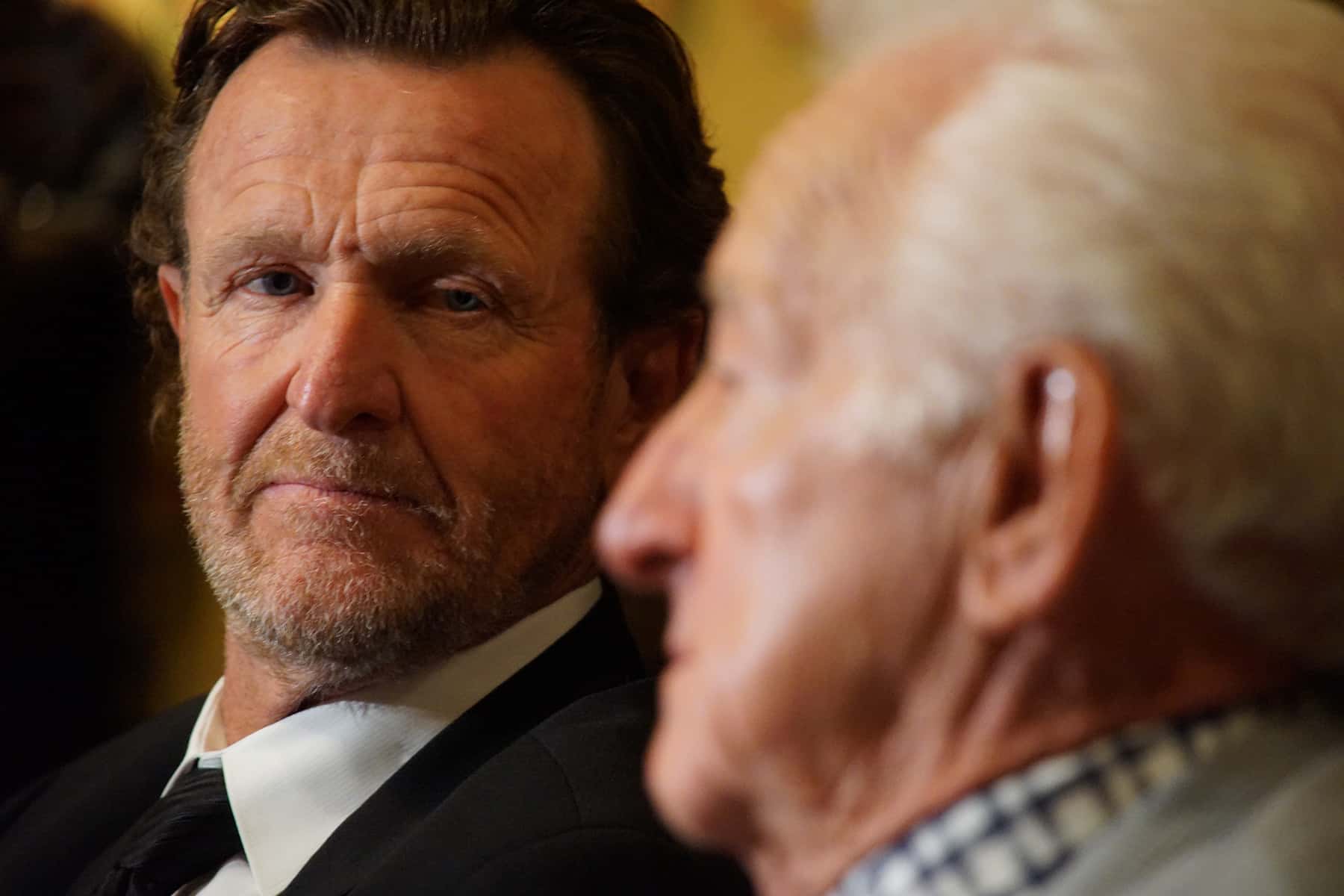 The Hall of Fame shortstop and outfielder for the Milwaukee Brewers and two-time American League MVP Award winner, Robin Yount, was the 2019 recipient of the Citizen Support award during the Milwaukee Armed Forces Week banquet at the Wisconsin Club on May 13.
Yount was recognized for his unique support, and personal and professional service to the men and women of the U.S. Armed Forces. During a press conference before the ceremony, the retired baseball legend was asked how he felt about accepting an award for his work helping the military and veterans.
"It's difficult, to be honest with you," said Yount. "I don't want to play down the award, but to know what these members of the military have done in their lives to make our country safe, I would just assume not receive anything. I'm not doing anything compared to what they are so it feels a little odd."
For the past couple decades, Yount has been a constant contributor to the Centurions, which provide financial support for Armed Forces Week. He also frequently donates memorabilia for the organization's golf auction. His combination of humility, humor, humanity, and personal honor made him a strong choice to receive this year's award.
"Many years ago, Robin flew with the U.S. Navy Blue Angels while they were in Milwaukee for an air show," recalled Captain Tom Plantenberg, USNR (Retired), and president of the Milwaukee Armed Services Committee (MASC). "After the flight, there was a reenlistment ceremony for several of the sailors under my command and he gave them signed baseballs."
Bob Uecker, who received the Citizen Support Award last year, was at Yount's side during the evening. The beloved Milwaukee Brewers announcer, affectionately known to many as "Mr. Baseball," has had a deeply rooted connection to the military, especially as a supporter of wounded veterans organizations. Before embarking on a career in professional baseball, which included six seasons as a catcher in the major leagues and 48 seasons behind the radio for his hometown Brewers, Uecker enlisted after high school and served two years in the Army.
"I've been a big supporter of the military for a long long time. I served way back when, prior to my career as a semi-baseball player. I think had I not went on to baseball I would've stayed in the service. I enjoyed my time as an active member, and I've thought about that a lot over the years," Uecker said,.
The Citizen Support for Our Armed Services Award recognizes individuals who support and serve the Armed Forces as civilians in outstanding ways. Other past recipients have included Dan Buttery, Iraq veteran and founder of the Fisher House Foundation; Chas Mulcahy, co-founder of the Veterans Community Relations Team, and Captain James Lovell, NASA astronaut in the Apollo 13 and Apollo 8 missions.
Kimberly Mitchell, President and CEO of Veterans Village of San Diego (VVSD) and a former Surface Warfare Officer in the U.S. Navy for 17 years, was the keynote speaker for the Banquet. Mitchell, who spent part of her youth growing up in northern Wisconsin, has been a vocal advocate for service members, veterans, military families, and families of the fallen.
"I traveled to over 329 communities nationwide, working with them to figure out what the challenges were for veterans and military families to successfully transition from the military to civilian life," said Mitchell. "In 2012, I left the Navy and co-founded Dixon Center for Veterans and Military Services in Washington DC where I was able to apply community based solutions."
Through her years of effort, Mitchell has created a nationwide network of support utilizing grassroots solutions to address the challenges of transition and reintegration with services like residential treatment programs, mental health, substance use disorder treatment, case management, therapy, job training, job placement, and housing navigation services.
As an infant, Mitchell was discovered in the arms of her deceased mother on the side of the road in South Vietnam. A man who found her then passed her on to a South Vietnamese Marine hoping he could save her life. That South Vietnamese Marine took her Sacred Heart Orphanage in DaNang, and in 1972, Mitchell was adopted by Air Force Technical Sergeant James Mitchell serving in DaNang. After a few more years in the service, Kim and her family moved to Solon Springs, Wisconsin. She is recognized for her devotion to Vietnam Veterans and Vietnam era veterans.
The 2019 Milwaukee Armed Forces Week ran from May 13 to 18, as a joint effort of the Milwaukee Armed Services Committee, comprised of members of the United States Army, Marine Corps, Navy, Air Force, Coast Guard and National Guard, as well as Milwaukee-area citizens and veterans. Its mission is to increase public understanding of the role of the military in a democratic society as well as honor and acknowledge the Milwaukee area people serving in the Armed Forces of the United States.