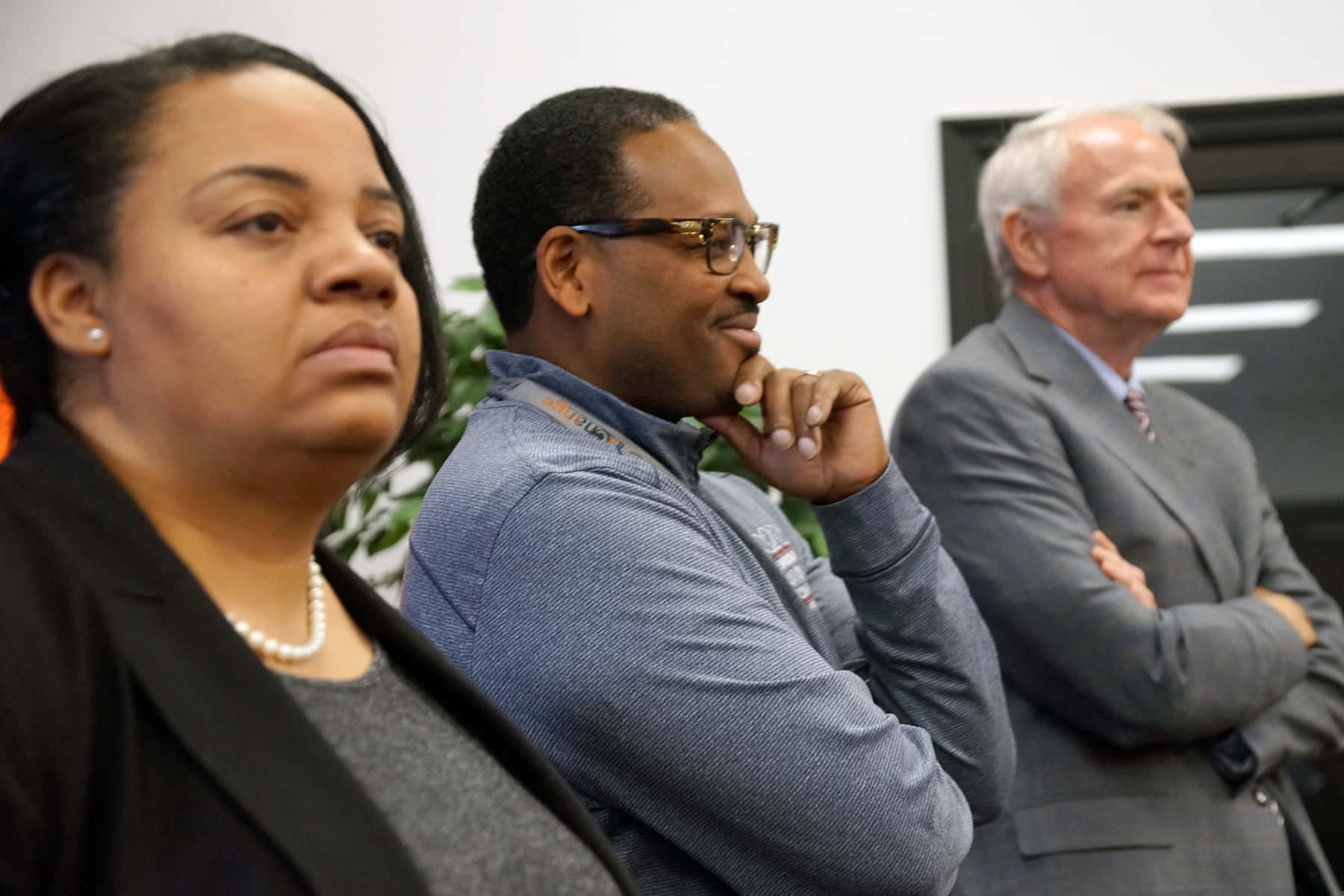 As Milwaukee gears up for the 2020 Democratic National Convention, city leaders, members of Business Improvement Districts (BID) and Neighborhood Improvement Districts (NID) came together on April 17 at Riverwest's The Vibe for a two-way fact-finding and brainstorming session about keeping the expected $200 million generated over 4 days in the city.
The hope is to see that at least $50 million of the expected economic impact goes to local minority companies, by making sure Milwaukee business owners and entrepreneurs can participate in the 2,000 events that will take place outside of the Fiserv Forum.
"We want to really show off our diversity. It would be a source of grave shame for me if the only people who made any money were the people downtown, and we weren't able to," said U.S. Congresswoman Gwen Moore.
The City of Milwaukee was incorporated in 1846, Wisconsin became a state in 1848, and this is the first time in the history of the city and the state that a major political party will be holding its national convention here.
"I'm very excited about the prospects of our having the convention here," said Mayor Tom Barrett. "This is a big deal. Not just because it's the Democrats. It would be a big deal for us to host the Republicans too. Getting this convention put us in the category of those cities that can be counted on to host a major convention."
Mayor Barrett explained that everyone involved with the DNC bid felt like they completed a marathon just to get to the starting line, due to the tremendous amount of work and planning required. Between now and July 2020 would be like a triathlon.
The spotlight will be on Milwaukee like it never has been before. In one way that is great because residents can showcase what they love about the city of Milwaukee, its strengths, why people live here, and why it is great. At the same time, many news organizations and journalists are not always focused on presenting people, institutions, or cities in a positive light.
"We've never had an opportunity like this and never been challenged like this before either. So we need our community to come together," added Mayor Barrett. "We want to give as many chances to people from our community, to be involved in this in as many different levels as possible."
Alderman Ashanti Hamilton, City of Milwaukee Common Council President and 6th District Alderwoman Milele A. Coggs, who is also the Finance & Personnel Committee Chairwoman, shared a unified message to those attending the session. President Hamilton mentioned that when Mayor Barrett gave the State of the City address and leaders found out that Milwaukee was awarded the DNC for 2020, after the initial excitement settled there were people of color tapping him on the shoulder and asking, "what is that going to mean for us? How is it that we can benefit?"
"Milwaukee is a great city, and this is not the first time something great has happened here. But what we don't want to take place is for another great thing to happen here and for the residence of the city to not be able to benefit from it," said President Hamilton. "We want to connect with the energy that this has created in the city, and be able to make sure that the people who have bled, fought, did all the hard work to make the Milwaukee attractive in the first place, they would be first in line and understood how to plug into the process – because it is still a process."
The meeting was organized by the City of Milwaukee. Speakers also included Martha Love, a Wisconsin representative on the Democratic National Committee and board member of Milwaukee's DNC host committee, along with Milwaukee's Business Development Manager Ken Little, and Director of Small Business Development Nikki Purvis.
"Before we even got the convention, we were doing information sessions for how businesses that were interested in could plug-in," said Jason Rae, Secretary of the Democratic National Committee. "We wanted the DNC to know that we are committed to making this a true hometown effort."
When the committee first started the bidding process, involvement from diverse owned businesses – to make it a true community effort – was something the group focused on right away.
"There is no such thing as luck. What people perceive as luck is actually the result of when preparation meets opportunity. Milwaukee is a great city when we allow it to be. And if we are honest, there have been other opportunities for great things to happen that we may have missed because of a lack of inclusiveness," said Alderwoman Coggs. "This DNC 2020 is an opportunity for entrepreneurs within the city who have done the preparation, so we want to be that bridge to help them connect."