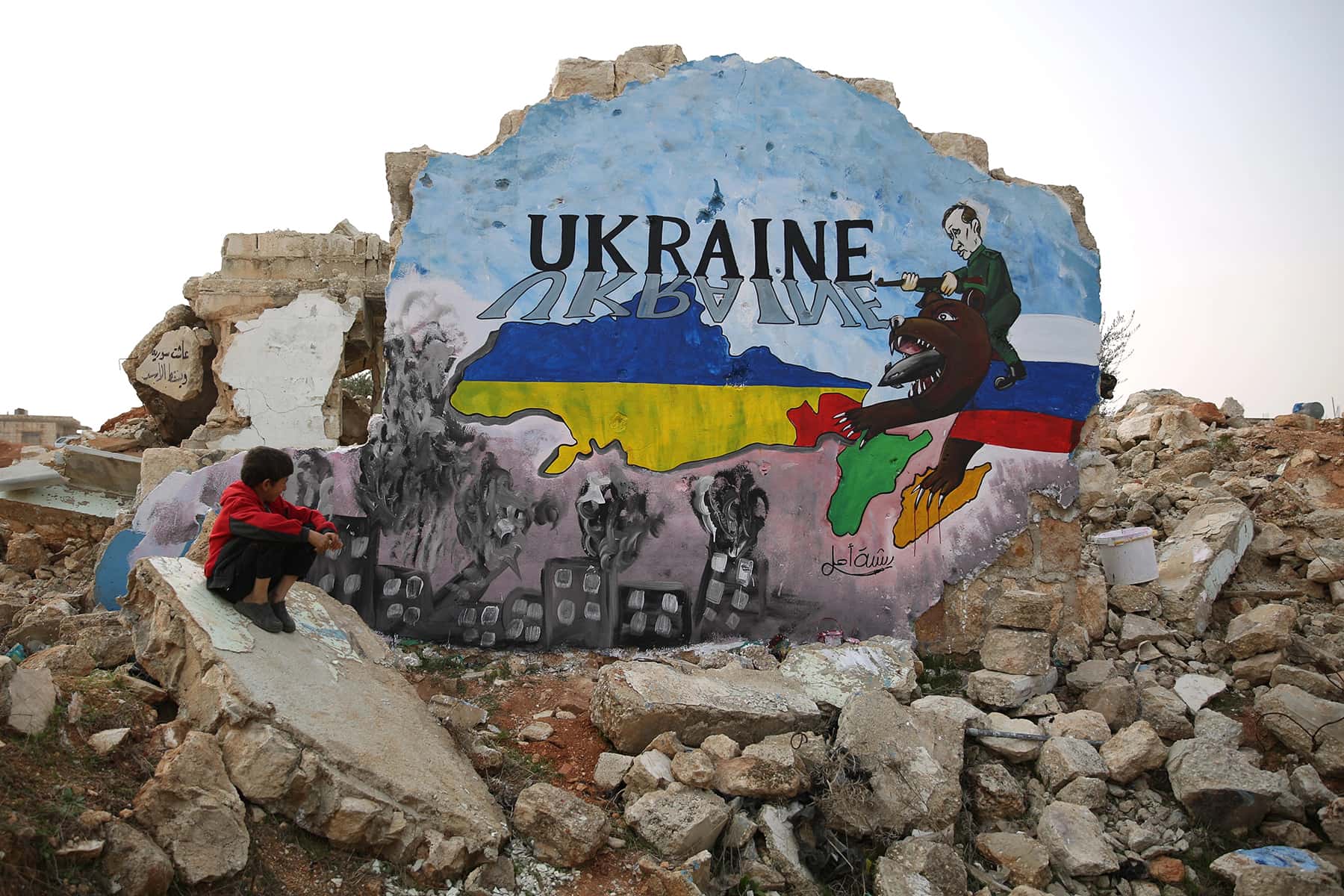 "The prayers of the entire world are with the people of Ukraine tonight as they suffer an unprovoked and unjustified attack by Russian military forces. President Putin has chosen a premeditated war that will bring a catastrophic loss of life and human suffering. Russia alone is responsible for the death and destruction this attack will bring, and the United States and its Allies and partners will respond in a united and decisive way. The world will hold Russia accountable." – President Joe Biden
Illia Ponomarenko, a defense reporter with the Kyiv Independent, reported on February 24 that according to Ukraine's top general, "Russia's blitzkrieg on day one has failed."
Washington Post reporter Dan Lamothe listed information delivered in an early briefing by a senior U.S. defense official. While this information is very early, and likely to be revised in the future, the official told reporters that the U.S. believed Russia launched more than 100 missiles at Ukrainian targets last night, primarily at airports and military targets. There were an estimated 75 Russian planes, including bombers, targeting nearly 10 airports.
The official described this as an "initial phase" of a "large-scale invasion" from Belarus south, from Crimea north, and from Russia to around the city of Kharkiv, which saw the heaviest fighting. The next move, he predicted, would be on Kyiv. "We still believe — it is our assessment — that they have every intention of basically decapitating the government and installing their own method of governance, which would explain these early moves toward Kyiv."
By the evening of February 24, U.S. chairman of the Joint Chiefs of Staff General Mark Milley told lawmakers that Russian troops were now about 20 miles from Kyiv.
Ukraine president Volodymyr Zelensky told his people that Ukraine lost 137 defenders on the first day, with 316 more wounded. Russia has not acknowledged any losses, although images from photojournalists in Ukraine indicate there have been Russian casualties.
Before midnight, American Eastern time, February 25 had begun in Ukraine with the news from Ukraine's minister of foreign affairs Dmytro Kuleba that Kyiv was being hit by "horrific Russian rocket strikes … The last time our capital experienced anything like this was in 1941 when it was attacked by Nazi Germany. Ukraine defeated that evil and will defeat this one. Stop Putin. Isolate Russia. Sever … all ties. Kick Russia out of everywhere."
In fact, isolating Russia and turning it into an international pariah seems to be the plan of the U.S., the members of the North Atlantic Treaty Organization (NATO), the European Union, and other allies and partners.
President Biden spoke with the leaders of the G7 on February 24, the world's wealthiest liberal democracies, and tweeted: "[W]e are in full agreement: We will limit Russia's ability to be part of the global economy. We will stunt their ability to finance and grow Russia's military. We will impair their ability to compete in a high-tech, 21st century economy." G7 countries, which control 50% of the world's gross domestic product, will participate in isolating Russia.
President Biden later announced more sanctions on Russia, squeezing its financial system, its economy, and its political leadership. The Treasury Department also announced sanctions against state-owned banks, defense and security industries, and individuals in Belarus, "due to Belarus's support for, and facilitation of, the invasion." The U.S. will also block Russian access to emerging technologies.
According to the White House, the European Union, Australia, Japan, Canada, New Zealand, and the United Kingdom all are planning their own sanctions. On February 24, the leaders of the European Union announced "massive and targeted" sanctions against Russia, hitting 70% of the Russian banking market, oil exports, and Russia's access to technology.
A bright spot for Putin is that China has eased restrictions on the importation of Russian wheat, thus helping Russia's economy and helping out its own food security. Analyst Rachel Ziemba told CNBC's "Squawk Box Asia" that China's interest in its access to important commodities will likely make it a "meaningful financial lifeline" for Russia, but China will not align with Moscow completely.
But there are plenty of dark spots for Putin, too. After the invasion, Russian stocks plunged 45% before recovering to close down 33%, while the ruble hit a record low against the dollar. Putin summoned Russian oligarchs to a meeting on February 24. According to Max Seddon, Financial Times Moscow bureau chief, Putin told Russia's business elite that he was forced into invading Ukraine because "they could have created such risks for us that it wasn't clear how the country [Russia, that is, not Ukraine] could have continued to exist."
Protesters in Russia took to the streets to oppose the war; many were arrested. According to Nastassia Astrasheuskaya, a Financial Times reporter in Moscow, the Kremlin had expected the public would support the attack on Ukraine. Prominent celebrities, including those who rely on the state to make a living, also came out against the war.
On Facebook, the commander in chief of the armed forces of Ukraine, Lieutenant General Valerii Zaluzhnyi, posted that a Russian platoon surrendered about 85 miles north of Kyiv. He said the platoon leader believed they were a reconnaissance team. "No one thought that we were going to kill. We were not going to fight, we were collecting information."
The Ukraine Defense Ministry has asked computer hackers to help Ukraine's war effort, and a Twitter account claiming to represent the computer hacker group Anonymous claimed to have taken down the Russian RT media outlet, which was, indeed, down on February 24.
The U.S. is sending 7,000 more U.S. troops to Europe to shore up the defenses of our NATO allies. And two former presidents — Democrat Jimmy Carter and Republican George W. Bush — released statements condemning the invasion and standing behind Ukraine. Bush wrote, "The American government and people must stand in solidarity with Ukraine and the Ukrainian people as they seek freedom and the right to choose their own future. We cannot tolerate the authoritarian bullying and danger that Putin poses."
And yet, while some leading Republicans are expressing support for Ukraine and simply ignoring President Joe Biden, the same Republicans who have been most closely associated with Trump and the January 6 insurrection are trying to use Russia's attack on Ukraine to undermine the president.
Following the lead of former president Trump, who said that Putin invaded because Biden is weak, Representative Elise Stefanik (R-NY), who took over for Representative Liz Cheney (R-WY) when the House Republicans stripped her of her position as the third most powerful House Republican, tweeted that "Joe Biden is unfit to serve as Commander-in-Chief. He has consistently given into [sic] Putin's demands and shown nothing but weakness."
This is simply an extraordinary statement for a lawmaker to issue at a time when a president is rallying the global community to stop an invasion of another democracy, but she is not alone. Representative Marjorie Taylor Greene (R-GA) called Biden weak and corrupt; Representative Matt Gaetz (R-FL) said that former president Trump's "unpredictability" (!) kept Putin cautious; Representative Jim Jordan (R-OH) complained that the administration "project[s] weakness." Representatives Lauren Boebert (R-CO), Andy Biggs (R-AZ), and Paul Gosar (R-AZ); Senators Ted Cruz (R-TX), Tom Cotton (R-AR), and Ron Johnson (R-WI); and others all are working to undermine Biden in this moment of global crisis.
Others allied with Trump are supporting Putin by suggesting that the U.S. has no business protecting its ally Ukraine from Russian aggression. This is pushing them into what sure looks like a stand against America.
The press secretary for Florida governor Ron DeSantis, for example, tweeted that "the sad fact is that the USA is in no position to 'promote democracy' abroad while our own country is falling apart." She continued: "I can never trust the federal government in any way."
J.D. Vance, a Republican candidate for the Senate from Ohio, said, "[T]he Russia–Ukraine border dispute has nothing to do with our national security, no American interest is served by our intervention, and that the obsession with Ukraine from our idiot leaders serves no function except to distract us from our actual problems."
Representative Ronny Jackson (R-TX) called for sanctions, not against Russia but against "senior officials in the Canadian government," apparently because authorities there have arrested members of the truck convoy shutting down border crossings and cities to protest vaccine mandates for truckers.
Some have gone further, either defending Putin or attacking America outright.
There used to be a saying that politics stopped at the water's edge, meaning that lawmakers presented a unified front to other countries, no matter their partisan differences. So far, Republicans appear to have thrown that idea overboard, trying to use the crisis to attack President Joe Biden, a Democrat.
Putin's invasion of Ukraine has strengthened the international coalition against authoritarianism, but it could enable the Republicans to succeed in undermining Biden at home, replacing him with a pro-Russian leader like Trump in 2024. In that case, Putin's desperate gambit will have worked, strengthening authoritarians around the world.
However, diplomat Aaron David Miller, who spent 24 years in the State Department, had his own assessment of the president. He said: "So far, Biden has done a masterful job of leading and maintaining both E.U. and NATO unity."
Letters from an Аmerican is a daily email newsletter written by Heather Cox Richardson, about the history behind today's politics