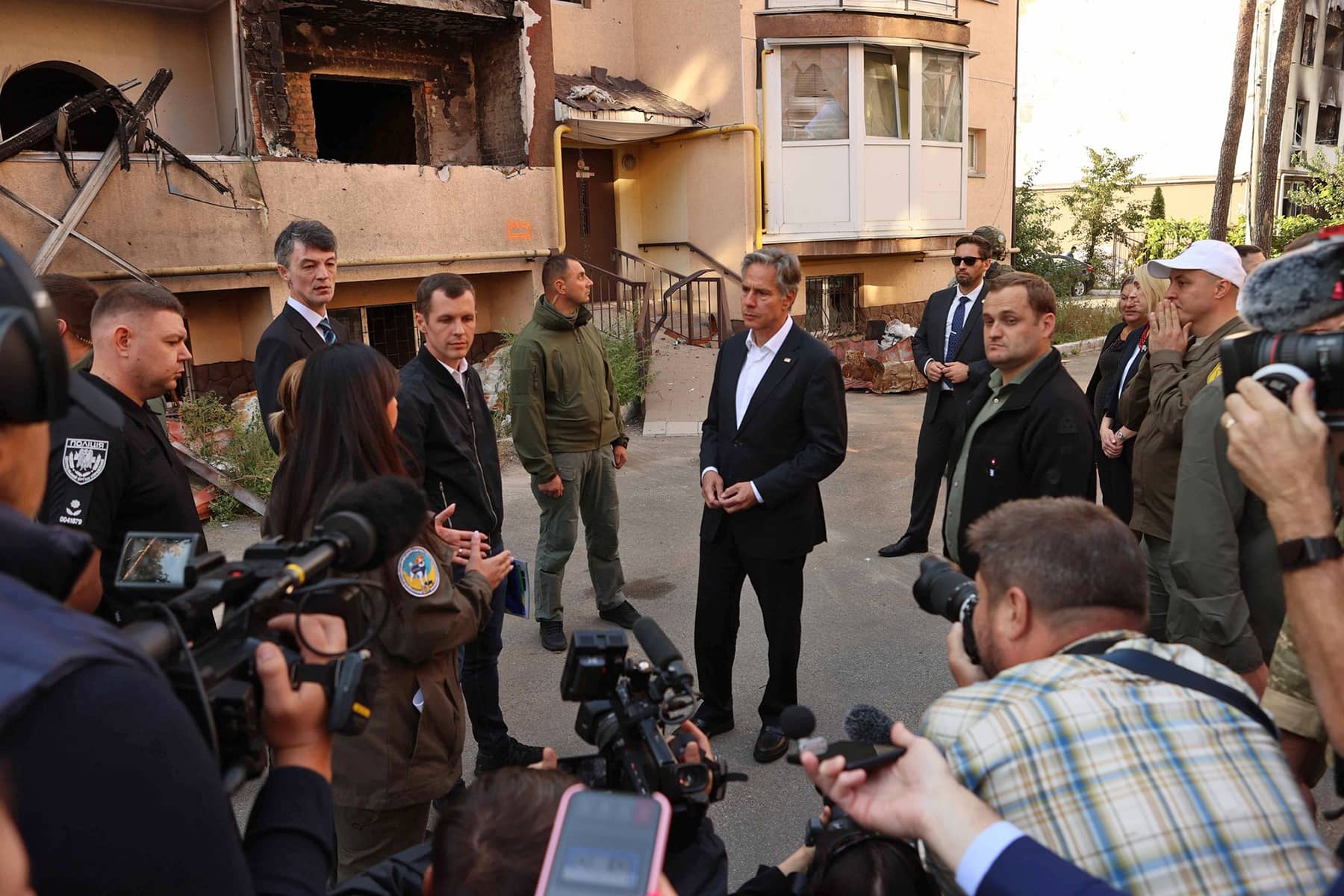 U.S. Secretary of State Antony Blinken made an unannounced trip to Kyiv on September 8, where he met with Ukrainian President Volodymyr Zelenskyy. He also visited Milwaukee's Sister City of Irpin to survey its war-damage and recovery progress.
President Zelenskyy expressed gratitude for support from the United States, as Ukraine continued its resistance against Russia's aggression.
"Saying that the United States are with us and for us, it's a guarantee of every possibility of returning our territories, our lands," said President Zelenskyy in a statement.
Some of the topics discussed during the meeting included future security guarantees for Ukraine, the situation at the Zaporizhzhia Nuclear Power Plant, Ukraine's post-war recovery, continued economic pressure on Russia, the pace of political reform in Ukraine, and renewed exports of Ukrainian grain.
President Zelenskyy also had harsh words for the invaders, on the same day Ukrainian troops made a surprise breakthrough in occupied areas and advanced to recover illegally seized territories.
"Russia should be labeled as a state sponsor of terrorism," President Zelenskyy said. "We all saw reports of the British volunteer Paul Urey, whose damaged body the aggressor returned. We saw terrifying images that proved torture. It is just more evidence that we are dealing with a brutal terrorist state."
President Zelenskyy later awarded Secretary Blinken with the Order of Prince Yaroslav the Wise for his contributions to Ukraine, and bilateral cooperation.
The trip to Ukraine was Blinken's fifth as Secretary, and third since the full-scale invasion by Russia started in February. Secretary Blinken said that at the end of the day, what mattered most was the areas Ukrainians were fighting for were part of their homeland.
"I thought, and President Biden thought, it would be particularly meaningful to come at this time as Ukraine is starting its counteroffensive in the south, also in the east," said Secretary Blinken. "It's early still, but we're seeing real effectiveness on the ground. And we're proud of the fact that our support, and the support of so many other countries, is helping to enable what the Ukrainians are doing – working to liberate territory seized by Russia in this aggression."
On September 8, the U.S. Department of Defense announced a list of items in the security assistance package valued at $675 million. In addition, the U.S. State Department intends to make $2 billion available in long-term investments in Foreign Military Financing: $1 billion to bolster the security of Ukraine, and $1 billion for 17 of Ukraine's regional neighbors.
Secretary Blinken also took some time to travel outside of Kyiv to visit the northern suburb of Irpin. Declared a "Hero City" for stopping the Russian attempt to seize the capital, Milwaukee's Sister City was heavily damaged in defense of saving the nation.
"We were just in Irpin, where I was able to bear witness to horrific attacks on houses, on buildings, clearly belonging to civilians, where the shelling, the missiles, the bullets, it's all there," said Secretary Blinken. "At best it's indiscriminate; at worst it's intentional. And I was able to talk to people doing remarkable work in compiling evidence of war crimes and atrocities and also those responsible for the city who are working to rebuild it."
Dmytro Negresha, a Deputy Mayor of Irpin and Chief Clerk of the Executive Committee, introduced Secretary Blinken to the damaged areas of the city. Negresha explained about the Irpin Recovery Fund, a project funded in cooperation with international partners and Sister Cities, in particular Milwaukee and Miami.
"Secretary Blinken saw our destroyed but immortal Irpin. He was amazed and noted that no picture properly conveyed the horror our city really experienced," said Oleksandr Markushin, Irpin's Mayor, in a post on social media. "Secretary Blinken highly appreciated the work of our management team in their dedication and direction to rebuild Irpin, and promised that America will continue to help the Ukrainian people."
In the first three days of its counteroffensive, Ukrainian forces retook more than 965 square miles of territory in the northeast of the country. Reports remain fluid as the fighting continues, but it is clear that Russia has suffered a significant military defeat and is pulling back its forces. Its defense appear to be crumbling in the face of a Ukrainian military onslaught.
"We know this is a pivotal moment, more than six months into Russia's war of aggression against Ukraine, as your counteroffensive is now underway and proving effective," said Secretary Blinken. "Ukraine's extraordinary front-line defenders continue to courageously fight for their country's freedom. President Biden has been clear, the United States will support the people of Ukraine for as long as it takes."