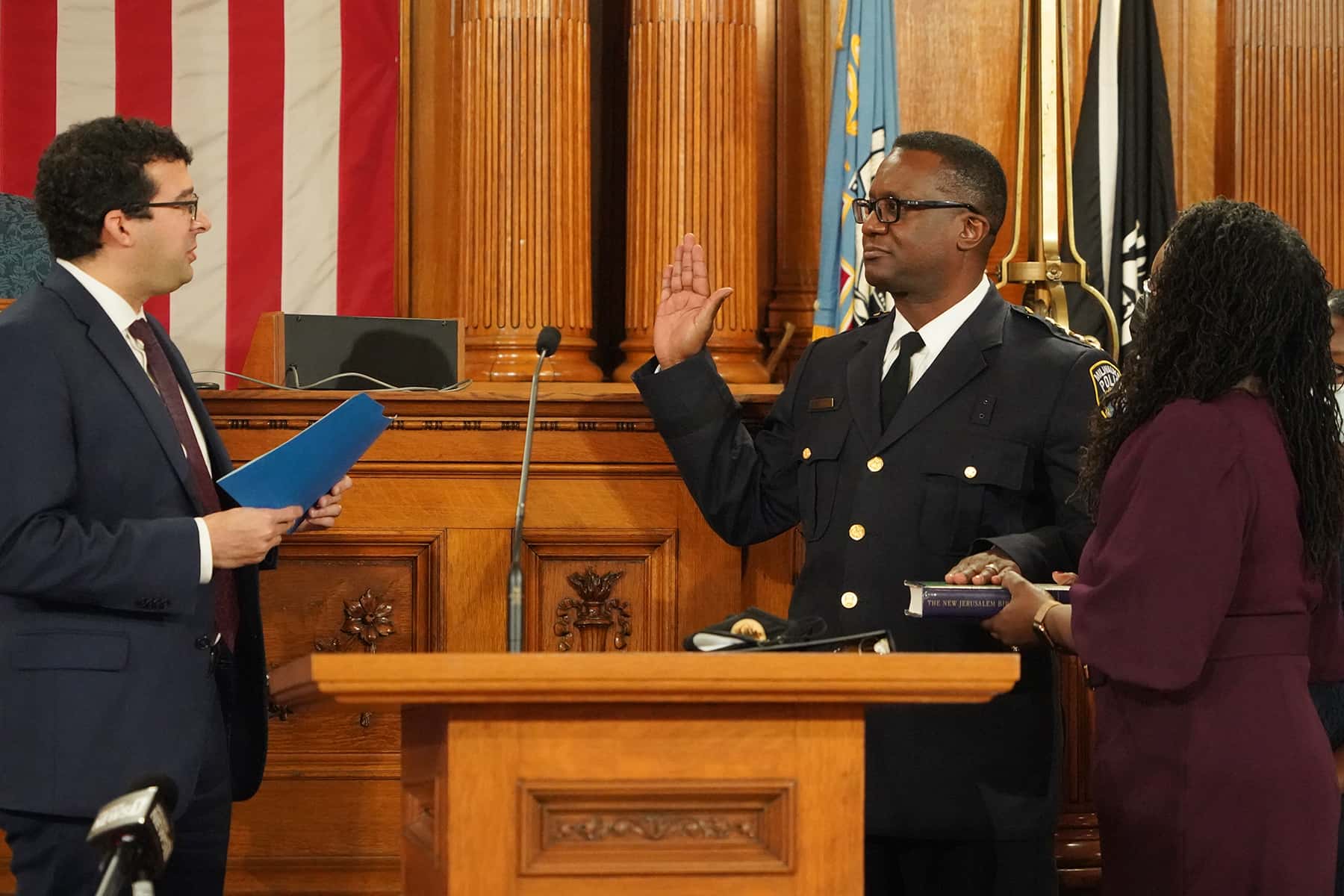 Jeffrey Norman took the Oath of Office with family beside him during a special ceremony at City Hall on November 15 to become Milwaukee's 20th Police Chief. He was sworn into the city's top law enforcement position after a contentious 14 month search to replace Chief Alfonso Morales.
Norman has been with the Milwaukee Police Department for more than two decades, and has been the interim chief since Morales was demoted. The position has a four-year term, and Norman's tenure begins as the city grapples with many social justice issues amid an ongoing pandemic.
"I want to thank my wife of 20 years, Dr. Sharniecia Norman, for her nurturing love," said Chief Norman. "I am also honored and deeply humbled by the Commission's unanimous support. I look forward to continue to work with FPC for the betterment of our city."
During the initial search, the Milwaukee Fire and Police Commission deadlocked twice with votes to replace Morales. Norman was among the top six candidates for the position, but he was not one of the three finalists. The Commission decided in August to discontinue their search and move forward with Norman as the only candidate. The seven members unanimously voted to appoint Norman to a full term, instead of finishing the remainder of Morales' term.
"In order for us to succeed, this has to be a community where our residents can work with and respect our police department," said Mayor Tom Barrett. "The reason I believe Chief Norman will be successful in this job is because he respects people. Every single interaction I've ever seen with Chief Norman, he was respectful."
Mayor Barrett also stressed that the Chief would need to build respect between officers and local residents. Norman followed by saying that he would be focused on responding to crime in Milwaukee, while working to build engagement and trust with the community. His tenure will also be a new chapter for MPD and the city.
"This is a new day in regards to what our community members are saying about the things we do not want taking place in our neighborhoods," said Chief Norman. "We are coming together on this, from the faith base, from our community stakeholders, the police department is standing very tall with those who are saying we want our streets back."
Norman mentioned many priorities he planned to address as Chief, including rampant car thefts, gun violence against youth, and tension between police and Milwaukee's marginalized communities. He also expressed his intention of building legitimacy, and to partner with organizations like the Milwaukee Office of Violence Prevention.
"I have witnessed you make every attempt to turn the tide and work collaboratively to prevent violence, and your command staff has genuinely followed suit," said Arnitta Holliman, Director of the Milwaukee Office of Violence Prevention.
Norman is the second Black police chief and the 20th in Milwaukee's history, according to the city's Chiefs of Police timeline that began with Walter Beck in 1855. Norman joined the Milwaukee Police Department in 1996. He was promoted to detective by 2002, and to captain in 2017. Over his 25 years of service he has worked in the robbery, violent crimes, homicide, and property crimes divisions. In addition to his Bachelor's degree from the University of Wisconsin-Milwaukee, Norman holds a law degree from Marquette University.
"It was a tremendous honor to help officially welcome Chief Jeffrey Norman the job of Chief of Police. This is a proud moment for all of Milwaukee. Like me, Chief Norman is a Milwaukee native and a graduate of Milwaukee Public Schools. And like me, he's lived the life of a Black man in Milwaukee, and in Wisconsin, with all the opportunities and the challenges that come with that. With this appointment, we turn the corner. The city is turning the corner on the dysfunction at the Fire & Police Commission with new leadership and new members. We turn the corner on the strife within the department, by promoting one of the department's own, someone who understands that we have new challenges in this new century, and that the old way of doing business just isn't going to cut it. And together, we are going to turn the corner on the crime affecting every neighborhood in our community. Together, we are going to make the needed investments to stabilize the department and make sure citizens who want and need a police response, get it. We are going to take these issues of car thefts, reckless driving, and more and more shootings head on, and we are going to make Milwaukee safer. But also, together, we are going to reform and modernize the police department. We are going to address the cultural issues that arise with a department that has too few Milwaukee residents and too few officers of color. We are going to move those functions that don't need to rest on the shoulders of sworn officers so we can prioritize public safety, and do it more efficiently. With Chief Norman, we have a truly forward-thinking leader. We have someone who will listen to anyone, whether offering praise or criticism. We have someone who will make tough decisions. And we have someone who will deliver a safer Milwaukee for all, for his family, for my family, for your family, for all of us." – Common Council President Cavalier Johnson
"I congratulate Chief Jeffrey B. Norman for being sworn-in today as the City of Milwaukee Police Department's 22nd Chief of Police. It is the high honor of a law enforcement career to lead the organization one has given their professional life to. Chief Norman inherits an organization with some of the finest men and women in the law enforcement profession at a time when our community needs them. His ability to inspire his members to work with the community will be one of his biggest challenges but one I know he can meet. His ability to promote the discussion of police reform in Milwaukee and addressing social justice are at the top of the community's need also but issues he has already shown his willingness and commitment to leading the discussion. I encourage the Milwaukee community and partners at the Federal, state, and local level to work with Chief Norman and his leadership team in establishing a framework to help make our city strong and safe. Their success is vitally important to our community's success. On behalf of the Milwaukee County Sheriff's Office, I congratulate Chief Norman and his family on being entrusted with this high honor. We look forward to a long, rich, and productive partnership in helping build Milwaukee's future." – Milwaukee County Sheriff Earnell Lucas