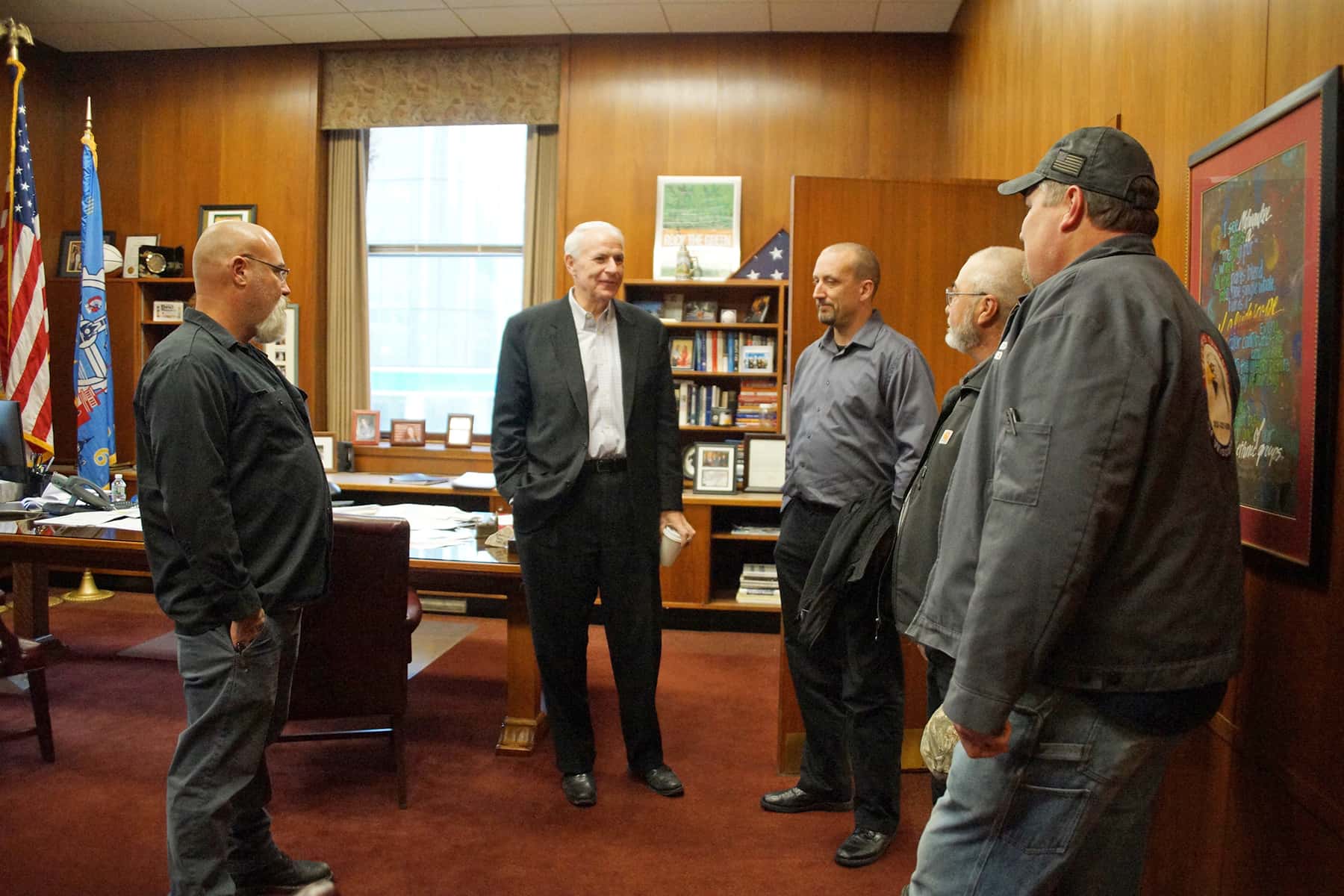 Alderwoman Chantia Lewis and Mayor Tom Barrett were joined by members of Veterans Outreach of Wisconsin (VOW) on Veterans Day, November 11, in the historic rotunda of City Hall for a special signing ceremony to mark the formal development of a special tiny homes housing initiative for homeless veterans.
A first-of-its-kind project in Milwaukee, the tiny homes initiative will bring nearly 50 Veterans Outreach of Wisconsin homes and a community center to a city-owned parcel located just west of N. 60th Street and south of W. Green Tree Road.
"What we're talking about is a homeless recovery program that will allow veterans, both men and women, who have served our country to have a home in the city of Milwaukee that they can call their own. But it's not simply a home. It is also a support system," said Mayor Barrett. "One of the great local heroes in Milwaukee is medal of honor winner Gary Wetzel, and this will be called the Gary G. Wetzel Center as a tribute to him."
The Mayor stressed that the program was privately funded. Generous benefactors, individuals, foundations, or corporations could begin contributing immediately toward the more than $3 million needed for long term sustainability of the program. He said it was important for people in the community and who care about local veterans to know that this was not a government program.
"Racine, to its credit, is far ahead of just about any other community in this nation for developing this tiny home project," added Mayor Barrett. "Last summer I had the honor of going down there to visit this project. And I came away from it and thought it was something that I knew we could embrace here."
Created by legislation sponsored by Alderwoman Lewis and approved by the Common Council on November 5, the site could eventually include 48 tiny homes, each with about 240 square feet of living space. Research estimates that as many as 300 to 1,200 veterans are homeless in Milwaukee, with 20 percent of the city's homeless population consisting of military veterans.
Alderwoman Lewis, herself a veteran who served three years in the U.S. Air Force, said the homes will provide housing for homeless veterans and veterans in danger of becoming homeless for up to two years, while VOW works with them to find employment and permanent housing.
"As a veteran, I represent an area that has veterans, and now we have support for veterans," said Alderwoman Lewis. "This will be our citywide effort to show how much we appreciate our veterans. We understand that taking of veterans in their time of need is something that is invaluable, but also it is morally what we should be doing."
Tiny homes provide the opportunity to have a level of freedom, independence, as well as much needed support all wrapped together. Alderwoman Lewis felt that her district would be a perfect home for a tiny home project. The program can now move forward in an innovative way.
"Because the work in Racine being done by the Veterans Outreach of Wisconsin is so forward thinking, it is something that other cities are looking at," added Alderwoman Lewis. "To me, this is a national model and one that we can utilize for veterans and others in our community alike."
Each tiny home include a half-bathroom, and will be built in clusters of six. Half of the units being handicapped accessible. The co-ed complex is supported by an 8,800-square-foot community center that will include showers, a kitchen, meeting spaces, and a game room. Restrictions will include a curfew, strict visiting hours, and random tests for drugs and alcohol.
"We want the houses to be very nice and comfortable, but not nice enough and comfortable enough that somebody can move in and have everything they need to isolate themselves," said Jeff Gustin, Executive Director of Veterans Outreach of Wisconsin. "We need them to come out of the houses so that we can work with them. There's no cooking facilities or showers, that's all in the community center to draw the residents out so that we can work with them."
One of the challenges that Gustin see with veterans is the tendency for them to be isolated. If the tiny homes are too well self-contained veterans do not need to engage in the Community Center programming. The project is more than just a shelter for veterans, but also involves closely with each resident to bring all the tools necessary for their success and well-being. Those tools include group therapy for PTSD, assistance with work search, Veterans benefit search, financial advice and guidance, and housing placement.
The James A Peterson Veteran Village in Racine, supported by the SC Johnson Community Center, opened 15 homes in the fall of 2017. VOW plans to break ground in Milwaukee sometime in the spring of 2020.