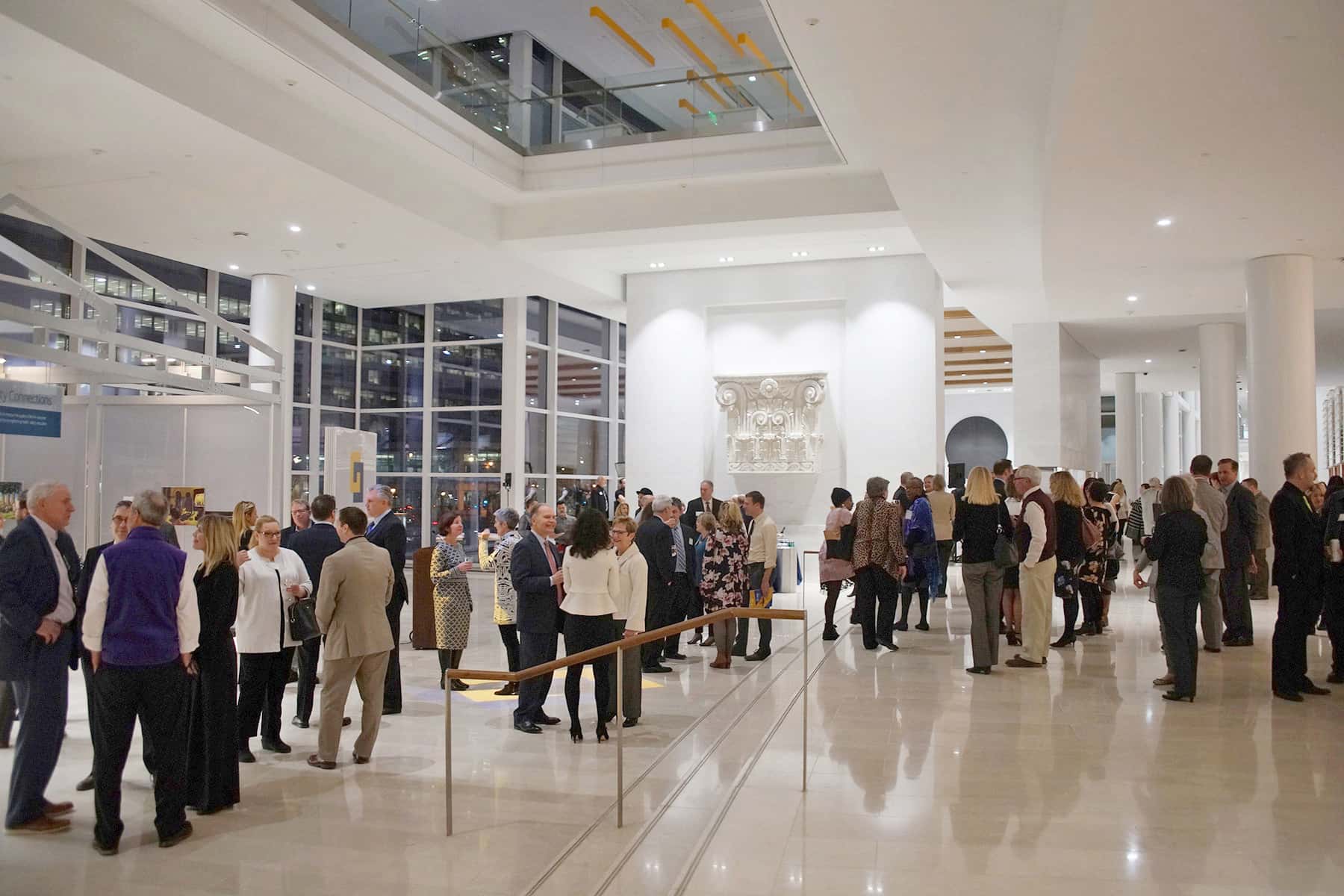 The Milwaukee 2020 Host Committee announced its partnership on November 4 with Northwestern Mutual for three historic summits that will take place in Milwaukee in the months leading up to the 2020 Democratic National Convention.
The series of summits will cover topics that are relevant to Milwaukee and peer cities across the country, beginning with Ensuring Economic Equity: An Industry Best Practices Summit, which is set to take place on November 22. As part of the partnership, all three events will be hosted at the Northwestern Mutual Tower and Commons.
"At the Host Committee, we are working to ensure the benefits of the Democratic National Convention extend into every community in the region and last beyond the four days of the convention. Our focus on diversity and inclusion is intentional, and we are proud to launch our three summits, alongside our community-minded partners at Northwestern Mutual, with an event focused on best practices in those critical areas," said Liz Gilbert, President of the Host Committee.
Through keynote speeches, panel discussions, and targeted networking opportunities, the "3E Summit" will showcase examples of best practices for economic equity and inclusion across various sectors and industries. It will also set a framework for how to advance their adoption in Milwaukee and across the country.
"We are honored to host this summit in the Northwestern Mutual Tower and Commons," said John E. Schlifske, Chairman, President, and CEO of Northwestern Mutual and Honorary Chair of the Host Committee. "As part of our commitment to Milwaukee's success, we awarded small business enterprises more than $127 million in contracts during the construction process for our building, and we are glad to see local small businesses offered potential opportunities related to the convention."
Next year, the Host Committee will host its final two summits at the Tower and Commons. Set for February 2020, The CommUNITY Growth Summit will be organized with the help of Wisconsin-based start-up accelerator gener8tor and will focus on the future of growth and culture in communities outside of America's major metro areas. The summit will cover a wide array of shared strengths and challenges, from tech and venture capital to segregation and mass incarceration.
The third and final summit, which will take place in April to coincide with National Volunteer Month, will work to curate tactical and sustainable options for increasing civic engagement and volunteerism within Milwaukee and peer communities throughout the country.
"Since the day Milwaukee was selected to host the 2020 Democratic National Convention, we have worked to ensure this convention is more than a four-day event. We want to create a diverse and inclusive Milwaukee model and legacy that lasts for years to come, and these three summits will help us fulfill that mission," said Representative Gwen Moore, Co-Chair of the Host Committee.
Members of the Host Committee represent constituencies and industries from across the state whose collective feedback will inform the efforts of Host Committee staff and ensure that the impact of the convention is spread throughout the region.
The Milwaukee 2020 Host Committee consists of Chris Abele, County Executive of Milwaukee County; Tammy Baldwin, Senator from Wisconsin; Mandela Barnes, Lieutenant Governor of Wisconsin; Tom Barrett, Mayor of the City of Milwaukee; Betsy Brenner, Former President and Publisher of the Milwaukee Journal Sentinel; Tony Evers, Governor of Wisconsin; Sarah Godlewski, State Treasurer of Wisconsin; Ashanti Hamilton, President of the City of Milwaukee Common Council; Jacqueline Herd-Barber, Community Volunteer; Gordon Hintz, Democratic Leader for the Wisconsin State Assembly; Josh Kaul, Attorney General of Wisconsin; Ron Kind, Representative of Congress; Herb Kohl, Former Senator from Wisconsin; Doug La Follette, Secretary of State of Wisconsin; Alex Lasry, Senior Vice President of the Milwaukee Bucks; Sheldon B. Lubar, Chairman of Lubar & Company; Gwen Moore, Representative of Congress; Mark Pocan, Representative of Congress; John E. Schlifske, CEO of Northwestern Mutual; Jennifer Shilling, Democratic Leader for the Wisconsin State Senate; and Bud Selig, Commissioner Emeritus of Major League Baseball.
"Wisconsin residents of all ages and from all backgrounds will feel the impact of the 2020 Democratic National Convention. That's why it is critical that this leadership team advocates for the best interests of the entire state. I look forward to working together to ensure we make the most of this incredible opportunity," said Governor Evers.