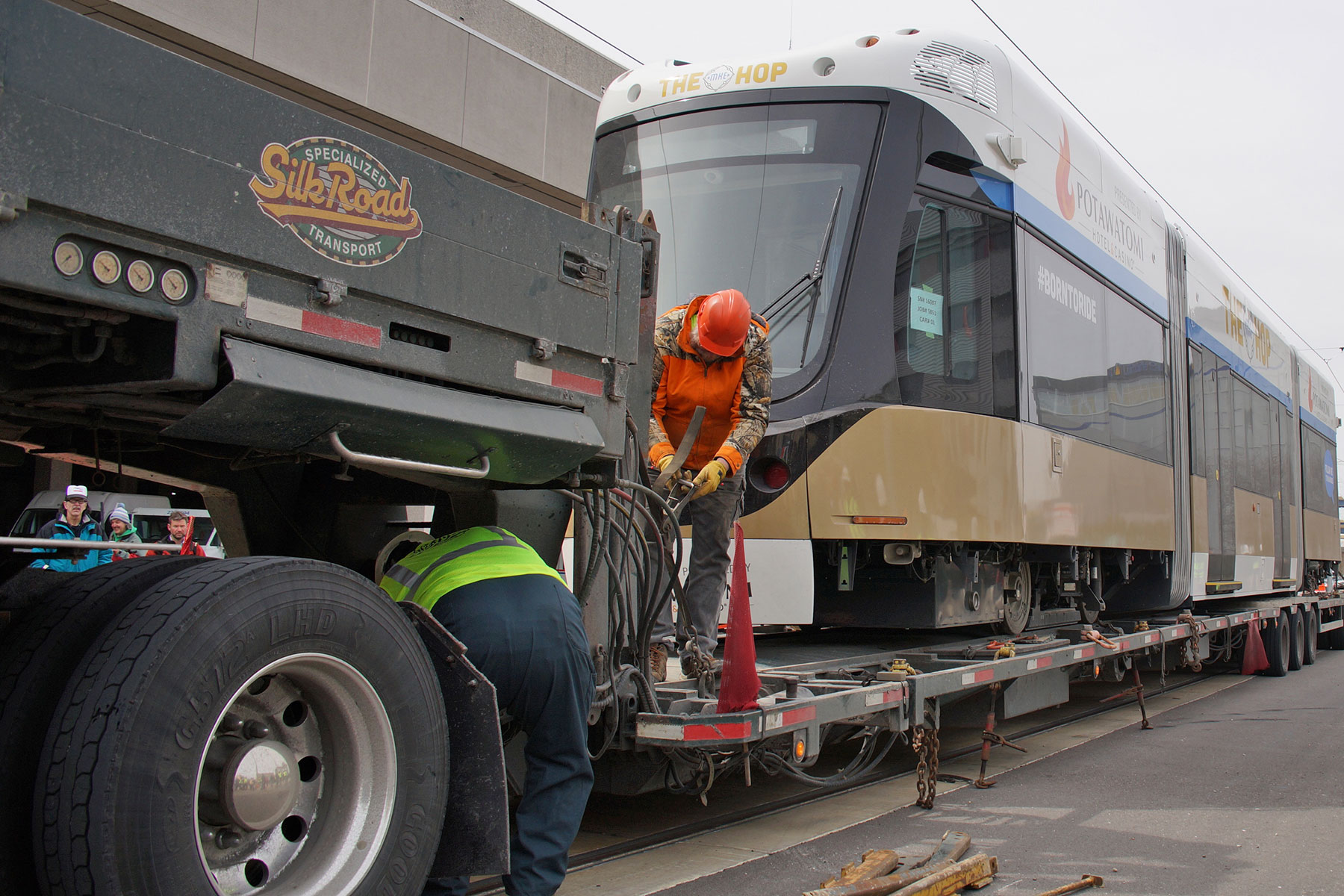 The first streetcar vehicle for The Hop, presented by Potawatomi Hotel & Casino, left manufacturer Brookville Equipment Corp. on March 23 using a flatbed truck for transportation.
The modern, 67-foot long, 83,000-pound streetcar vehicle will travel from the plant in Brookville, Pennsylvania through Ohio, Indiana and Illinois before arriving in Milwaukee. The vehicle's arrival is expected to mark the first time the fleet's color scheme will be seen by the public.
"The arrival of The Hop's first vehicle in Milwaukee is a major and highly visible step forward in the development of our new streetcar system," Mayor Tom Barrett said. "By the end of this year, Milwaukeeans will be able to ride the streetcar to so many places — and with free rides for the first year, thanks to Potawatomi Hotel & Casino's generous support."
It is the first of a five-vehicle order, with the remaining cars slated to arrive over the next few months. The first vehicle will arrive as early as March 26, although it could be later in the week depending on weather conditions or other circumstances during the drive.
The vehicle will be rolled off the truck on W. St. Paul Avenue between N. 2nd and N. 4th streets, and then head inside the streetcar's adjacent operations and maintenance facility on N. 4th Street. Short portions of W. St. Paul Avenue and N. 4th St. will be closed for a few hours to accommodate delivery.
"Sixty years ago to the month, streetcar operations ended in Milwaukee, closing out 68 years of electrified street railway service that once operated over 191 miles of Milwaukee streets. The last line, the #10 Wells Street line, ceased operations in the early morning hours of Sunday, March 2, 1958," said Alderman Robert Bauman, who represents much of the Downtown area. "Portions of the original #10 Line (Ogden and Jackson St.) will again see streetcar service as part of Milwaukee's modern streetcar system's initial starter line."
Street testing of the first vehicle will begin next month on a section of W. St. Paul Avenue, with testing along the full initial route to begin this summer. The public is expected to first be able to ride The Hop in November. Rides will be free for the first year, thanks to Potawatomi Hotel & Casino's generous 12-year, $10 million sponsorship deal.