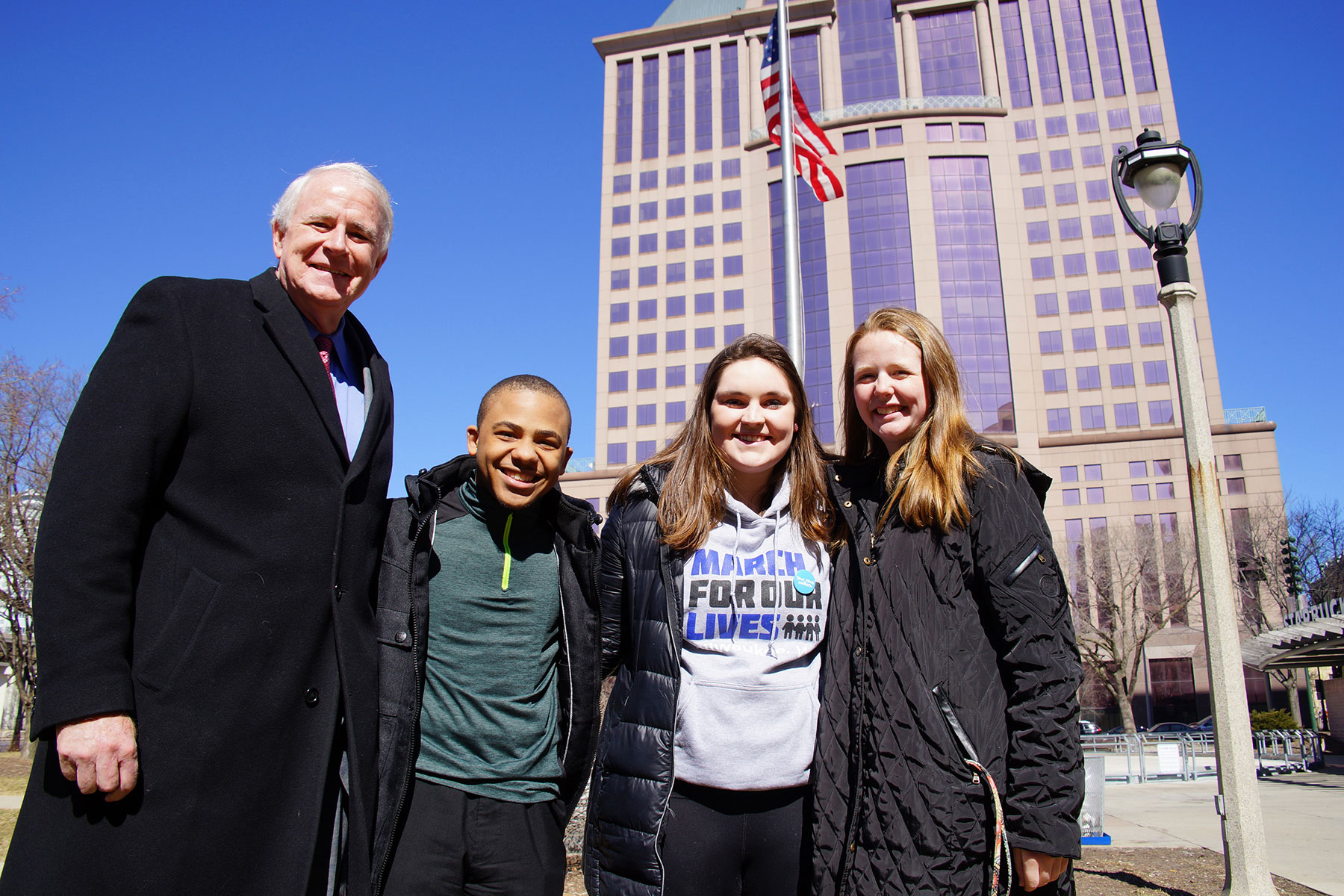 "We are here today because we are undergoing something transformational in this nation. Led by the teenagers, the high school students, the college students, I believe this country is at last coming to grips with the fact that our gun laws have been hopelessly and unnecessarily impeded by the National Rifle Association and those politicians who are tools of the National Rifle Association." – Mayor Tom Barrett, City of Milwaukee
Mayor Tom Barrett joined March for Our Lives MKE youth leaders, Isabella Staton, Marvell Reed, and Linnea Stanton, in a press conference at Red Arrow Park on March 23 to express his support and admiration for their activism. The Milwaukee march organizers are calling on their fellow young people to vote elected officials out of office who are not helping with gun control.
"We are fighting for our lives at this march. We can no longer just sit and watch our students, our friends, our family getting murdered in cold blood," said Isabella Staton, one of the March or Our Lives MKE organizers. "We're done, and we're saying never again."
Students in Milwaukee and across the nation are calling for changes in gun control legislation. The March 24 rally in Milwaukee will start at the Milwaukee County Courthouse in the morning and proceed east to Red Arrow Park.
"I find these young leaders to be inspirational. I commend them for their courage in speaking up against gun violence and I want to recognize their efforts in elevating the national call for common sense gun laws here in Milwaukee," added Mayor Barrett. "I said at the State of the City speech, that I stand with the students at Marjory Stoneman Douglas High School, and I call for mandatory background checks of all gun sales. That is why tomorrow I will stand with students in Milwaukee and march from the courthouse the City Hall to call upon legislators to make changes in our gun laws."
The mayor offered one simple question to the Wisconsin Governor and state legislators, that he felt citizens should ask: Do you support laws that allow a person with a violent past to purchase a gun without a background check… even when you know that gun might be used to kiII people?