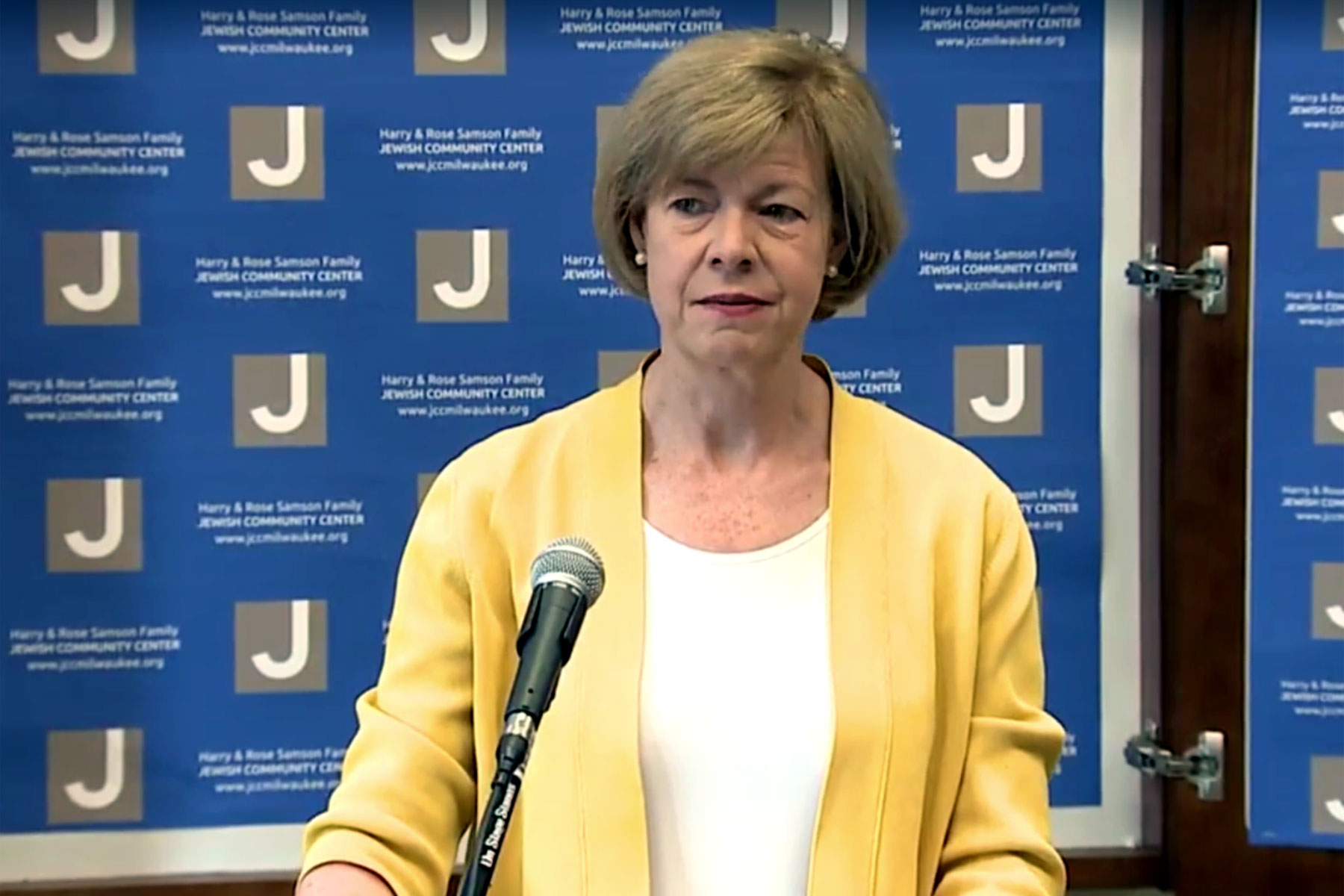 "It is time for the leadership of this nation to try and unite people, not to divide them." – Mayor Tom Barrett
U.S. Senator Tammy Baldwin visited the Harry & Rose Samson Family Milwaukee Jewish Community Center (JCC) on February 27 to join a roundtable dialogue with families, staff. and local Milwaukee leaders. Against a backdrop of bomb threats aimed at the Milwaukee JCC and Jewish community centers across the country, and the recent spike in anti-Semitic incidents in America, Senator Baldwin visited JCC Milwaukee to offer support for the Jewish community.
"When we turn a blind eye to intolerance and discrimination against any community or group, we allow the things that fuel hate crimes to go unchecked," said Senator Baldwin. "Today, I stand with JCC Milwaukee, Jewish community centers across the country and the international Jewish community. Together, we must all stand up and speak out against anti-Semitism."
The visit coincided with U.S. Senators Tammy Baldwin (D-WI) and Marco Rubio (R-FL) and U.S. Representatives Joe Crowley (D-NY) and Chris Smith (R-NJ) introduction of the Justice for Uncompensated Survivors Today (JUST) Act (S. 447). The bipartisan and bicameral legislation was designed to improve efforts assisting Holocaust survivors and the families of Holocaust victims. It would require the State Department to report on the progress of certain European countries on the return or restitution for wrongfully confiscated or transferred Holocaust-era assets.
"We're taking bipartisan action to ensure justice, which has been put off for far too long," said Senator Baldwin. "Tragically, we are losing survivors every day, and it is my sincere hope that this legislation, by shining a spotlight and solidifying this issue as an American foreign policy priority, will spur action in countries that are falling short of their obligations, ultimately resulting in a measure of justice for these individuals who have waited far too long."
"Seventy years after World War II, when Nazis and their collaborators illegally confiscated Jews' property in Central and Eastern Europe, this theft remains a largely unresolved issue and a source of lasting pain for many Holocaust survivors and their heirs," said Senator Marco Rubio. "This bipartisan legislation will help address this lasting injustice from a dark chapter in human history by facilitating the restitution of Jewish communal, private and heirless property. American leadership on this issue is vital, and I'm proud to join Senator Baldwin in introducing this bill."
"While we're decades removed from the Holocaust, the pain is kept fresh for many in part because of the substantial amount of Jewish-owned property that still hasn't been returned to their rightful owners after having been seized. This is unacceptable," said Rep. Crowley, Chair of the Democratic Caucus. "Families who saw their property or possessions taken should be compensated for that loss. It's important that we do what we can to ensure European governments are keeping their word, and I'm proud to join my colleagues in this legislation that will put us one step closer to bringing justice to Holocaust survivors and their families."
"Holocaust survivors, who endured the Nazis and their accomplices brutally murdering, torturing and stealing, are now enduring cheating and defrauding as they fight for the return of their stolen property," said Rep. Smith. "Survivors need justice, not excuses, from their governments and this bill helps them get it."
Seventy years after the Holocaust, in which the unprecedented looting of Jewish assets was a central aspect, the restitution of Jewish communal, private, and heirless property in Central and Eastern Europe remains unresolved. Indeed, decades after the Holocaust and the fall of Communism, most formerly Jewish-owned, real properties confiscated by the Nazis and their collaborators have not been returned, nor has compensation been provided to the rightful owners or their heirs.
The JUST Act will build on the international Terezin Declaration on Holocaust Era Assets and Related Issues of 2009, which affirms that the protection of property rights is an essential component of a democratic society based on the rule of law and recognizes the importance of restituting or compensating Holocaust-related confiscations made during the Holocaust-era between 1933-45. Unfortunately, many nations that endorsed this declaration, including many of our NATO allies, have not fully addressed the restitution of Jewish communal, private and heirless property.
The JUST Act permanently amends current law to require the State Department to report on certain countries' compliance with and progress toward the goals of the 2009 Terezin Declaration on Holocaust Era Assets, as well as on what actions those countries are taking to resolve the claims of U.S. citizens. This will enhance on-going U.S. efforts to urge Central and Eastern European countries to achieve progress on this issue and will help build on America's commitment to ensuring justice for Holocaust victims and their families.
"Holocaust-era property restitution provides a measure of justice to victims and their families, and to surviving Jewish communities, for the violation of their basic human rights. The JUST Act would encourage countries around the globe to live up to the existing international consensus they endorsed in 2009," said Abraham Biderman, co-chairman of the World Jewish Restitution Organization's Executive Committee.
"We commend Senators Baldwin and Rubio for this bipartisan effort to pursue justice for Holocaust victims and their families. The ability to spotlight how countries are fulfilling property restitution commitments provides another tool in America's diplomatic arsenal. Passage of this bill would send a strong signal that the U.S. commitment to justice for Holocaust victims remains a U.S. foreign policy priority," said Stacy Burdett, Vice President, Government Relations, Advocacy & Community Engagement, Anti-Defamation League.
"Seventy years after the end of World War II and twenty-five years since democracy has been restored to the nations of Central and Eastern Europe there can no longer be any excuse for delaying the restitution of Holocaust-era properties to their rightful owners. We hope this legislation will push those governments to finally act," said Rabbi Andrew Baker, Director, International Jewish Affairs, AJC.
The JUST Act has received strong support from organizations across the country including World Jewish Restitution Organization (WJRO), American Jewish Committee (AJC), Anti-Defamation League (ADL), J Street, Jewish Federations of North America (JFNA), B'nai B'rith International, HIAS refugee assistance organization, National Coalition Supporting Eurasian Jewry, the Milwaukee Jewish Federation and the Jewish Home and Care Center Foundation in Milwaukee.
In addition to Senators Baldwin and Rubio, the JUST Act is cosponsored by Senators Richard Blumenthal (D-CT), Orrin Hatch (R-UT), Bob Casey (D-PA), Ron Johnson (R-WI), Dianne Feinstein (D-CA), John McCain (R-AZ), Ed Markey (D-MA), John Thune (R-SD), Gary Peters (D-MI), Charles Schumer (D-NY), Kirsten Gillibrand (D-NY), Elizabeth Warren (D-MA) and Cory Booker (D-NJ).