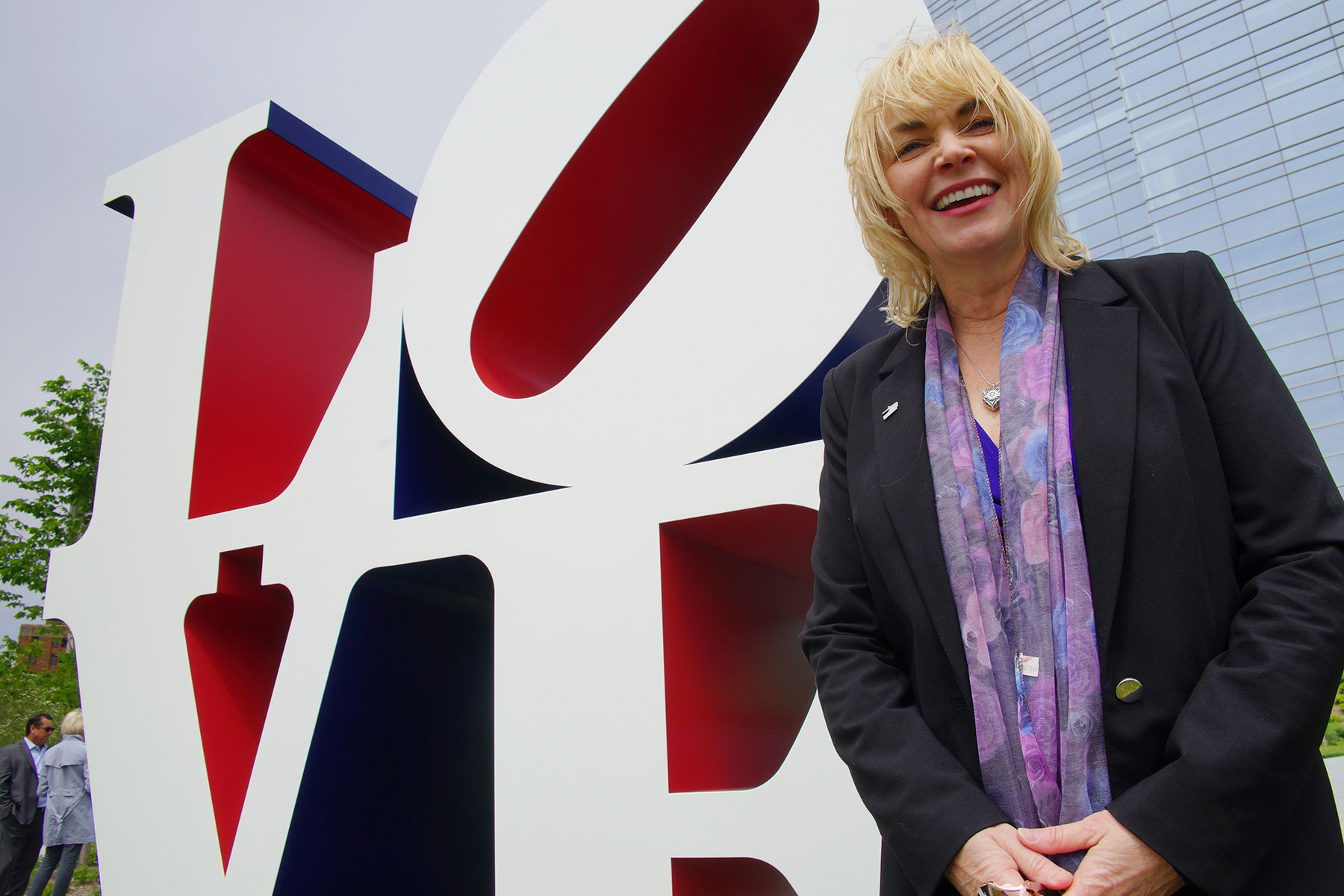 Sculpture Milwaukee, the free outdoor urban sculpture experience presented by lead sponsor Northwestern Mutual, returns to Wisconsin Avenue with 21 works. Featuring internationally, nationally and locally renowned artists, the installation is attracting guests from around the globe. Sculpture Milwaukee is on display until October 21 and features a series of lectures, tours and Avenue activation events each month.
EDUCATION EVENTS
Sculpture Milwaukee Lecture Series
Hear from local artists, narrators, curators and athletes as they explore the meaning behind works in the 2018 installation. The series includes artist and John Michael Kohler Arts Center Curator Faythe Levine on Wednesday, July 25 at the Hilton Milwaukee City Center, performance artist Dasha Kelly on Wednesday, August 15 at The Pfister Hotel, Haggerty Museum of Art Director Susan Longhenry on Wednesday, August 22 at The Pfister Hotel, former Milwaukee Bucks player and artist Desmond Mason on Wednesday, Sept. 19 at The Pfister Hotel, and Museum of Wisconsin Art Curator Grame Reid on Wednesday, October 10 at the Hilton Milwaukee City Center. The series is free and open to the public, and all lectures will begin at 6:00 p.m.
In Conversation: Liz Glynn at the Milwaukee Art Museum
Hear from Los Angeles-based artist Liz Glynn in a Milwaukee Art Museum talkback on Thursday, September 6 at 6:15 p.m. in Lubar Auditorium. Through her installations, performances and sculptures, Glynn conducts historical research to link our current world to our past. Everything is contemporary at one point in time. Glynn uses this premise to reimagine how individuals might help shape future outcomes through engagement and imagination. "Untitled (Burgher with extended arm)," 2014 comes from a series of performances focused on monumental sculptures in the collection of the Los Angeles County Museum of Art. "Untitled (Burgher with extended arm)," 2014 is on loan courtesy of the artist and the Paula Cooper Gallery, New York. Glynn will be introduced by Kim Miller, professor and chair of fine art at the Milwaukee Institute of Art and Design. The conversation is free to members and free to the general public with Museum admission.
AVENUE ACTIVATION
Ex Fabula: Sculptures & Stories Walking Tours
Ex Fabula will provide guided, storytelling walking tours inspired by works in the 2018 Sculpture Milwaukee installation. Led by Ex Fabula storytellers Elaine Maly and Shawn Mitchell, the series will feature true, personal stories inspired by select works of art. Tour goers will also have an opportunity to share their own stories. The Sculptures & Stories Walking Tour is offered Saturday, July 21 from 10:30 a.m. to 12:00 p.m., Friday, July 27 from 1:30 p.m. to 3:00 p.m., and Saturday, July 28 from 3:30 p.m. to 5:00 p.m. Tours will run approximately 75 minutes and will begin at the Monarch Lounge in the Hilton Milwaukee City Center.
TRUE Skool Annual Block Party: Sculpture Milwaukee Riddles
TRUE Skool celebrates Sculpture Milwaukee during its annual block party on Saturday, July 28 from 11 a.m. to 6 p.m. at the Peck Pavilion at the Marcus Center for the Performing Arts. Guests are invited to pick up a free riddle book, which includes Sculpture Milwaukee brainteasers that can be solved while exploring the installation along Wisconsin Avenue.
ONGOING TOURS
Milwaukee Art Museum Public and Private Walking Tours
Join the Milwaukee Art Museum for a 90-minute tour of Sculpture Milwaukee. Tours take place the second Thursday of every month, now through October 11 at 5:30 p.m. Tours meet at the Museum's main entrance, 700 N. Art Museum Drive, and take place rain or shine.
Milwaukee Art Museum Public and Private Trolley Tours
Milwaukee Art Museum docents are stepping outside the Museum's walls to acquaint visitors with Sculpture Milwaukee on a 60-minute, narrated trolley tour. Tours depart every Wednesday at 1:30 p.m. until October 18 from the Museum's main entrance.