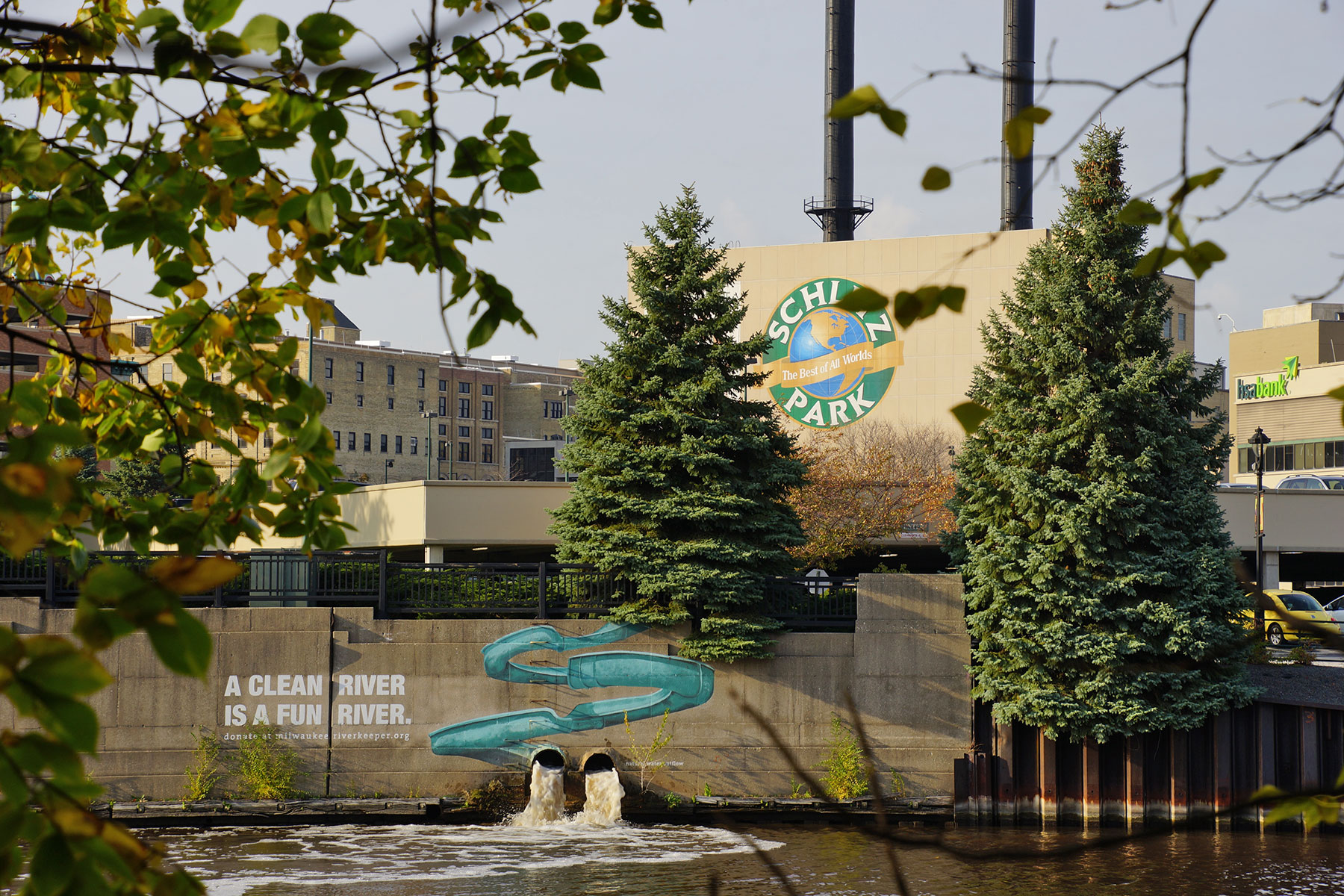 On January 11, the Milwaukee Riverkeeper announced the release of its 6th Annual Milwaukee River Basin Report Card.
Every year, Milwaukee Riverkeeper provides details about the health of the Milwaukee River Basin's three rivers (the Milwaukee, Menomonee, and Kinnickinnic) with the help of an ever-growing group of engaged citizen scientists, university researchers, and partnerships with key government agencies.
Overall, the Milwaukee River Basin received a C- in 2015, showing little variation from 2014, but still showing improvement from 2011's overall D+ grade. While the best grade for a watershed was a B+ (Cedar Creek and the East & West Branch of the Milwaukee River Watershed) and the lowest was a D+ (Menomonee River), results from the last half decade of monitoring have been fairly consistent.
This year, Milwaukee Riverkeeper staff analyzed water quality data collected by more than 75 volunteer water monitors, the Milwaukee Metropolitan Sewage District (MMSD), and the Wisconsin Department of Natural Resources (WDNR). Milwaukee Riverkeeper staff compares all of this data to state and federal water quality standards and guidance, and then assigns letter grades based on whether or not the watersheds meet these standards. Watershed grades are determined by averaging results from nine water quality parameters including water temperature, dissolved oxygen, pH, turbidity, phosphorus, chloride, conductivity, macroinvertebrates and bacteria, across all Milwaukee River Basin watersheds.
"When we consistently measure these parameters and compare them across time and location, we start to create a larger picture of watershed health. And then, based on what that picture reveals, we can act to improve water quality. We're also really strategic in thinking about when and where our volunteers measure these parameters and coordinate with other groups and agencies," said Zac Driscoll, Milwaukee Riverkeeper's Water Quality Specialist.
Milwaukee Riverkeeper uses the report card to identify potential problems and opportunities in our watersheds, and to provide an easy-to-understand snapshot of where government, researchers, and citizens can most effectively advance policy measures and protections to better achieve swimmable, fishable rivers. The Report Card helps determine where in the watershed action is most needed to reduce pollution levels and to improve water quality and aquatic habitat.
"Our annual report card shows we've come a long way in improving many aspects of the Milwaukee River Basin's water quality, and focuses in on where we still have a lot of work to do to achieve clean water," noted Cheryl Nenn, Riverkeeper for Milwaukee Riverkeeper.
For example, the Milwaukee River Watershed has received an F for phosphorus 4 years in a row. In fact, all three river watersheds consistently receive failing grades for phosphorus, except for the Kinnickinnic River Watershed which received a D in 2015.
"Our years of monitoring data show that we continue to have a significant problem with phosphorus pollution. In rural areas of the Milwaukee River Basin, fertilizers and manure are the major sources of phosphorus pollution to rivers and streams. In urban areas, polluted stormwater runoff and treated wastewater are the major sources of phosphorus to rivers and streams," explained Nenn.
Accordingly, the WDNR recently proposed a "Total Maximum Daily Load" (TMDL) for phosphorus discharges to the Milwaukee River Basin. If approved, this TMDL could ratchet down the amount of phosphorus that permitted dischargers will be allowed to release into the Milwaukee River Basin in the future. Though implementing the TMDL will be a long process, effective implementation could help to reduce phosphorus pollution within the Milwaukee River Basin. Milwaukee Riverkeeper is already working on expanding its phosphorous monitoring program for 2016 and 2017 to better assess TMDL implementation efforts going forward. In addition, WDNR has released TMDLs for total suspended solids and bacteria, which are other parameters that consistently receive poor or failing grades each year in our report cards.
"When we have citizens, government agencies and community partners working together to produce sound science, and communicate those findings to the public and decision-makers in an understandable way that results in new policies and water protection measures, we can start to see a real impact on the health of our rivers. That's why, every year, we assess what went well, where we can improve, and how to grow our monitoring program moving forward to be more useful to the community," added Nenn.
The Report Card also highlights how individuals can take part in the effort to improve our waters through changing behaviors such as reducing application of lawn chemicals and road salt or by volunteering to monitor water quality.
"We think our program offers a really unique opportunity for anyone interested in learning more about the health of our three rivers and giving back to our community to ensure we have clean, safe water for the future," Driscoll noted.
About Milwaukee Riverkeeper
Milwaukee Riverkeeper's mission is to protect, improve, and advocate for water quality, riparian wildlife habitat, and sound land management in the Milwaukee, Menomonee, and Kinnickinnic River Watersheds. We envision a future in which people from all walks of life can enjoy the healthy waterways of the Milwaukee River Basin. Milwaukee Riverkeeper advocates for compliance with environmental laws and is licensed by the Waterkeeper Alliance, a network with more than 300 organizations worldwide dedicated to clean water and healthy communities.