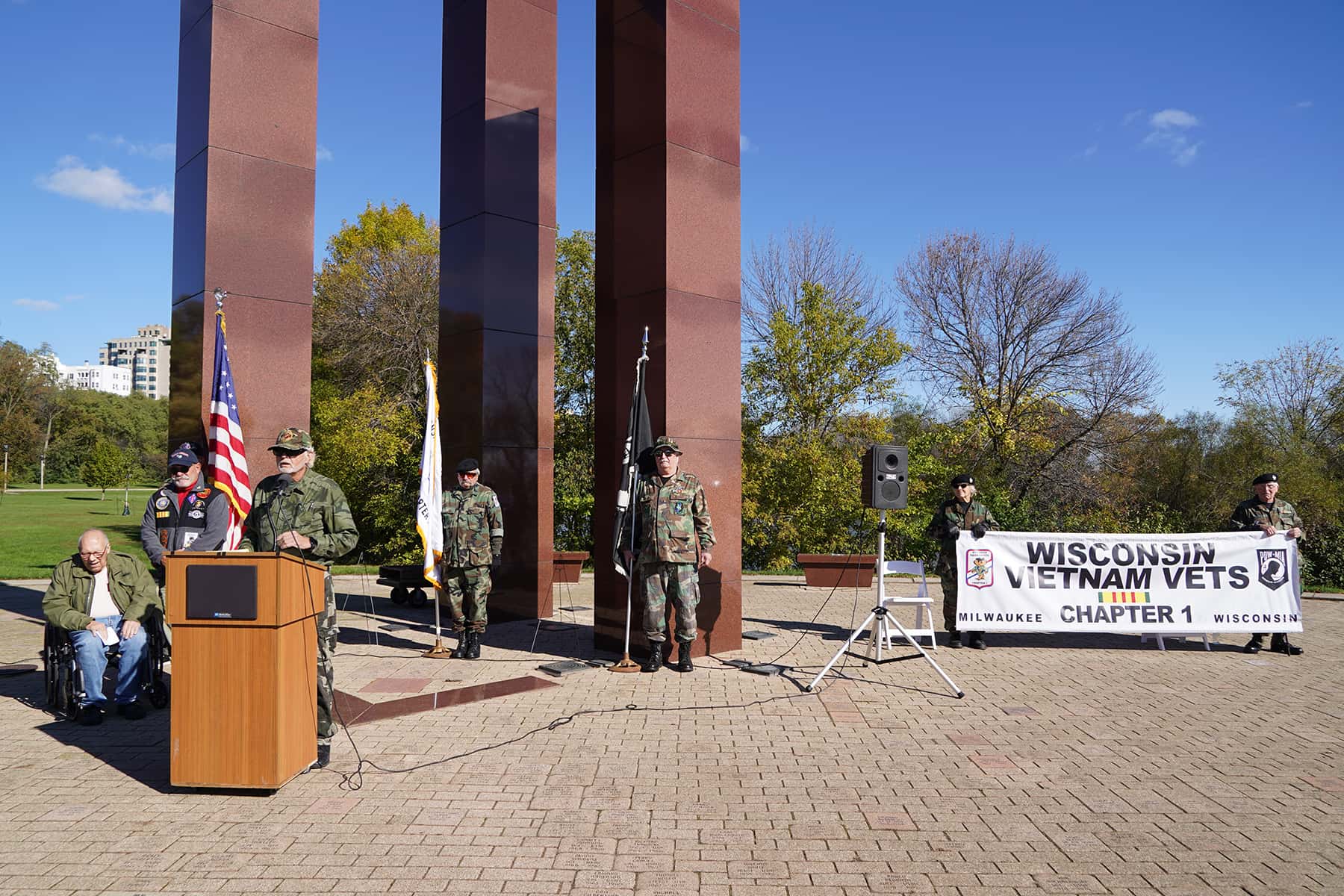 Milwaukee County leaders, Vietnam veterans and their families, and members of the public gathered at Veterans Park along Lake Michigan on October 23 to commemorate the 30th anniversary of the Southeast Wisconsin Vietnam Veterans Memorial's dedication.
The ceremony was organized by Wisconsin Vietnam Veterans (WVV) Chapter One, who was also the driving force in the construction of the memorial 30 years ago. The site has since become a sacred focal point in Veterans Park.
The tribute include a flyover by two F-16's from Truax Rield in Madison, and a static display of a UH 60 Blackhawk helicopter. Speakers included Milwaukee County Executive Crowley, CEO and President of the War Memorial Center Dan Buttery, Medal of Honor Recipient Gary G. Wetzel, and Vietnam Veteran George Banda.
The Southeast Wisconsin Vietnam Veterans Memorial on Milwaukee's lakefront was originally dedicated on October 20, 1991. It was the first memorial erected in Milwaukee County's 94-acre Veterans park. Since its installation, it stands as a tribute to all the men and women who participated in the Vietnam War.
The unique design consists of three Wausau Red Granite columns that stand 22, 26 and 30 feet high. They represent those killed in action (KIA), prisoners of war (POW), those missing in action (MIA), and those all who returned home.
The five granite benches behind the columns symbolize the five branches of the military: Air Force, Army, Coast Guard, Marine Corps, and Navy. The eleven granite posts encircling the memorial signify each officially recognized year of the Vietnam War, 1964 to 1975. The inner circle of bricks is reserved for the names of those who served in the Vietnam War. The outer circle is for veterans of other wars and conflicts, or for anyone who wishes to show their respect and support.