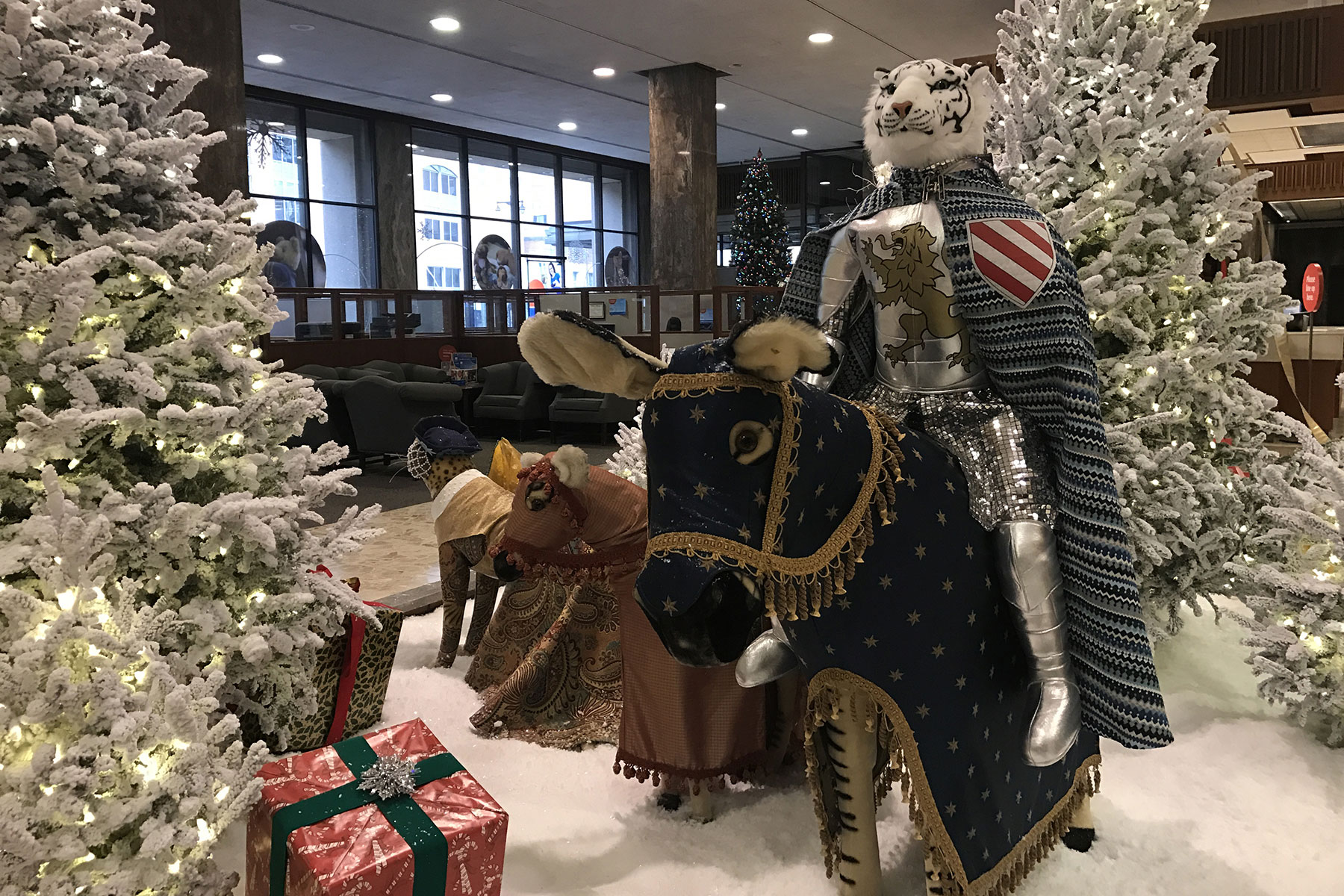 BMO Harris Bank unveiled its much-anticipated annual holiday display, "A Holiday in King Arthur's Court – the Magic of Camelot," at the BMO Harris Bank's downtown Milwaukee location at 770 N. Water Street.
The display is free and open to the public. Celebrating its 45th year, this annual holiday tradition transforms BMO's downtown lobby into A Holiday in King Arthur's Court. This year's scene features more than 150 life-sized Steiff animals dressed in their own carefully-crafted, rich, royal-themed costumes.
The animals will be displayed in an elaborately designed vignette in BMO's downtown bank lobby where kings, queens, knights, thrones, medieval towers, and even the famous Round Table will be featured. A dragon or two might even stop by.
"We are thrilled to once again share the holiday display with Milwaukee. Year after year, generation after generation, families continue to visit the display as part of their holiday festivities and BMO Harris Bank feels privileged to share this long-standing tradition with the community," said Kara Kaiser, Managing Director at BMO Private Bank. "Each year we look forward to opening our doors and inviting the community to share in the excitement and magic of our cherished holiday display. Also, as in years past, we are proud to utilize the wonder and magic of the display to continue our partnership with Feeding America Eastern Wisconsin to help fight hunger in our community."
BMO Harris Bank will again donate $30,000 to Feeding America Eastern in conjunction with the holiday display.
"This is such a joyous time of year but for those facing hunger, it can be especially stressful. So we are grateful BMO Harris Bank has once again partnered with us to provide healthy, nutritious food for those who are facing hunger this time of year," said Patti Habeck, President of Feeding America Eastern Wisconsin. "We're thankful for BMO Harris Bank's continued commitment to helping us solve hunger in our community and encourage all to visit A Holiday in King Arthur's Court."
The BMO Harris Bank (formerly M&I Bank) holiday collection of animals began in 1972, when 30 life-sized Steiff animals were discovered at the world's largest toy store, FAO Schwartz in New York City. The BMO Harris Bank collection of Steiff animals has steadily grown to more than 150. Steiff animals are collectors' items originally made in Germany by Margarete Steiff, who hand-stitched the first tiny elephant and stuffed it with straw. Many of the figures are no longer being made. The world-renowned Steiff Company made the original teddy bear in 1903.
Over the past 45 years, the annual holiday display has included pieces such as: a fishing tugboat, a Victorian park, an igloo at the North Pole, a Yukon train, a snow queen palace, a candy factory, 1950s nostalgia featuring antique Harley-Davidson motorcycles, and a Holiday Busytown featuring the well-known characters from various illustrated children's books by Richard Scarry.
Display dates and hours:
Visitors may enter the lobby through the North or South doors on Water Street
November 27, 2017 – January 2, 2018
Monday through Friday: 9:00 a.m. to 8:00 p.m.
Saturday and Sunday: 9:00 a.m. to 4:00 p.m.
Special dates and hours:
Saturday, December 9, 2017: 9:00 a.m. to 1:00 p.m.
Sunday, December 24, 2017: 9:00 a.m. to 1:00 p.m.
Monday, December 25, 2017: 9:00 a.m. to 4:00 p.m.
Monday, January 1, 2018: 9:00 a.m. to 4:00 p.m.
Tuesday, January 2, 2018: 9:00 a.m. to 5:00 p.m.