An Incredible Heroine: Mattel adds tribute doll of Ida B. Wells to Barbie's Inspiring Women series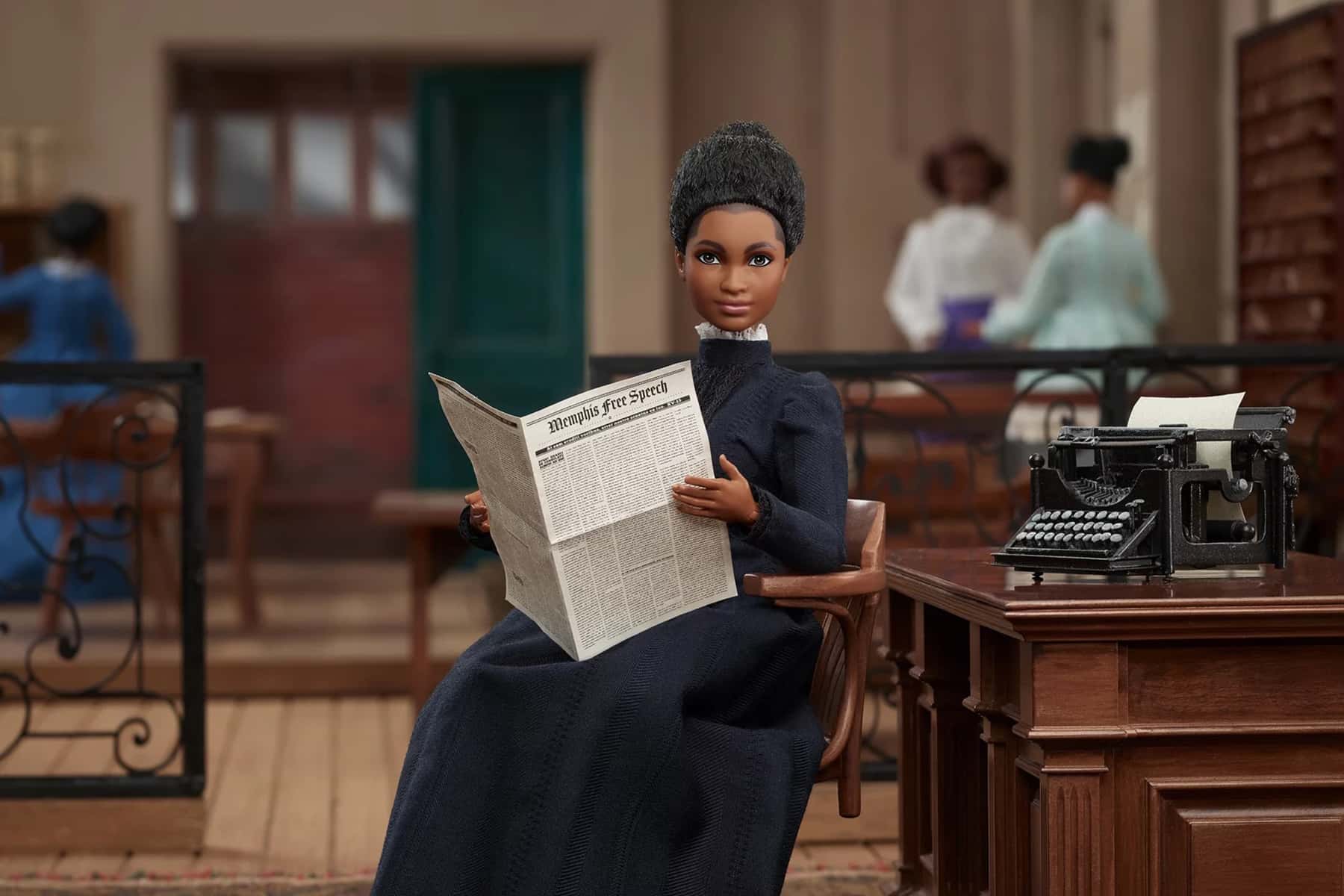 Mattel toy company's "Barbie Inspiring Women" series pays tribute to the incredible heroines of their time, by featuring courageous women who took risks, changed rules, and paved the way for generations of girls to dream bigger than ever before.
For February, a new doll joins the collection that celebrates Ida B. Wells, a groundbreaking investigative journalist, champion of civil rights, and advocate for Women's Suffrage. But those were just the beginning of her accomplishment.
"I am honored that Barbie has chosen to celebrate my great-grandmother, Ida B. Wells, as part of its Inspiring Women Series. My great-grandmother was a trailblazer, who courageously followed her convictions and challenged the status quo by fighting for civil rights and women's suffrage. This is an incredible opportunity to shine a light on her truth and enduring legacy to empower a new generation to speak up for what they believe in." – Michelle Duster, great-granddaughter of Ida B. Wells
A pivotal moment in the life of Wells came in 1883 when she was traveling by train from Memphis to Woodstock, Tennessee, where she was a teacher. When she refused to give up her seat and ride in a segregated car, she was forcibly removed. Wells later sued the Chesapeake, Ohio and Southwest Railroad Co. A local court ruled in her favor but the decision was eventually overturned in federal court.
"Every single one of Ida's accomplishments is impressive," said Senior Designer Linda Jiang, who led the Barbie team in creating our latest Inspiring Women doll. "Ida wore so many hats in her lifetime – she was a teacher, an activist, a suffragist, a mother, a newspaper editor, an investigative journalist, and an organizer who looked out for her community. Ida approached her work with courage, strength, determination, and love. The legacy she created continues to inspire and influence us all today."
In addition to co-founding the National Association of Colored Women's Clubs and the National Association for the Advancement of Colored People (NAACP), Wells was the co-owner and editor of the "Memphis Free Speech," where she courageously wrote about inequality affecting African-Americans. No copy of the "Memphis Free Speech" is known to exist, but Mattel's design team created a representation to include with the doll.
"Since Ida was a journalist, activist, and researcher who helped shine a spotlight on civil injustice and helped found the NAACP, it made the most sense from a storytelling aspect to make sure she held the paper in her hands," said Suzanna Lakatos, Package Design Director. "It's such a wonderful pose and strong way to help portray who she is. Designing a doll like this portrays a person at a moment in time, and the packaging design portrays not only the doll in the moment, but also has the opportunity to explore the breadth and scope of a person's life. Addressing that point, Suzanna says her team used "insert graphics that help transport you back into time, where we can see her actively in a space that gives context to her career and achievements."
Wells, who was born into slavery in Mississippi in 1862 during the Civil War, went on to break boundaries as a prominent suffragist fighting to expand the right to vote. She also won a posthumous Pulitzer Prize in 2020 for her "courageous reporting on the horrific and vicious violence against African Americans during the era of lynching" and helped to found the National Association for the Advancement of Colored People (NAACP).
"I designed the fashion for this doll by taking inspiration from all of the photographs of Ida I could find on the internet, and of fashion during that era," added Jiang. "I specifically focused on fashion during the 1890s, as this was a significant decade of her life – this was when she dedicated all her time to writing articles and focusing her work on civil rights for African Americans." The result is a beautiful traditional blue dress with lace details at the bodice, collar, and waist."
The doll uses the Made to Move petite doll body for out-of-the-box posing, and a lot of effort was put into being historically faithful to her attire as well. That attention to detail and extensive research also applied to the set designs and photo shoots.
"When approaching a photoshoot for a historical doll, we gather as much reference from the set time period as possible," says Photographer Jason Tidwell. "The goal is always to make the images as realistic as possible. We're not necessarily trying to re-create an already iconic photo, but to spark a memory that evokes a feeling that will take the viewer back to a specific time or event in history. This is achieved by making the photo-set and lighting as relatable to the original inspiration. If something is off, the image won't seem life-like."
Mattel said that the celebration of Ida B. Wells would make a great gift for Barbie collectors, but more importantly serve as a motivating reminder of Ida B. Wells' courageous activism and remarkable accomplishments. She committed her life to realizing a vision of racial and gender equality for future generations. Learning about "heroes" like Wells could also help today's children envision a better future.
In January, Mattel released the first-ever Barbie Lunar New Year Doll. Guo Pei, one of China's most renowned couturiers, partnered with Barbie to design the dress and accessories for the beloved holiday.
In August last year, Mattel honored Dr. Audrey Sue Cruz, a Filipino American internal medicine physician from Las Vegas, as one of its "medical role model" dolls. However, the toy company prompted criticism that same month for the lack of Asian representation in its line of Tokyo Olympics Barbie dolls.
Jаsоn Tіdwеll / Mаttеl, Chіcаgо Histоry Musеum, and Library of Congress