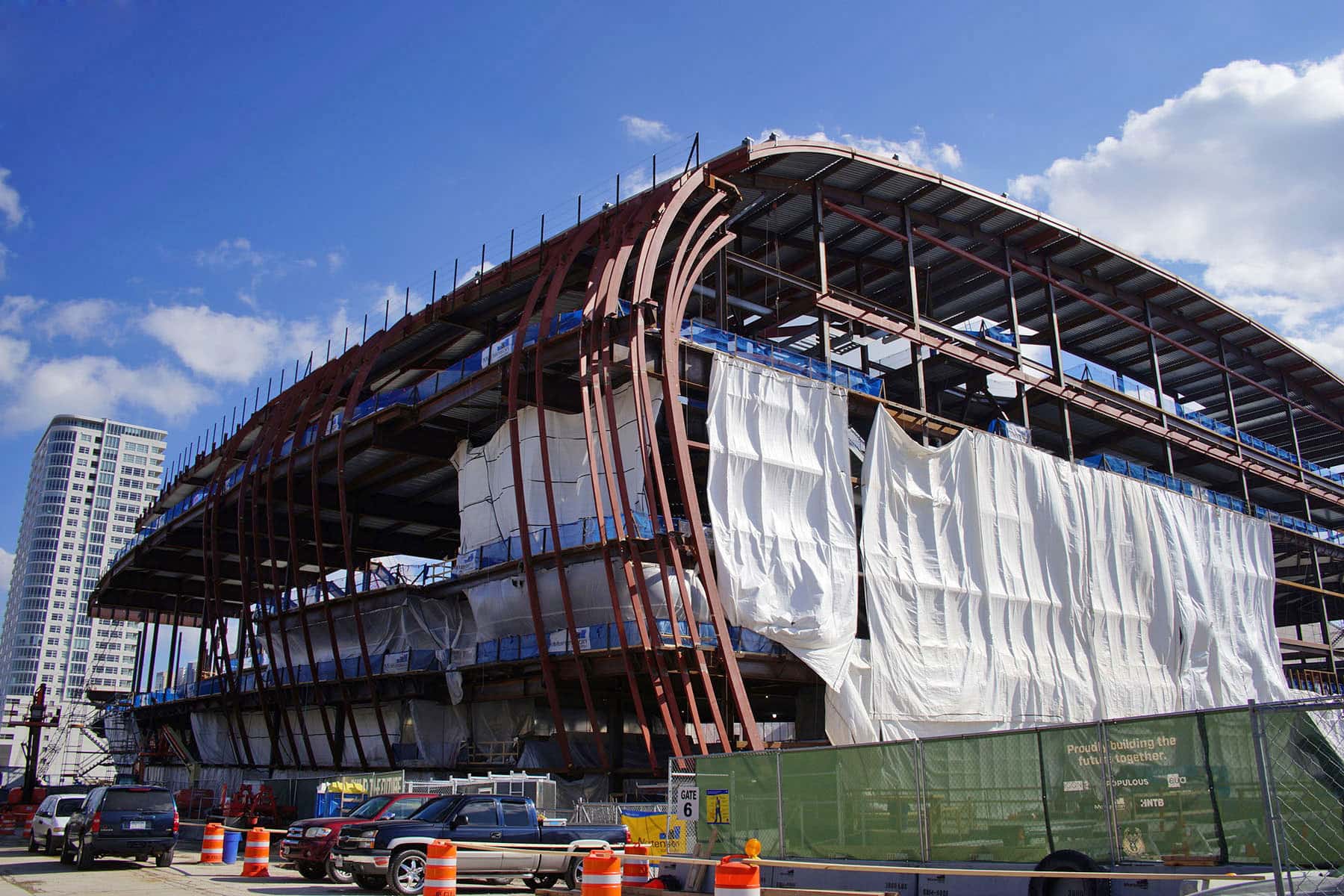 The 132 year old Milwaukee-based company will provide state-of-the-art technology solutions throughout the sports arena and become first official founding partner.
The Milwaukee Bucks announced a new partnership with Johnson Controls to become the official "smart building" partner for the new Wisconsin Entertainment & Sports Center in downtown Milwaukee on March 30.
As the first Founding Partner for the new arena, Johnson Controls will implement a variety of building technology solutions throughout the facility to enhance the fan experience, improve the building's performance, reduce energy usage and reduce the arena's environmental foot print.
"This is an absolutely historic day, not just for the Bucks and Johnson Controls but for the city of Milwaukee," Bucks President Peter Feigin said. "Our ownership group is committed to building an arena that will be the gold standard for a sports and entertainment facility while also driving additional development and community growth throughout the region. We wouldn't be able to accomplish those goals without the partnership and support of Johnson Controls. Together we're going to build an incredible arena and an incredible future for our home city."
Together, the Bucks and Johnson Controls are building a smart, sustainable and efficient world-class arena while joining together in a commitment to develop a healthier and more vibrant Milwaukee community for future generations.
"Johnson Controls has been committed to Milwaukee for 132 years and our partnership with the Bucks is an investment that will make the downtown arena a world class sports and entertainment destination while delivering a winning experience for fans with a building that is smart, connected and sustainable," said Alex Molinaroli, chairman and CEO for Johnson Controls.
As the "smart building" partner of the new Wisconsin Entertainment & Sports Center, Johnson Controls will work closely with the Bucks, Mortenson Construction, ICON Venue Group and numerous industry-leading subcontractors to furnish, install and integrate state-of-the-art smart building solutions throughout the new facility. These innovative and integrated technologies will provide a combination of safety, security and sustainability that will maximize both the fan experience and building performance for Milwaukee's new downtown arena.
Johnson Controls' building, business and specialty systems will be managed on a unified, intelligent infrastructure including HVAC, building automation, security, lighting, fire protection and information technology. By simplifying and optimizing how the building functions, Johnson Controls will enable more control for the Bucks to operate the arena at the same time delivering a superior fan experience.
As a Founding Partner for the new arena, Johnson Controls will also receive sponsorship rights and benefits including important media assets, arena signage and other team and building activations. In addition, the Milwaukee-based company will partner with the team and the Milwaukee Bucks Foundation on additional initiatives aimed at building a safer, healthier and more vibrant community for Milwaukee residents, not just in and around the new arena but throughout the city. Additional details will be shared as they develop.
The new Milwaukee Entertainment & Sports Center is the centerpiece of an ambitious development project spearheaded by Bucks ownership to transform 27-acres of mostly vacant property into a vibrant retail and entertainment district in the heart of downtown Milwaukee. Scheduled to open in fall of 2018, the 714,000 square foot arena will be home to Milwaukee Bucks basketball and countless sports and entertainment events. The new arena was designed by Populous, Eppstein Uhen and HNTB, with Mortenson tabbed to lead the construction of the project.