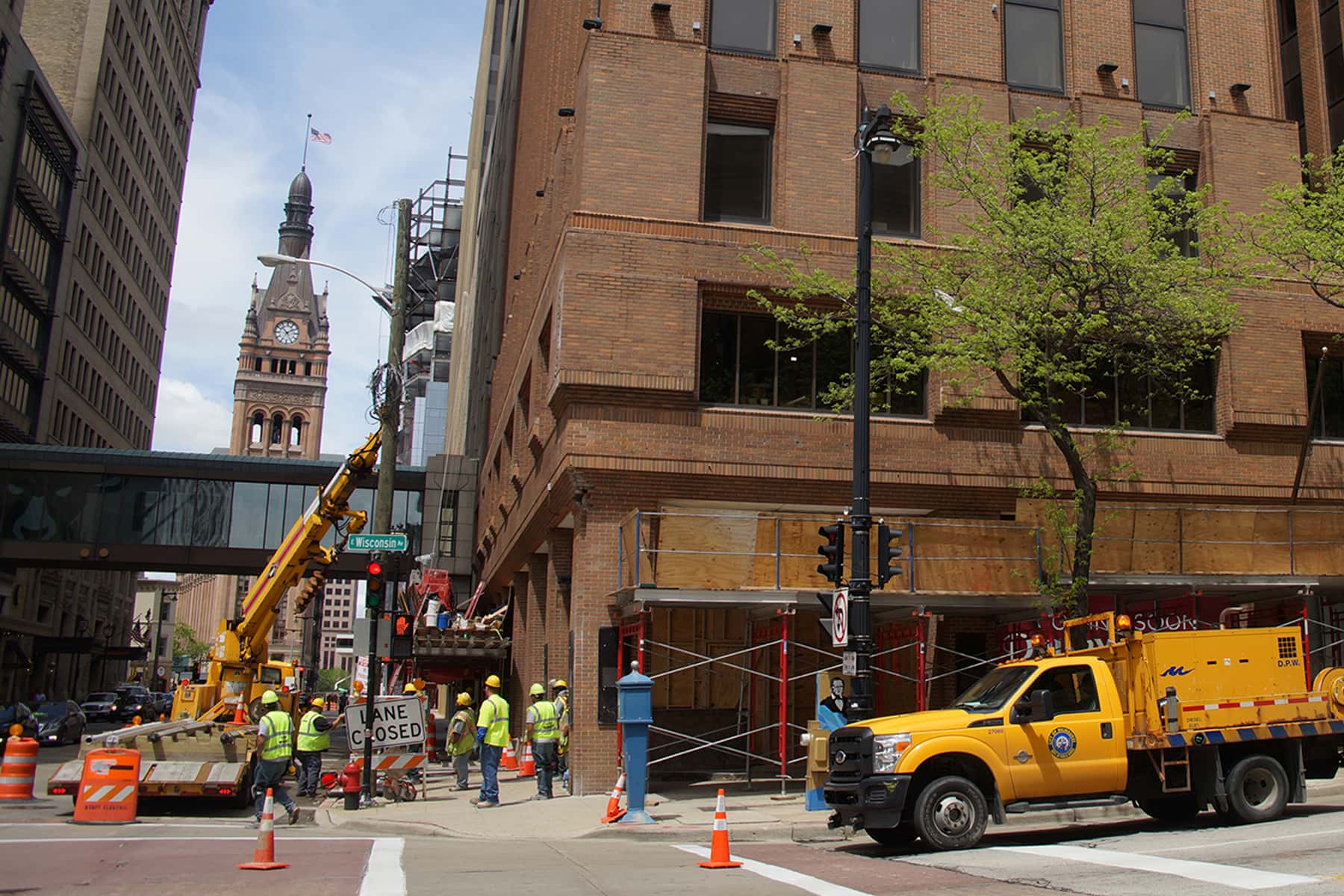 Drury Hotels Company's first property in Wisconsin, a historic renovation of the First Financial Centre building in Milwaukee, is close to completion and is scheduled to welcome guests in time for the Democratic National Convention next summer.
The space for the new Drury Plaza Hotel Milwaukee Downtown has taken two years to renovate and preserve. The property will feature 227 guest rooms and more than 4,500 square feet of flexible meeting and banquet space. The hotel is located at 700 N. Water Street, close to the Milwaukee RiverWalk, Milwaukee Art Museum and Marquette University.
The Drury is one of several hotels under construction or being renovated that will be ready in time for the convention. New construction amounts to at least 3,000 additional hotel rooms. The Milwaukee property is the latest in a line of historic renovations completed by Drury.
The tourism group VISIT Milwaukee estimates 50,000 people will pour into the city for the Democratic National Convention, which runs from July 13 to 16 of next year. The Democratic National Committee sought a guarantee of 16,000 hotel rooms within a 40-minute drive of downtown Milwaukee. VISIT Milwaukee President Paul Upchurch said he was confident the Milwaukee area has the space to house all the delegates.
"We do big pretty well, you just have to plan for it. Certainly all the hotels downtown, most of the hotels in the surrounding suburbs will participate as well, but yeah the Drury's on the list and I know they're working hard to make sure they're ready," Upchurch said.
As the hotel readies for guests, Drury team member Chris Palid has been named the property's general manager. Sheila Reed, an industry veteran with more than 20 years of experience, has been hired to serve as the area sales manager. Once open, the hotel will employ 60 full and part-time team members.
"Chris and Sheila have deep experience in the tourism and hotel industry, and we're fortunate to have them opening this unique property," said Chuck Drury, president and CEO of Drury Hotels. "Milwaukee is a great city and a new market for us. We're excited to introduce the Drury brand, and our team looks forward to providing travelers in Milwaukee with our award-winning service and amenities."
The building originally was built in the Art Deco style in 1928 by the firm of Eschweiler & Eschweiler. Its façade was covered with brick in the 1980s to give the building a more modern look. The 14-story structure is connected to Milwaukee's skywalk system and is within walking distance to every major office building in the downtown area.