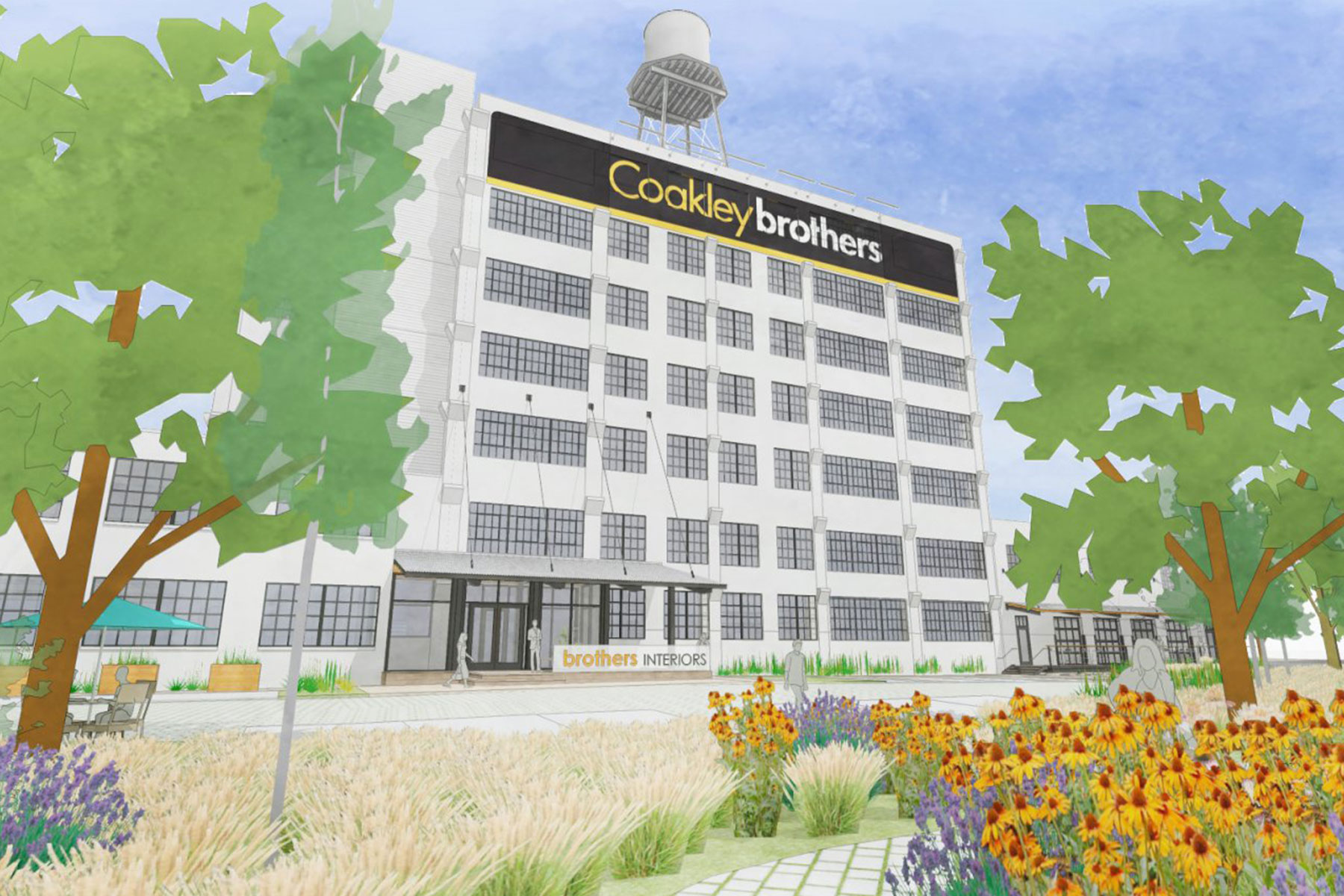 Legacy Milwaukee company Coakley Brothers has begun a $6 million renovation project in the heart of the Walker's Point neighborhood.
Coakley Brothers is known for its premier business services including commercial relocation, residential relocation, furniture installation, facilities management, and self storage.
The renovation project at its 400 S. 5th Street building headquarters was sought following the tremendous success of Brothers Business Interiors, launched by Coakley in 2012 to think ahead of the curve and meet the growing furniture and office design needs of its clients.
Brothers Business Interiors has quickly become a leader in interior renovation and construction management, furniture specification, and move management for its clientele. Once the renovation is complete, the company will serve as the state's sole dealer and showroom for the award-winning West Elm Workspace with Inscape line. West Elm launched the Workspace brand in 2015, applying its signature residential aesthetic to a line of commercial furniture.
"Brothers Business Interiors has been an important part of our company's evolution, and demonstrates how we continue to meet our customers' needs as a premier service company and a leader in commercial design," says Peggy Coakley, CEO. "The designation as the first West Elm Workspace with Inscape showroom in Wisconsin will reinforce that Brothers Interiors is a growing player in the local design industry."
Built in 1911, the historic Coakley Brothers building was once home to the Milwaukee Printing Company, a corporation made famous for its innovations in candy packaging. Today, the 175,000 square foot building houses Coakley Brothers' many divisions.
While the company is excited to reimagine many elements of the building – the building's original design was referred to as a "Daylight Industrial Loft" – Coakley remains committed to preserving its turn-of-the-century industrial charm. The renovation includes extensive interior renovations to better reflect Coakley's work culture, focus on employee satisfaction and design offerings, including exposure of the original wood beams and trusses; restoration of the original concrete factory floor, cream City and Chicago brick, and facade; an employee gym; and customization of the West Elm Workspace showcase.
The renovation will also include major updates to the building's exterior and campus, including parking lot resurfacing and landscaping; an outdoor patio and exposed deck for employee recreation; nearly $1 million of the renovation is allocated to create exact replicas of the original windows, many of which were blocked to prevent ambient light; and several pieces of public art that will adorn the building.
Around the property, Coakley Brothers is seeking assistance to create state-of-the-art stormwater mitigation with green infrastructure technology. The company is seeking to be one of the area's first to incorporate a "Blue Roof" which allows water to pool on the rooftop until it can be released after peak flow times. The campus will also feature a native vegetation system that collects and filters stormwater to naturally irrigate nearby gardens and slowly refill the groundwater table below.
"The renovation of our historic building represents the continued transformation of our company, keeping our roots in tact, but our eye on the future," adds Coakley. "This $6 million investment will transform our building, and continue the transformation of this part of the City, which we love as it's been our home for nearly 130 years."
Coakley Brothers has procured federal and state historic tax credits to support funding of the project, which is expected to be complete by mid-2018. Coakley Brothers is working with Kubala Washatko Architects and will be self-performing this project with their construction division.