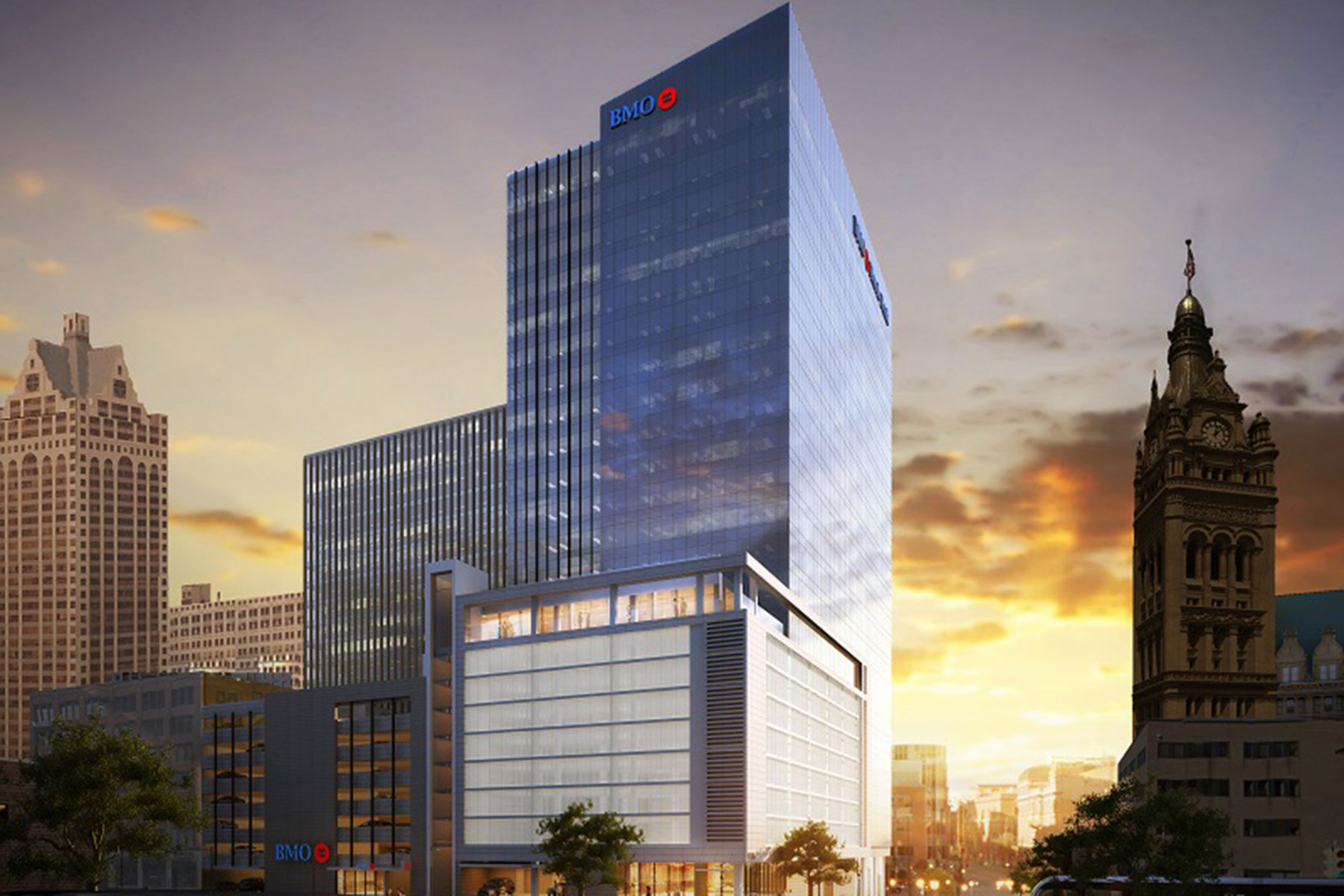 Irgens closed on its acquisition of the 20-story BMO Harris Bank office building, adjacent seven-level parking structure and an adjoining surface parking lot downtown where construction will begin on the new 25-story BMO Harris Financial Center.
The parking structure, located south of Wells Street between North Water Street and North Broadway, will be demolished to make way for the new office building, which will become the home for the Wisconsin headquarters for BMO Harris Bank and the law firm, Michael Best & Friedrich LLP.
The initial construction phase of utility relocations will begin in August, with demolition of the parking structure shortly afterwards. The 379,400-square-foot building and 647 stall parking ramp is scheduled for completion in December 2019.
"The overall project brings in excess of $175 million in new construction and redevelopment to Milwaukee while securing the continued commitment of great companies like BMO Harris Bank and Michael Best to our community. We are pleased to further our pledge of contributing to Wisconsin's economic development through our investors and our local design and construction teams," said Mark Irgens, CEO of Irgens, which is the building's developer.
"The BMO Harris Financial Center signals our commitment to Milwaukee, and to the economic development of the region," said David Casper, President and CEO, BMO Harris Bank. "We're excited for this project to begin, and we're pleased to work with Irgens on the development of a truly transformational new office tower."
The contractor on the building project is JH Findorff & Son; the architect is Kahler Slater. BMO Harris will lease 124,000 square feet and occupy the building's 1st and 11th through 16th floors. Michael Best & Friedrich LLP will lease 60,000 square feet in the top three floors. The building's remaining space is available for lease.
The project will consist of a flagship BMO retail bank at Water and Wells Streets and will be integrated into the project's 30-foot high main lobby. There will be additional retail space of 12,000 square feet located along Water Street and at the corner of Wells Street and Broadway.
Irgens is in discussion with a high-end restaurant group for two restaurants. There is lease activity in the office tower as well. After BMO Harris moves into its new offices, Irgens will redevelop the 20-story building at 770 N. Water Street into a mixed use development. That work will not begin until 2020. Currently, use options being considered are hospitality, creative office and housing.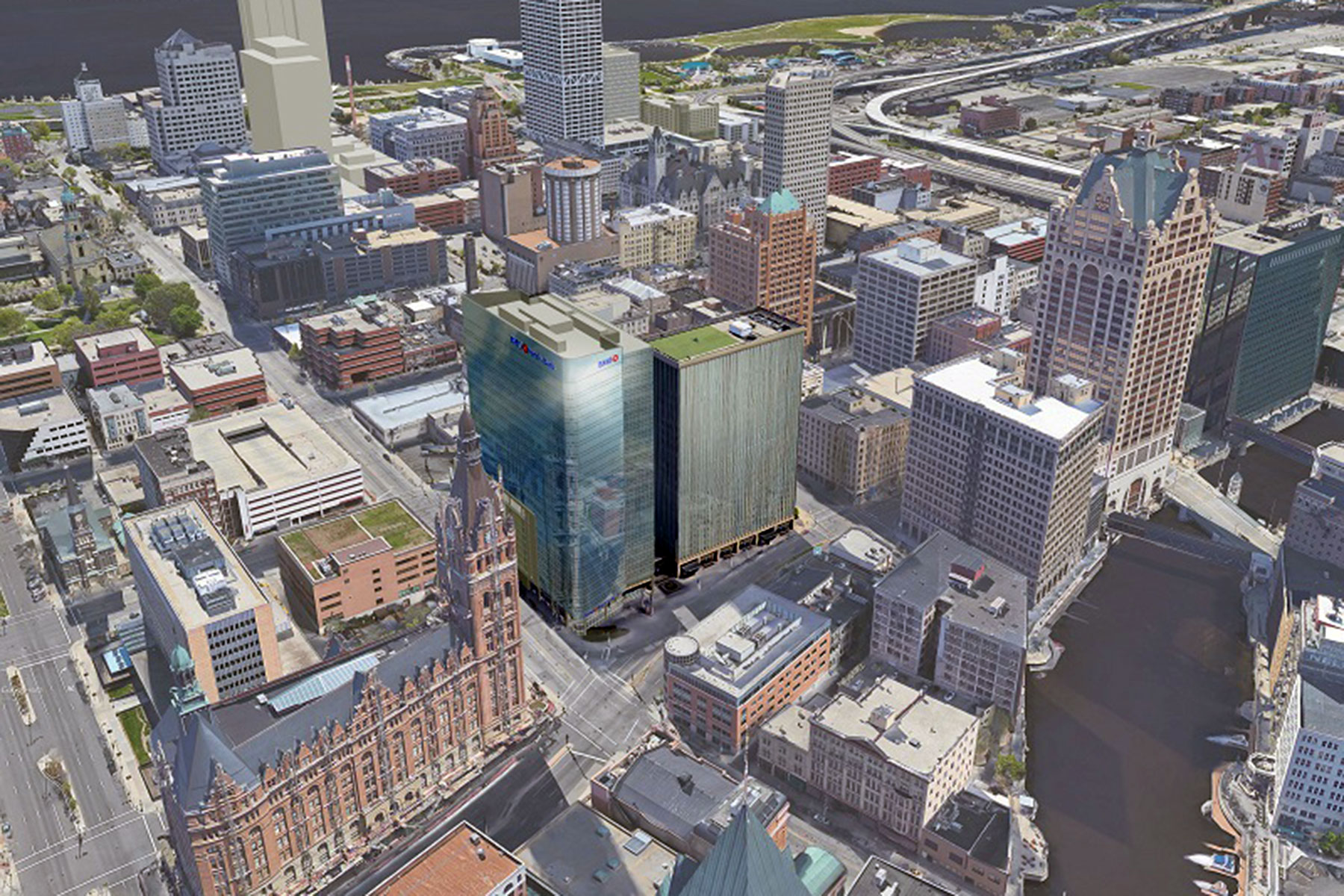 BMO Harris Bank provides a broad range of personal banking products and solutions through nearly 600 branches and approximately 1,300 ATMs in Illinois, Wisconsin, Indiana, Kansas, Missouri, Minnesota, Arizona and Florida. BMO Harris Bank's commercial banking team provides a combination of sector expertise, local knowledge and mid-market focus throughout the U.S. For more information about BMO Harris Bank, go to the company fact sheet. Banking products and services are provided by BMO Harris Bank N.A. and are subject to bank and credit approval.
As an owner-operator since 1983, Irgens has been an innovator in achieving customer, investor, employee and community goals by creatively providing professional, results-oriented real estate solutions. This commitment has led to hundreds of successful healthcare and commercial real estate development projects. Irgens has offices in Milwaukee, Chicago and Phoenix. Irgens leadership and staff perform as a seamless team that delivers industry expertise and insight, single-source accountability on projects and value-added services to clients in the commercial and healthcare market sectors across the nation.