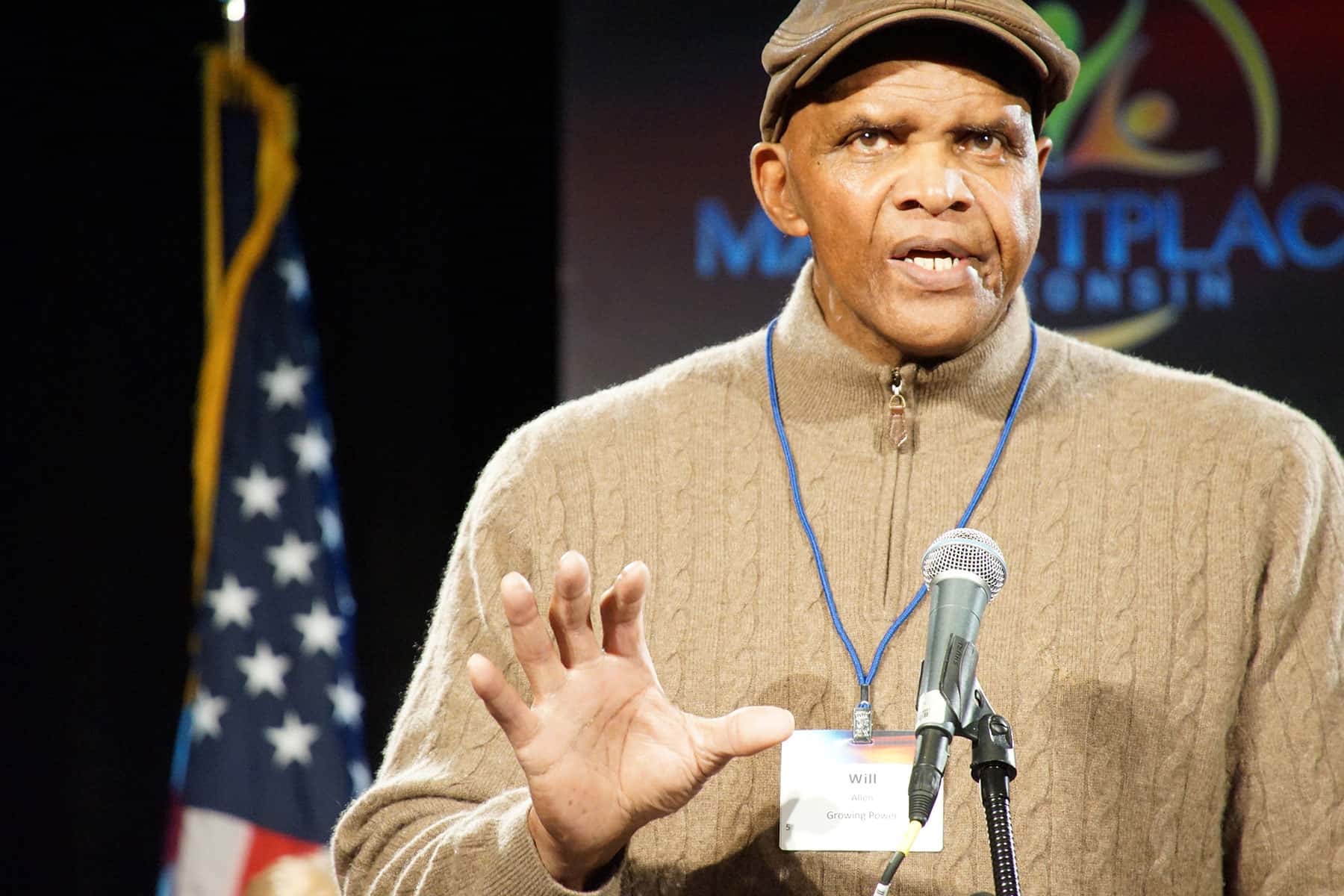 Urban Agricultural legend Will Allen was honored with two awards during the Breakfast for Champions, during the 35th Annual Governor's Conference on Minority Business Development on December 14.
As farmer and founder of Milwaukee-based Growing Power Inc., Allen has been recognized as a preeminent leader of urban agriculture in America and throughout the world.
Along with related honors for ReDonna Rodgers of the Center for Entrepreneurship and Jeff Bowman of Bay Bank, Allen was given the 2016 Community Economic Development Award, in recognition of outstanding accomplishments and leadership in urban and rural agriculture and food policy.
Additionally, Wisconsin Senator Lena C. Taylor presented the Growing Power CEO with a citation from the Wisconsin Senate.
"I am really honored to say that I am a champion for agriculture," said Senator Taylor. "We were going to become the Urban Ag capital of the U.S., and Will Allen is leading the charge."
"WHEREAS, Will Allen, a pioneer on the forefront of providing healthy, locally grown food to members of the Milwaukee and surrounding communities, is honoring his business, Growing Power, as African American Businessman of the Year by the Wisconsin Economic Development Committee for his capacious hard work and dedication in his pursuit of sustainable urban agriculture, he has proven repeatedly to be a stalwart member of the community and an apologist for urban agriculture not only in Milwaukee, but around the world, with his non-profit organization, Growing Power Incorporated."
Will Allen also began Milwaukee Youth Corps, a year round outreach program that influences young people, teaching them not only crucial agriculture skills, but leadership abilities that can go on to inspire confidence, and impart critical life lessons essential for their future.
Between his Native American and African American heritage, Allen's family has been farming continuously for 400 years.
"As we look forward, we have to replace about 800,000 farmers that are going to retire in the next 10 years,"said Allen. "That is something we really have to fix, because everybody wants good food."
Growing Power has been training farmers to meet this future demand. Allen said that these workers will likely not come from rural communities, and that "many of our future farmers will come from inner-city communities."
Hosed by the Wisconsin Economic Development Corporation (WEDC), the MARKETPLACE conference was established to help minority, women, and veteran-owned company representatives learn about doing business with state, federal, and local agencies as well as corporations. Those markets represent billions of dollars of annual purchasing with special programs to include those specifically disadvantaged business owners.
The 2016 event offered Wisconsin entrepreneurs exposure to potential buyers, guidance to identify funding sources, and a platform to connect with business assistance resources.