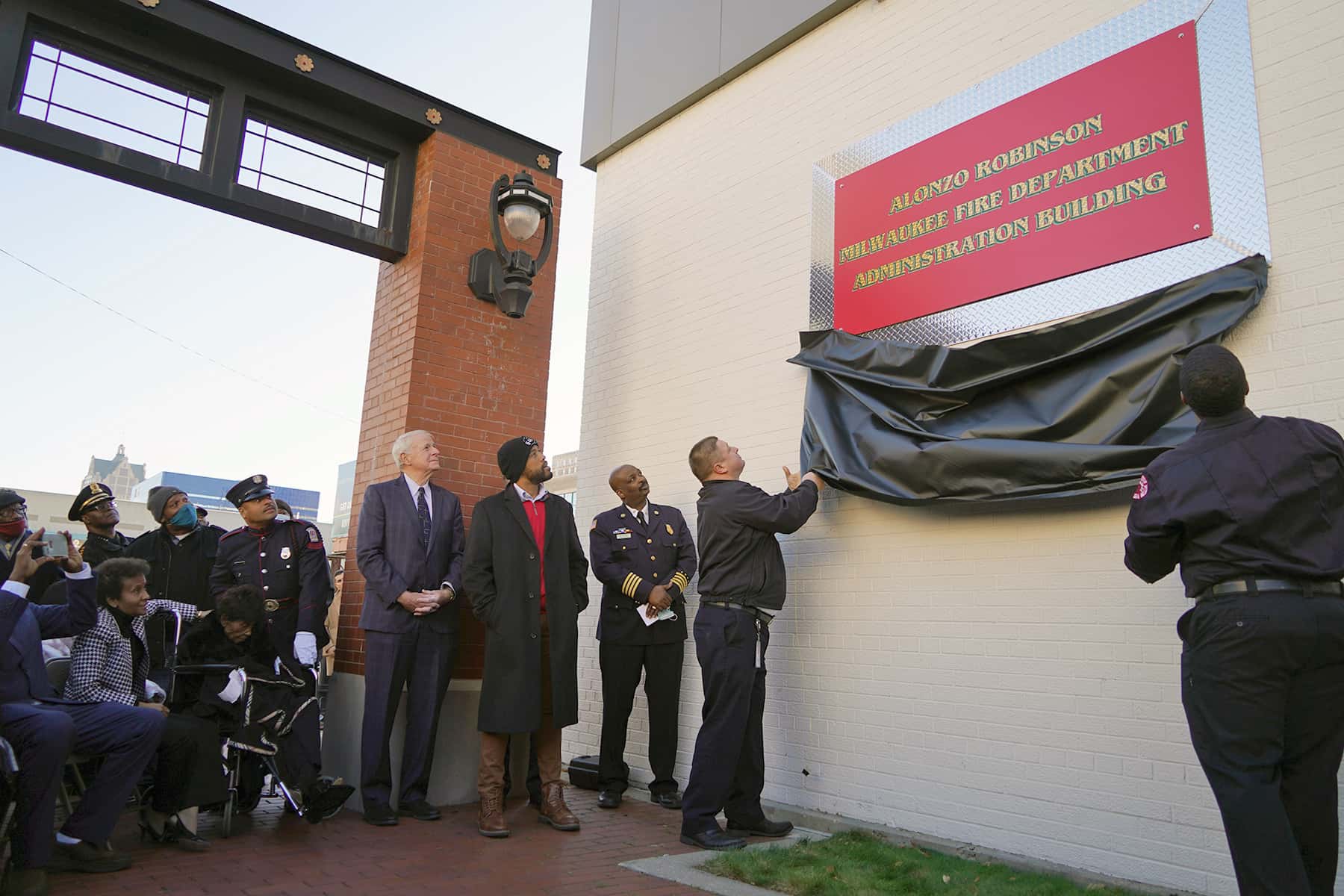 State and local officials joined with the family of Alonzo Robinson and members of the community to rename the Milwaukee Fire Department's administration building in honor of Wisconsin's first African American architect on November 30.
Located at 711 W. Wells Street, the building was commissioned in 1962 at a cost of $507,000 – a price today equivalent to a new emergency vehicle. It remains in use today for managing emergency responses by the City's Fire Department Administration, and is listed in the Wisconsin State Historical Society's Architecture and History Inventory as a contemporary style building.
"We have renamed this building in honor of Alonzo Robinson, who was left out of history books and denied any public acknowledgment of his architectural contributions for far too long," said Milwaukee Fire Chief Aaron Lipski. "To the Robinson family, please accept on behalf of the Milwaukee Fire Department our deepest apologizes for what was likely not a simple clerical oversight, but rather a visible and painful slight based not on Alonzo Robinson's talent or expertise, but on the color of his skin."
Chief Lipski said that the department had located the hand-drawn plans for the building, which showed Robinson being promoted as the project advanced.
"As you progress through these pages, Mr. Alonzo Robinson goes from designer to design-in-charge. I can't even imagine what that felt like to be the only African American architect in the state," added Chief Lipski.
When Alonzo was awarded his architectural license by the state of Wisconsin in 1956, he was the first African American to take and successfully pass the examination. The Milwaukee Common Council voted unanimously on February 9 to approve renaming the Milwaukee Fire Department administration headquarters after Alonzo Robinson.
"As the first African American registered architect in Milwaukee and Wisconsin, Mr. Robinson is a true inspiration and trailblazer in his field, someone who overcame adversity to open doors for future architects and engineers of color in the city and state," said Common Council President Cavalier Johnson, the lead sponsor for the renaming legislation. "He will now be honored appropriately in the city with his name emblazoned on an important building that he designed."
Robinson's love of contemporary design and signature use of curvilinear architecture is displayed throughout the MFD building, which includes artistic railings in its stairwells. Robinson, like many modernist architects, believed that curvilinear forms of architecture have a vital influence on environmental behavior and for dissolving social boundaries. He incorporated the application of those distinctive surfaces to promote feelings of happiness, calm, and relaxation.
"Along with the Robinson family, we recognize a pioneer who left a lasting mark on Milwaukee with this building and other public and private structures. Alonzo overcame barriers and achieved a professional standing that reflected his dedication and hard work in our community," said Mayor Tom Barrett. "That kind of legacy is what the Robinson family hopes this building can have. On top of the physical legacy from their father, with the hundreds of buildings he has designed all around the area, they have also created an annual scholarship, given to young and aspiring architects of color."
Other speakers at the dedication event included Lieutenant Governor Mandela Barnes, Milwaukee County County Executive David Crowley, Common Council President Cavalier Johnson, Alderman Robert Bauman, Milwaukee Brotherhood of Firefighters representative De'Wayne Smoots, and family members Jean Robinson, Attorney and CEO of JR Solutions; Wayne Robinson, Retired Kohler Company Executive; Kim Robinson, Retired Forensic Investigator and photojournalist; along with Clayborn Benson, Founder of the Wisconsin Black History Museum; Walter Wilson, Architect.
"We have people in the city who have done tremendous things, and in due time those individuals get their recognition," said his son, Kim Robinson. "I hope this is the beginning of getting recognition for Blacks in Milwaukee who are doing positive things who have not been recognized in the past."
As a Municipal Architect, Alonzo worked for the City of Milwaukee's Bureau of Bridges and Buildings from 1953 to 1967, and Milwaukee County's Department of Public Works from 1975 to his retirement from public service in 1998. Although Alonzo spent the majority of his career working as an architect in the public sector, he also spent several years in the private sector at various architectural firms. Prior to moving to Milwaukee, Alonzo worked as a Naval architect in Philadelphia after receiving his Bachelor of Architecture Degree from Howard University in Washington DC in 1951.
During the height of the Civil Rights Movement in 1967, and after working for the City of Milwaukee for 15 years, Alonzo continued to break down racial barriers in his professional career. By the time he retired from this position as the Managing Architect for Milwaukee County's Department of Public Works in September 1998, the County declared September 30, 1998 as Alonzo Robinson Day in recognition of his 23 years of dedicated service to the
County.
Although Alonzo designed many residential and commercial buildings in Wisconsin throughout his 50-year architectural career, several design projects reflect significant historical and personal milestones. These include the Central City Plaza, Pilgrim Rest Baptist Church – exclusively built and financed by Black Milwauke residents in 1964, and the City of Milwaukee Fire Department Administration Building.
Alonzo was a United States Veteran who served in World War II, and also as a Lay Leader and Treasurer at St. James United Methodist Church. By his side for the entirety of his career and providing unwavering support, encouragement, and inspiration was Alonzo's wife of 53 years, Theresa L. Robinson. Their children include Wayne, Ronald, Kim, and Jean. Alonzo passed away in 2000 after a five-year battle with cancer.
"For us to recognize somebody who was a real trailblazer in our community, that helps instill in young people a sense of passion. A sense of promise about tomorrow. If you dream it, you can achieve it," added Kim Robinson. "Now, a young person of color can walk down Wells Street in Downtown Milwaukee – the most populated city in the State of Wisconsin, the center for economics and population and diversity and culture and tourism. And when they walk by here they will see the name of a man that looks like them on a building – a city building – and know that he helped construct it from the ground up."