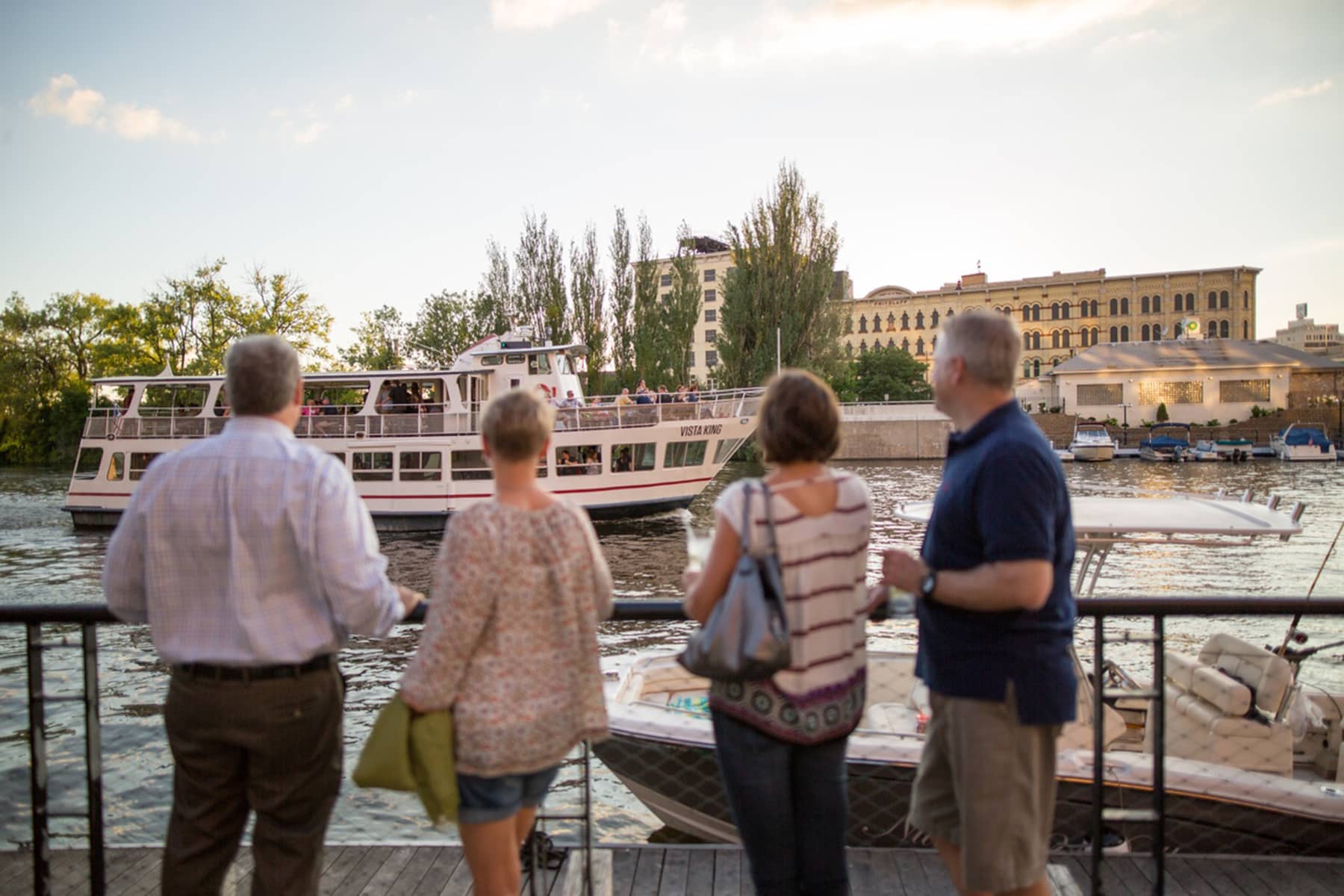 The City of Milwaukee launched the Water Current Tour on October 18, a self-guided walking tour that draws visitors from Downtown and the Historic Third Ward to locations throughout Walker's Point, along the Water Technology District, and into the Harbor District.
The tour is part of Milwaukee's Water Centric City Initiative, which showcases the city's global leadership in managing its natural water resources in a sustainable and resilient way. The Water Current Tour features signage and artwork that showcases and educates visitors about Milwaukee's efforts to improve water quality, preserve, protect, and restore water resources, and develop innovative water technologies.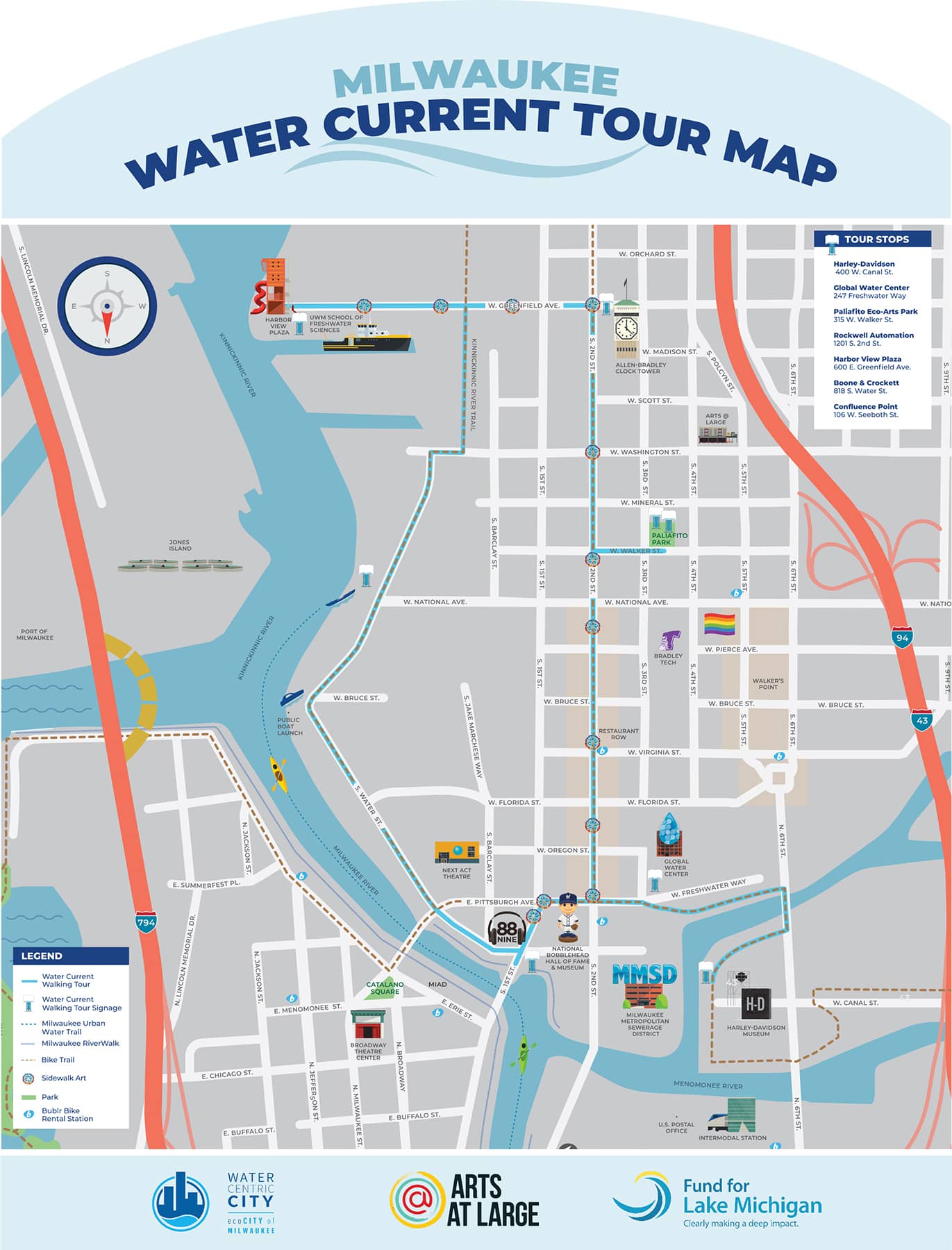 "Milwaukee is a city built on water. Settled on the shores of Lake Michigan, at the confluence of three rivers, Milwaukee's unique environment and water source has shaped our culture, residents, and history," said Mayor Cavalier Johnson said. "The water tour highlights Milwaukee's leadership on water to strengthen support for continued investments in environmental protection, water-related infrastructure, and water-related businesses."
The Water Current Tour includes water-themed visual cues connecting existing water attractions that build Milwaukee's identity and sense of place around fresh water. Water mandalas and linking footprints painted on the sidewalk by artist Marina Lee guide and engage visitors along the tour.
"Milwaukee is a Water Centric City. The Water Current Tour supports that vision by directing visitors and conventioneers along a walking tour of Milwaukee's water-related assets, including the Global Water Center, UWM-School of Freshwater Sciences, and Harbor View Plaza," said Erick Shambarger, Director of the City of Milwaukee's Environmental Collaboration Office.
Wayfaring signs direct pedestrians to water-based locations and organizations across Milwaukee. Educational water signs provide visitors with the chance to read about water science, Milwaukee's water history, and local attractions.
Educational signs are located at seven locations: the Harley-Davidson Museum, Global Water Center, Paliafito Eco-Arts Park, Rockwell Automation, Harbor View Plaza, Boone & Crockett, and Confluence Point. Visitors can read the sign information in multiple languages and view the tour map at milwaukee.gov/WaterCurrentTour.
"Here in Milwaukee, our life on the water is centered around opportunity, education, and prosperity. Our city is a hub for water technology and innovation that is creating jobs, boosting economic development efforts, and preparing the next generation of water industry leaders," said Commissioner Lafayette Crump, Milwaukee City Development. "The Water Current Tour will provide residents and visitors with a new option to learn about Milwaukee's rich water history and get excited about our city's bright future as the Freshwater Capital of the World."
Project partner Arts @ Large coordinated the design and fabrication of the educational water signs with Milwaukee Public School students from Lynde and Harry Bradley Technology and Trade School (Bradley Tech) and Escuela Vieau School. As part of a paid internship program at Arts @ Large, Bradley Tech students designed and fabricated eight signs that were cut and welded by the students themselves. Middle school students from Escuela Vieau School designed the tree narrator graphic that can be found on each of the signs along the tour with support from Arts @ Large graphic design artists.
Financial support for the Water Current Tour was provided by the Fund for Lake Michigan. Planning for the tour began in 2019 at a Water Centric City Design Workshop in preparation for the 2020 Democratic National Convention in Milwaukee. More information about the planning process can be found in the Water Current Tour Summary Report.
The City of Milwaukee Environmental Collaboration Office developed the Water Current Tour in partnership with AmeriCorps, Arts @ Large, The Brico Fund, City as a Living Lab, Clean Wisconsin, Freshwater Tool Kit, Greater Milwaukee Committee, Greater Milwaukee Foundation, Harbor District, Inc., Julilly Kohler, Lybra Loest, Milwaukee Food Tours, Milwaukee Metropolitan Sewerage District, Milwaukee Public Schools, Milwaukee Riverkeeper, Milwaukee Water Commons, Milwaukee WaterWorks, Plastic-Free MKE, Port Milwaukee, Reflo, Rockwell Automation, Sixteenth Street Community Health Center, UWM-School of Freshwater Sciences, VISIT Milwaukee, The Water Council, Walker's Point Association, and the Wisconsin Department of Natural Resources.
© Photo
City of Milwaukee, Jоhn G. Rusfеldt, and Nеjdеt Duzеn