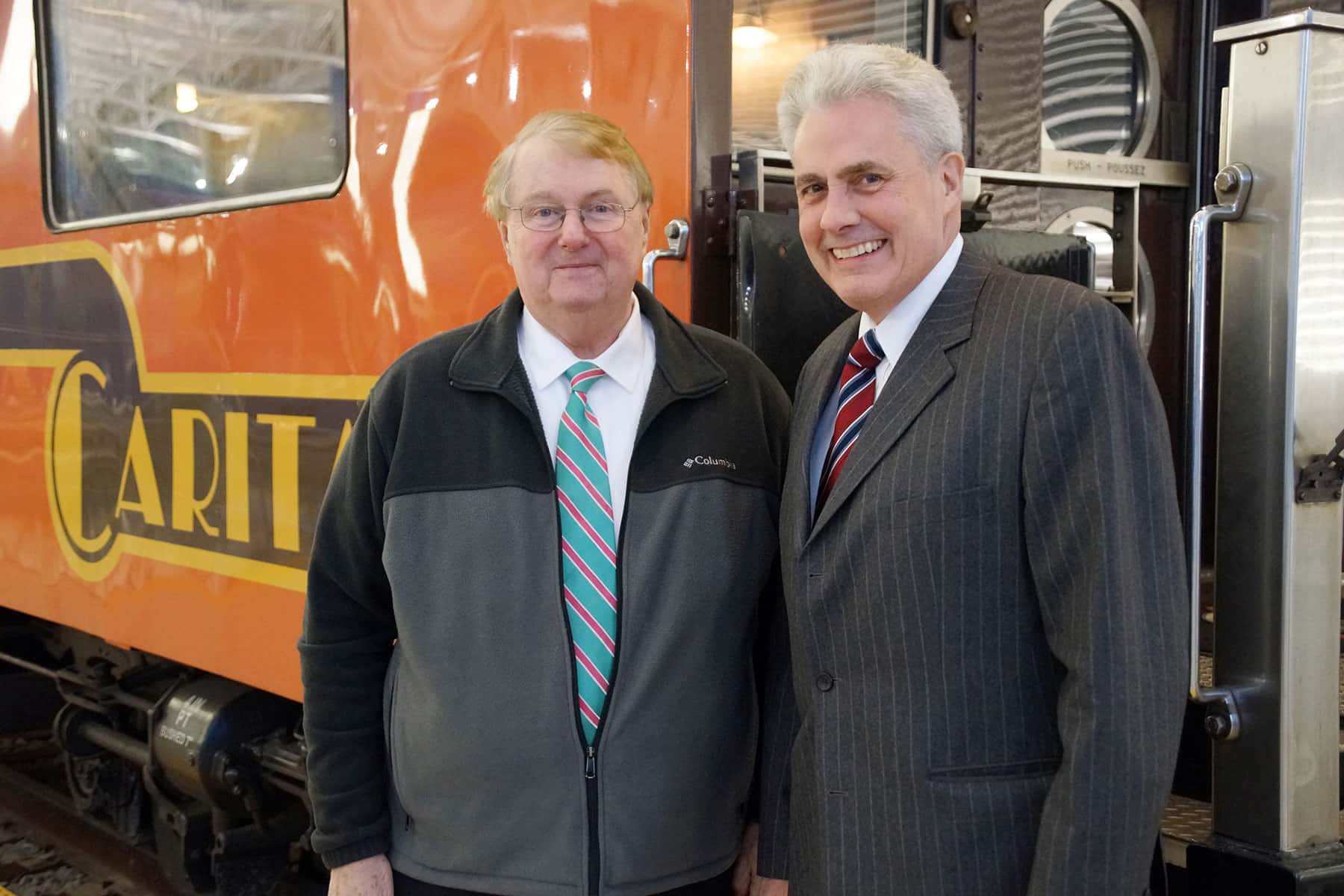 A celebration to welcome the return of the Spanish train manufacturer, and honor a local champion for the transit industry, was held at the recently upgraded Milwaukee Intermodal Station (MIS) on November 22.
The reception was hosted by All Aboard Wisconsin (AAW) and took place aboard the Caritas, a private passenger railcar that was originally built in 1948 by the Pullman Company. The Caritas was completely refurbished at a 37th and Villard industrial facility on the Northside of Milwaukee in 1983.
"So 35 years later, I find myself back aboard a familiar railcar at the fully remodeled Milwaukee Intermodal Staion," said Alderman Robert Bauman. "As the owner and operator of the Milwaukee Rail Car Corporation in my past life, my company rebuilt and reconfigured this particular carriage."
Alderman Bauman formed the start-up company that serviced railroad passenger cars and transit equipment. He has remained an advocate for improving and expanding public transportation in Milwaukee and southeastern Wisconsin.
"On behalf of All Aboard Wisconsin and our members, we're pleased to present Bob Bauman the 2016 Connect Milwaukee Champion Award, in appreciation for keeping Milwaukee's neighborhoods connected, and for his leadership in creating a multi-modal transportation network," said Nona G. Hill, President of All Aboard Wisconsin. "We also want to welcome Talgo USA back to our city."
Talgo, a Spanish manufacturer of passenger trains, was saluted for its announcement that it would reinstate Milwaukee operations for the repair and refurbishing of 74 Los Angels subway cars. The work would be done at the Century City Business Park site on 27th and Townsend.
The $72.9 Million contract was recently approved by the Los Angles Metropolitan Transit Authority. It is expected to employ 37 skilled workers, lasting a duration of 46 months.
"Talgo has enjoyed its relationships in Milwaukee," stated Hill. "AAW also commends the leadership of Mayor Barrett in this endeavor. The Mayor's ability to promote the business opportunities at Century City is greatly appreciated."
The Talgo contract affords a dormant industrial area to be reinvigorated. The 30th Street Corridor was the site of the old AO Smith facilities, industrial buildings tailored to railcar manufacturing. Taglo retained the property lease, and one of the incentives of their return to Milwaukee was the area workforce.
State Representative Evan Goyke expressed his gratitude to Alderman Bauman and Talgo, and also reflected on the new passenger new concourse at the intermodal station. Remodeled in 2007, the Wisconsin Department of Transportation (WisDOT) completed the expansion over the summer. The $22 million reconstruction project took 18 months, so it could accommodate daily operations and cause a minimal of service disruption. The new structure spans 121 feet, is 400 feet long, and 56 feet from ground level to roof.
"Sometimes I think Milwaukee has a self-esteem problem, we think that we don't deserve to be a world-class city. When I walked into that pavilion, I saw every race and language represented, it was very much a metropolitan feel. I had to remind myself that I was in downtown Milwaukee," said Representative Goyke. "That's what we can do with public transportation, when people get onboard a train together. They talk to each other, meet each other, and spend time together. So the multimodal station represents the heart of a growing urban economy."
All Aboard Wisconsin is not anti-highway and believes in local roads and bridges are important, particularly because personal vehicles are necessary to reach train stations. However, the 501(c)(3) organization does not believe personal vehicles are the only form of transportation. Just as highways, airports, and airlines have been heavily subsidized over the years, public transportation deserves its fair share of funding.
Alderman Bauman also noted that construction on the Milwaukee Streetcar had already begun. Construction was currently taking place at the maintenance facility, under the vacant lot near 5th and St. Paul. No formal ceremony was planned until at least the spring of 2017, but the ground has been broken.
"Physical construction has begun on a very contentious project, one that I've been involved with for the better part of 25 years," said Alderman Bauman. "So, I'll gladly take credit for being almost a lifelong champion of public transportation in all its forms."
An all-day summit, Arrive Together: Building a 21st Century Transportation System for Wisconsin, is scheduled for December 3 at the downtown campus of the Milwaukee Area Technical College. The event plans to explore the impact of transportation on people in Milwaukee and how the public can advocate for change.