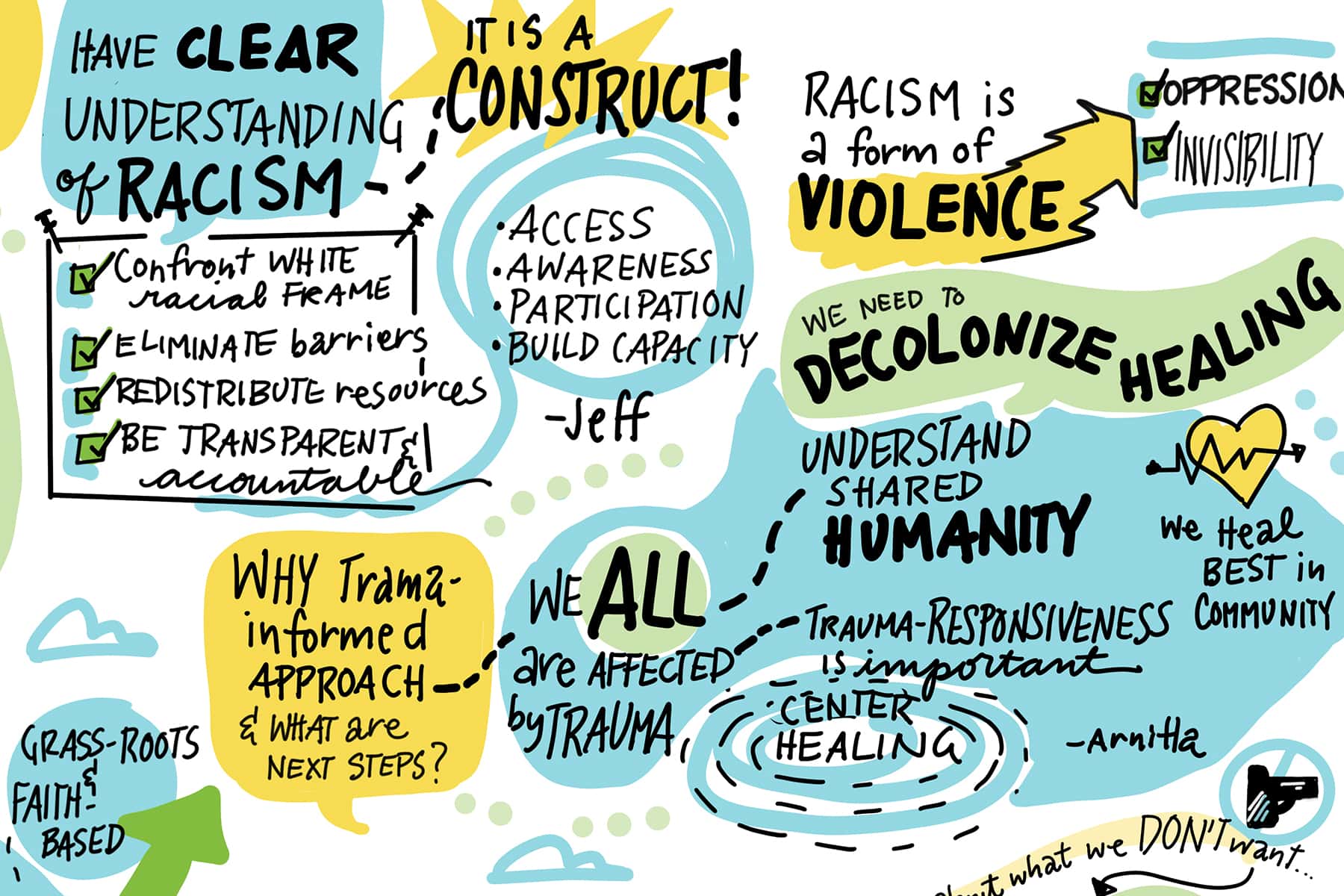 "The Milwaukee Blueprint for Peace is a community-driven agenda for addressing the complex factors that drive violence in our city. Rooted in a public health approach to violence prevention, this Blueprint was shaped by more than 1,500 individuals, elevating the voices of youth, community residents, and key stakeholders to call for strategic, aligned, and sustained investments and action to prevent violence, build resilience, and create a safer, healthier city." – Milwaukee Blueprint for Peace Website, 24 March 2021
When people feel safe, seen, and heard, that is when trust, healing, and social change begin to take root. This is evident in the work being done by the City of Milwaukee Health Department's Office of Violence Prevention and the many community partners working to implement the Blueprint for Peace.
I had the opportunity to graphic record the recent Blueprint For Peace Bootcamp Series, hosted on Facebook Live by Reggie Moore, Director, City of Milwaukee Health Department Office of Violence Prevention, and Jamaal Smith, Violence Prevention Manager, City of Milwaukee Health Department Office of Violence Prevention. Each week Moore and Smith brought together a wide-ranging group of community partners to share how they are working on implementing the strategies of the Blueprint and working towards each of the six goals:
#1: STOP THE SHOOTING. STOP THE VIOLENCE.
#2: PROMOTE HEALING AND RESTORATIVE JUSTICE.
#3: SUPPORT CHILDREN, YOUTH AND FAMILIES.
#4: PROMOTE ECONOMIC OPPORTUNITY.
#5: FOSTER SAFE AND STRONG NEIGHBORHOODS.
#6: STRENGTHEN CAPACITY AND COORDINATION OF VIOLENCE PREVENTION EFFORTS.
As a graphic recorder, my role is to be a dedicated listener in the (virtual) room. I draw live on an iPad using an Apple pencil and the Procreate app. Using images and text, I capture the essence of the conversation as it happens and the drawing becomes an artifact of the group's time together as well as a means to uplift and amplify the important work being done.
The digital graphics are a tangible way to make visible the ideas shared and progress made. They can be shared to create connection and clarity, foster further communication and collaboration, and function as an accountability tool weeks or months after the conversation happens.
I found myself writing and drawing these two phrases each week.:
"Partnerships and collaboration are key to the Blueprint's success." and "We are all connected and we all have a role to play."
I was honored to be a part of each week's Blueprint for Peace Bootcamp. Each week as I finished adding color to the drawings, I revisited the words and passion of the panelists. I realized that using my graphic recording skills to listen, draw, and learn about the amazing collaborations happening in our city was my role in contributing to the success of the Blueprint.
The visuals are an engaging way to share the work of OVP and the panelists doing the important work of listening to youth, centering the voices of the community, meeting people where they are, and building trust through relationships. That is a worthy role I am passionate about leaning into.