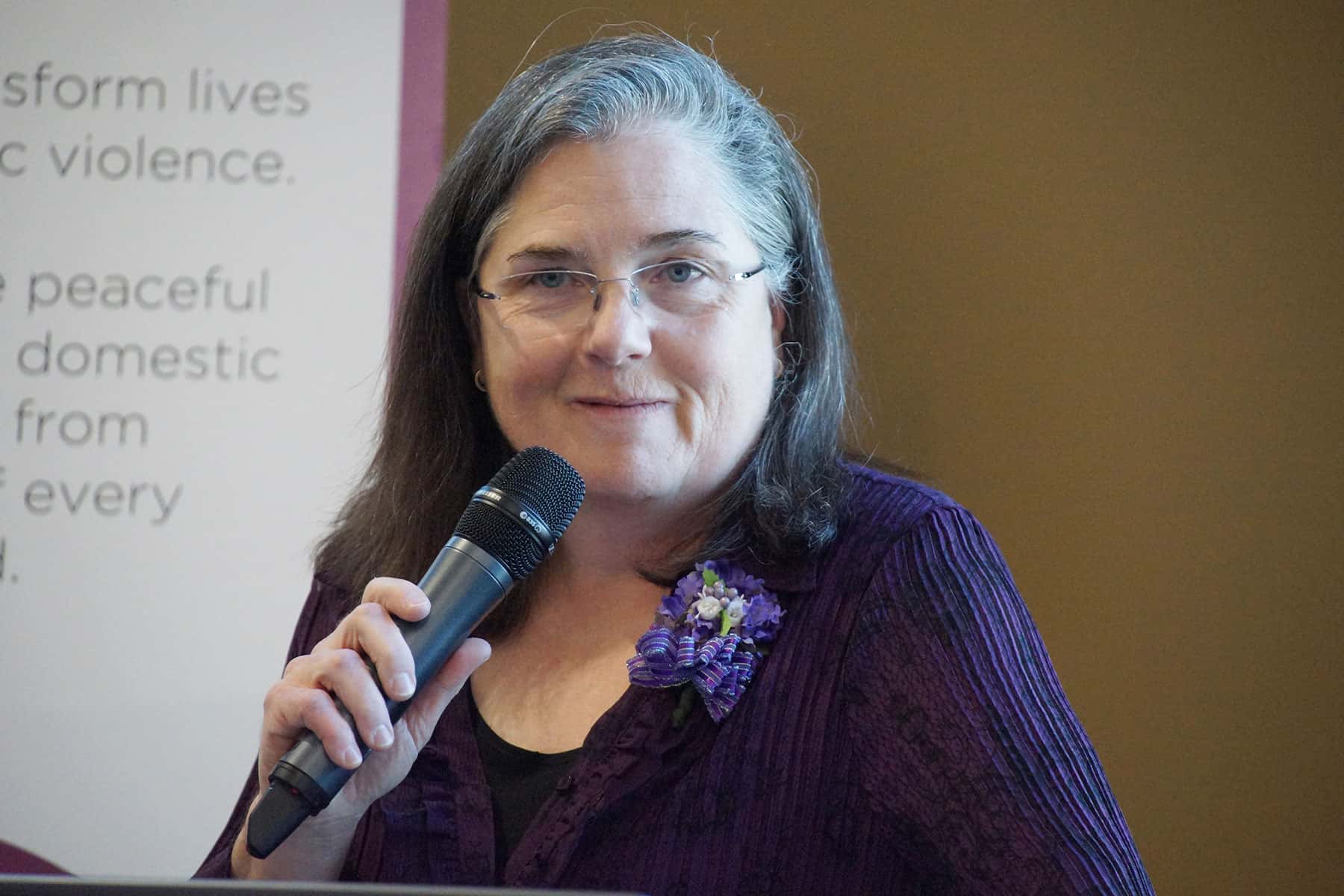 Sojourner celebrated the grand opening of its newly expanded facility, the nation's most comprehensive center to help victims of domestic violence and their families, on February 4.
Community leaders, partners, and supporters gathered at the 72,000 square-foot Family Peace Center for a comprehensive tour, the only day it would ever be open to the public due to the nature of its security requirements.
Partner organizations are housed under one roof at the location, including law enforcement, legal, health, and educational support. The facility is designed to offer holistic services for domestic violence victims of all ages.
"Just this morning I had a survivor walk in," said Carmen Pitre, President and CEO of Sojourner Family Peace Center. "The real value and transformation of this building is that I could walk down the hall get a therapist to talk to this woman in the moment. I didn't have to say call an intake line, make an appointment, and wait until next Tuesday. That is mind-blowing."
Sojourner financed the $22.3 million project through a capital campaign that raised $11.9 million in private community support from individuals, corporations, and foundations and a $10.6 million grant from the State of Wisconsin Building Commission. The facility includes multiple new amenities to better serve the individuals and families in need of critical
services.
"When people talk about domestic violence, often times they focus on the shame and loneliness and feeling of isolation. Because it is hard to say that someone you love and maybe still loves you has done something really bad to you," said City of Milwaukee Mayor Tom Barrett. "One of the magical things of this facility and program is that it will go a distance, I won't say it will go all the way, but it will go a distance to help end that isolation. Once that ends victims are in a better position to get help."
Currently, the center annually serves more than 9,000 women, men, and children in crisis, and receives over 16,000 calls to their 24-Hour Domestic Violence Hotline. Sojourner anticipates a thirty to fifty percent increase in the number of individuals who will come to the center for help this year.
"The traditional system for helping survivors of domestic violence can be confusing, stressful, and arduous to navigate," explained Pitre, "Our new center now allows us to take a proactive approach to domestic violence through our Education Center aimed at informing our young people on how to have safe and healthy relationships."
Milwaukee Police Department's Sensitive Crimes Division is an example of a partner organization being located on site. This division is responsible for investigations involving domestic violence, crimes against children, sexual assaults, interference with child custody matters, and missing persons.
"I grew-up in a family with domestic violence. I was that child hiding under the bed, or hiding in the closest when things at my home weren't going well," said Assistant Chief James Harpole of the Milwaukee Police Department. "So much of what we do in policing that makes the headlines of the nightly news is the shootings. But the reality is our police officers spend a significant amount of time on a nightly basis dealing with family and relationship violence, and most of that never makes the news."
Sojourner has increased the number of shelter beds from 46 to 56 and doubled the number of bathrooms to eight. Other new amenities include more private and family rooms, in addition to a workout room, a quiet room, a health room for screenings, a cafeteria and meeting rooms. To date, the new facility has created more than 125 job opportunities for the neighborhood.
"I have a deep sense of gratitude those who, for over three decades, have fought with their heart and soul to elevate the status of victims to our primary concern as a community," said Milwaukee County District Attorney John Chisholm, who has been a long time supporter like many in attendance at the grand opening.
In the late 1970s, Marquette University started graduating the first female attorneys, who took up the cause and volunteered to advocate the legal rights of women in Wisconsin. These efforts have since gone all the way to the State Supreme Court, with laws still on books that bring peace and safety to lives of Wisconsin citizens.
The Task Force on Battered Women was founded by the Women's Coalition in 1975, which came out of a woman's movement that began to recognize the growing voice of domestic violence. The task force was focused to help give women and children legal protection.
Sojourner Truth House, the first shelter for battered women in Milwaukee, was created by the Women's Coalition and the Task Force on Battered Women in 1978 to give women and children immediate refuge. This collaboration over the years eventually led to the 2009 merger, when the Task Force on Family Violence and Sojourner Truth House came together to form the Sojourner Family Peace Center.
"In a matter of days, the people who need our help will come pouring through these doors. I know that Sojourner brings peace, safety, and dignity back to these people and all the lives that they touch. That's the gift which keeps on giving, because we've given families independence," said Peggy Coakley, CEO Coakley Brothers.
The mission of Sojourner is to transform lives impacted by domestic violence. Sojourner provides crisis housing, system advocacy and individual support. Sojourner is the largest provider of domestic violence prevention and intervention services in Wisconsin. Their primary goals are to ensure the safety of victims of family violence and to provide a pathway out of violence for victims and abusers through opportunities to make positive and lasting changes for themselves and their children.
"If there is any respect people have for Sojourner, it's because they keep their word, in the day-to-day. They bring light and love to the people they are trying to help. We believe we will change the game in Milwaukee. But we can't do it alone," said Pitre.
Sojourner Family Peace Center is located at 619 W. Walnut Street. 24-Hour Domestic Violence Hotline: 414-933-2722