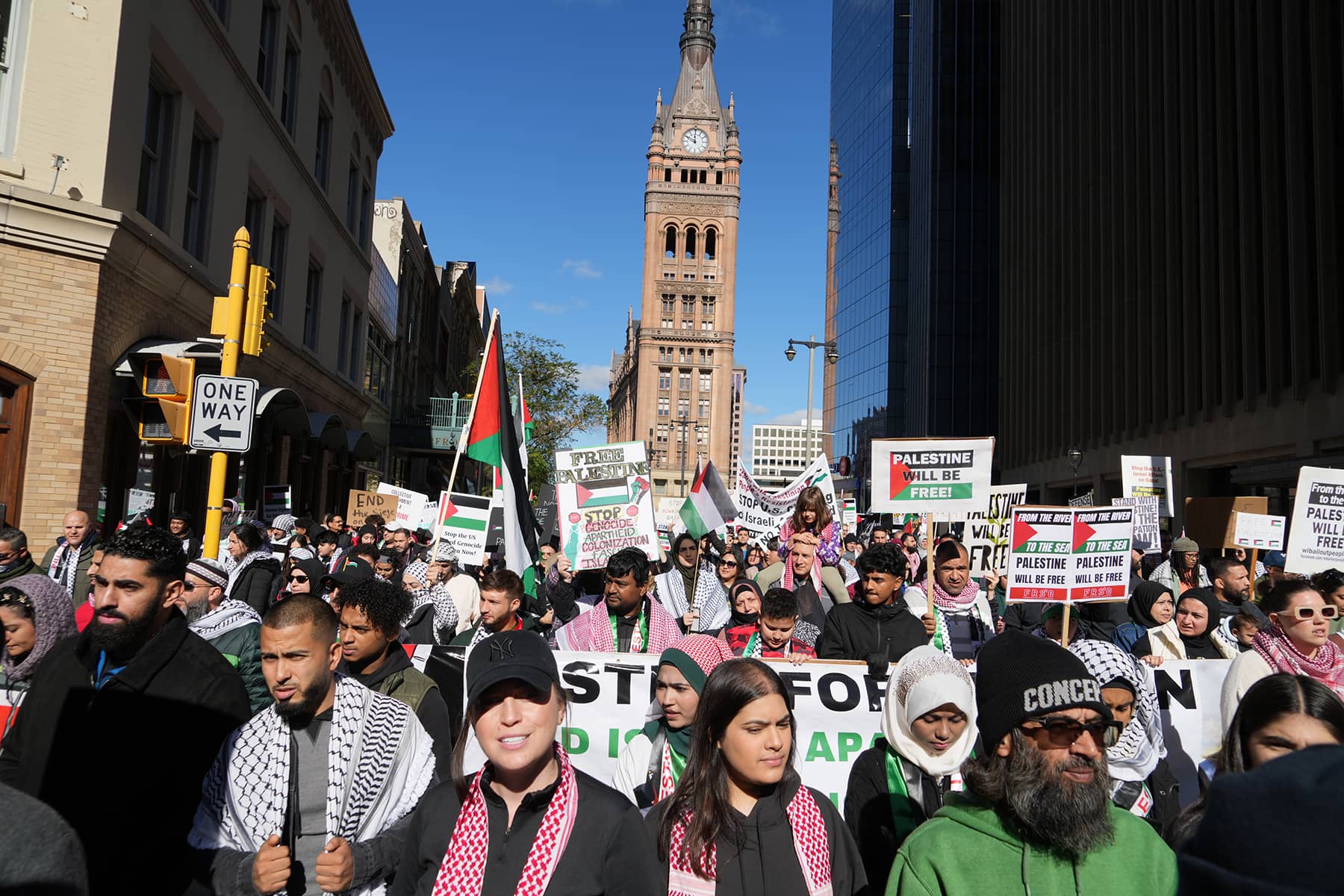 The Wisconsin Coalition for Justice in Palestine (WCJP) organized a rally and march on October 21, drawing thousands to the streets of downtown Milwaukee in a show of solidarity with the people of Gaza.
The peaceful demonstration began at Red Arrow Park and concluded at "The Calling" sculpture along the Lakefront, a prominent landmark in the city.
The event was marked by an outpouring of support from the local community, with participants ranging from students to elderly residents, coming together to express their concern for the ongoing humanitarian issues in Gaza.
"Thousands marched in Milwaukee for a ceasefire on Gaza and a liberated Palestine. In the most segregated metro area in the U.S. almost every demographic, religion, and ethnicity was there – a true representation of the entire city calling for a free Palestine." – Jewish Voice for Peace
Speakers at the rally highlighted the humanitarian challenges faced by Gazans, emphasizing the importance of international understanding and support. The march was not just a call for peace, but also a plea for justice and human rights for Palestinians.
The newly formed WCJP coalition has been an active voice championing the cause of Palestinians, and promoting a fair and balanced perspective on the Israeli-Palestinian conflict. The group's mission has been to educate the public about the history and realities of Palestine, and to advocate for the rights and dignity of its people.
"This event is not just for Palestinians but for all of us. We need to stand up for what is right and make our voices heard," said a participant in the Milwaukee march, who declined to give their name.
A second aid convoy destined for desperate Palestinian civilians reached Gaza on October 22, as Israel widened its attacks to include targets in Syria and the occupied West Bank.
Relief workers said that far more aid was needed to address the spiraling humanitarian crisis in Gaza, where half the territory's 2.3 million people have fled their homes.
The U.N. humanitarian agency said the first convoy on October 21 carried about 4% of an average day's imports before the war and "a fraction of what is needed after 13 days of complete siege."
For days, Israel has been on the verge of launching a ground offensive in Gaza following the October 7 rampage by Hamas through a series of Israeli communities. Tanks and troops have been massed at the Gaza border, waiting for the command to cross.
Fears of a widening war have grown as Israeli warplanes continue to targets across Gaza, two airports in Syria, and a mosque in the occupied West Bank allegedly used by militants.
© PHOTO NOTE: All the original editorial images published here have been posted to mkeind.com/facebook. That Facebook collection of photos contains the Milwaukee Independent copyright and watermark for attribution, and may be used for private social media sharing. Do not download and repost images directly from this page.