Sherman Phoenix rises from ashes with $2.5M business hub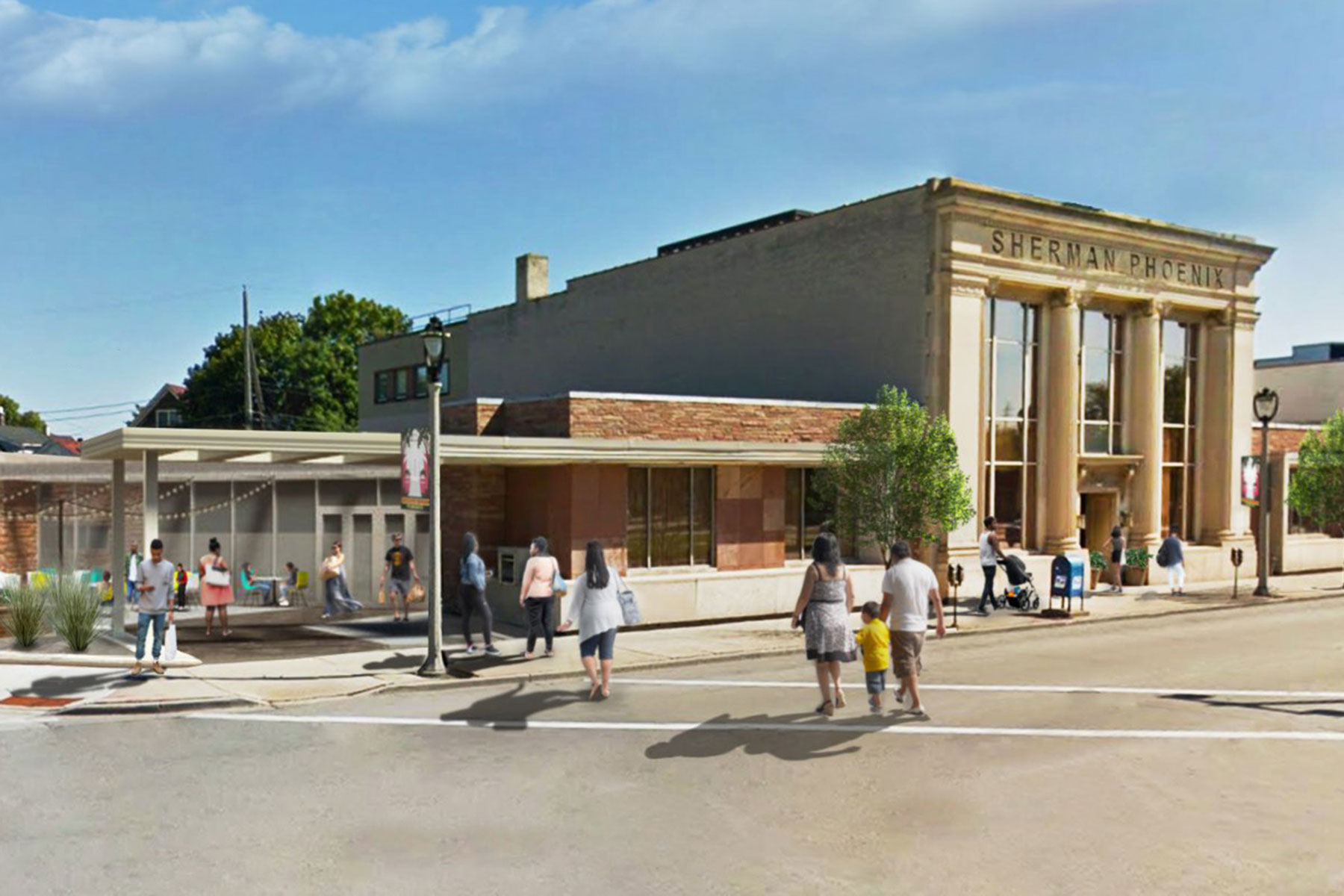 A redevelopment underway in the Sherman Park neighborhood will stand as a model for healing Milwaukee by generating positive economic and social returns in communities of color.
The Sherman Phoenix project will create a $2.5 million catalytic development at the eastern entrance to the Sherman Park neighborhood. It will transform the fire-damaged BMO Harris Bank Building located at 3536 W. Fond du Lac Avenue into high-quality commercial space for 12 entrepreneurs of color. The Phoenix also includes a food hall with customer seating, an outdoor patio, and gathering spaces for small community events.
The civil unrest in Sherman Park last year resulted in the damaged bank building and shed light on the critical need for more inclusive pathways to economic opportunity. The Sherman Phoenix directly responds to this need by strengthening entrepreneurship, creating jobs, revitalizing a main street, and catalyzing community wealth.
"Innovation is critically needed," stresses JoAnne Sabir, Co-Developer of the Sherman Phoenix, "Residents have experienced many, many years of disinvestment. There is a shared desire to become a part of the economy, to be able to have vibrant spaces that reflect the diversity of the community."
Future business tenant, Taj Pearsall, agrees, "A lot of times we don't have the opportunity or the access to build ourselves up and build our communities up to do bigger and better things. This will allow us, the people in the community, to do that."
Twelve Black-owned business have committed as tenants, providing a range of prepared foods, wellness services, and arts and cultural offerings. These entrepreneurs share a common vision for hiring locally and strengthening the community. To help ensure that tenant businesses are strong, the Sherman Phoenix will provide entrepreneurial support, including mentorship and training.
Committed tenants include: The Juice Kitchen, Funky Fresh Spring Rolls, Embody Yoga, Sabir's Karate Center, Hello Beautiful, RSVP Confections, Queens Closet Consignment Shop, #DreamsNeverExpire!, Sister Locs, Rees Barbershop, Studio 69, and Buffalo Boss.
"There's brilliance here. There's talent here. We are helping to ensure that the talent, the brilliance and innovation of people of color is lifted. The coming together, that collective action, that's where the magic happens." Sabir said.
Across the country, minority-owned firms are on the rise at a pace more than four times other firms, as noted in a 2012 State of Minority Business Enterprises Report. Yet, businesses of color continue to face increased barriers to funding, mentorship, and markets, leaving untapped opportunity.
According to the 2016 Color of Entrepreneurship report by the Center for Global Policy Solutions, if the number of U.S. minority-owned firms were proportional to their distribution in the labor force, people of color would own 1.1 million more businesses with employees and would add about 9 million jobs and about $300 billion in workers' income to the economy.
The project is advancing through a creative partnership between JoAnne Sabir, an experienced small business owner and community leader, and Juli Kaufmann, an experienced real estate developer. The co-mentorship model allows for an exchange of expertise and helps the project find strong tenants, hire local contractors, and recruit neighbors as owner-investors.
Sabir and her husband, Maanaan, own The Juice Kitchen, a fresh juice café in the Lindsay Heights Neighborhood. The successful Black-owned business has sparked pride and possibility in the community and is helping to revitalize a commercial corridor. Their efforts were highlighted on the front page of the New York Times in August 2016 in an article that examined the impact of segregation in Milwaukee.
Kaufmann is President of Fix Development, an award-winning commercial real estate company that has developed more than $13 million in Milwaukee-area projects. Projects include The Wellness Commons and the Wally Schmidt Building, home of The Tandem Restaurant, located in Lindsay Heights, and the Clock Shadow Building among others.
Fundraising for the Sherman Phoenix is actively underway with half of the project funds currently secured by local philanthropists, investors and foundations. To advance community wealth building, the project also provides opportunities for neighborhood residents to directly invest in the project and become owners.
"There is an opportunity for people who live in the area to have some ownership and pride for what's happening there. For me, the Phoenix symbolizes rebuilding, revitalization, but most importantly, empowerment," noted Joanna Brooks, owner of Embody Yoga and a future tenant.
"Sometimes things have to burn for the opportunity to rise up," reflects Sabir. Alderman Khalif Rainey agrees, "This project means Sherman Park literally rising from the ashes and becoming a better, more unified Sherman Park than we were before."
© Image
Hammel Green & Abrahamson Inc. (HGA)