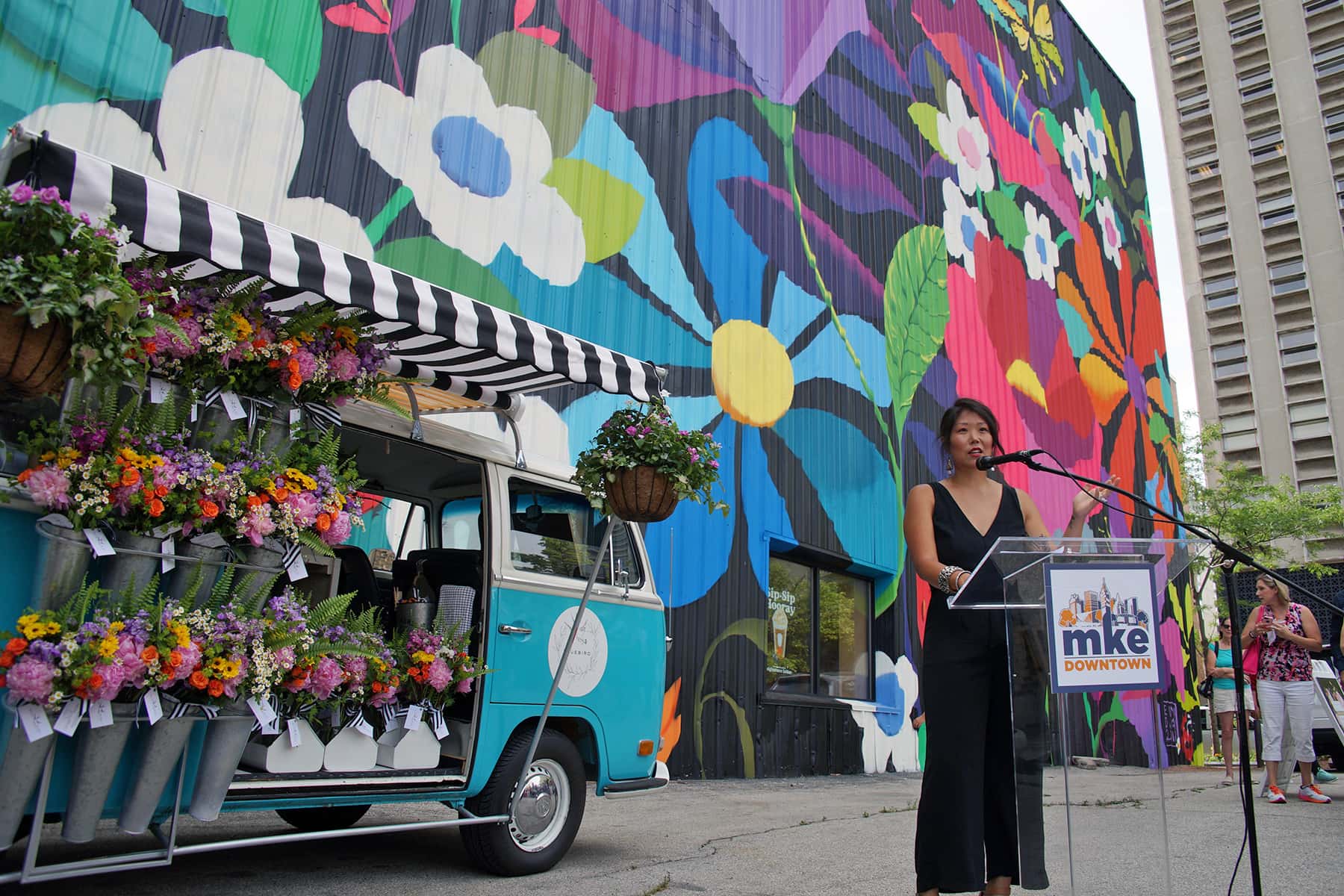 Downtown Milwaukee officially welcomed one of its largest and most ambitious mural projects, with a ribbon cutting ceremony on July 19, along the west wall of Dunkin' at 622 W. Wisconsin Avenue.
Titled "Westown In Bloom," the 80' wide by 50' high mural was painted by local artist Emma Daisy Gertel, and commissioned by the Milwaukee Downtown BID #21 and the Downtown Placemaking Task Force. Gertel was selected from a pool of nearly 60 applications from around the globe.
The high-impact canvas on northeast corner of James Lovell Street and Wisconsin Avenue featured an urban garden as its subject, a metaphor for the resurgence of the Westown district. Installation began in late-June and took almost a month to complete.
"This has been a thrilling project to be a part of, simply because of its sheer scale. But also due to its potential influence, "said Gertel. "When I was developing my proposal for this project, I gave a lot of thought to what this corner could look like and the people who pass through it every day. In doing so, I thought a lot about the message and social impact I wished to express. This is an incredibly diverse corner and it needed work to reflect that."
The artistic concept was to create a bright and colorful garden of flora to enliven the space and inspire a sense of wonder, vibrancy, beauty, and hope that represented the revitalization and renewal efforts of Westown.
In the parking lot space, between Dunkin' and Community Advocates, once stood a building that symbolized Milwaukee's architectural pride. It was devastated by fire in the early 1990s. In Gertel's floral pallet, she included a Brazilian "canel de ema." The flower blooms following a fire, and was symbolic of her hope that its beauty would inspire life and new growth from adversity.
The mural was physically demanding work, that required Gertel to deploy constant problem solving. It also meant that the artist had to maintain a high level of stamina in order to finish, all while managing her fear of heights. But after using 50 scuff pads, over 100 wiping cloths, and about 275 cans of spray paint, her artistic vision was complete.
"I am overwhelmed and overjoyed by the community love and support," Gertel added. "One of my favorites parts of the job was getting to know people in the neighborhood, meeting the personalities and faces, and seeing their reactions and affirmations in the moment. I am so proud of the achievements of Milwaukee Downtown, and am honored to be a part of the Gateway Mural project and its contribution to the neighborhood."
The Westown Gateway Mural is part of a series of recent projects administered by the Downtown Placemaking Task Force. The goal of these projects is to enhance the aesthetics of downtown's "third spaces," and encourage connectivity and walkability.