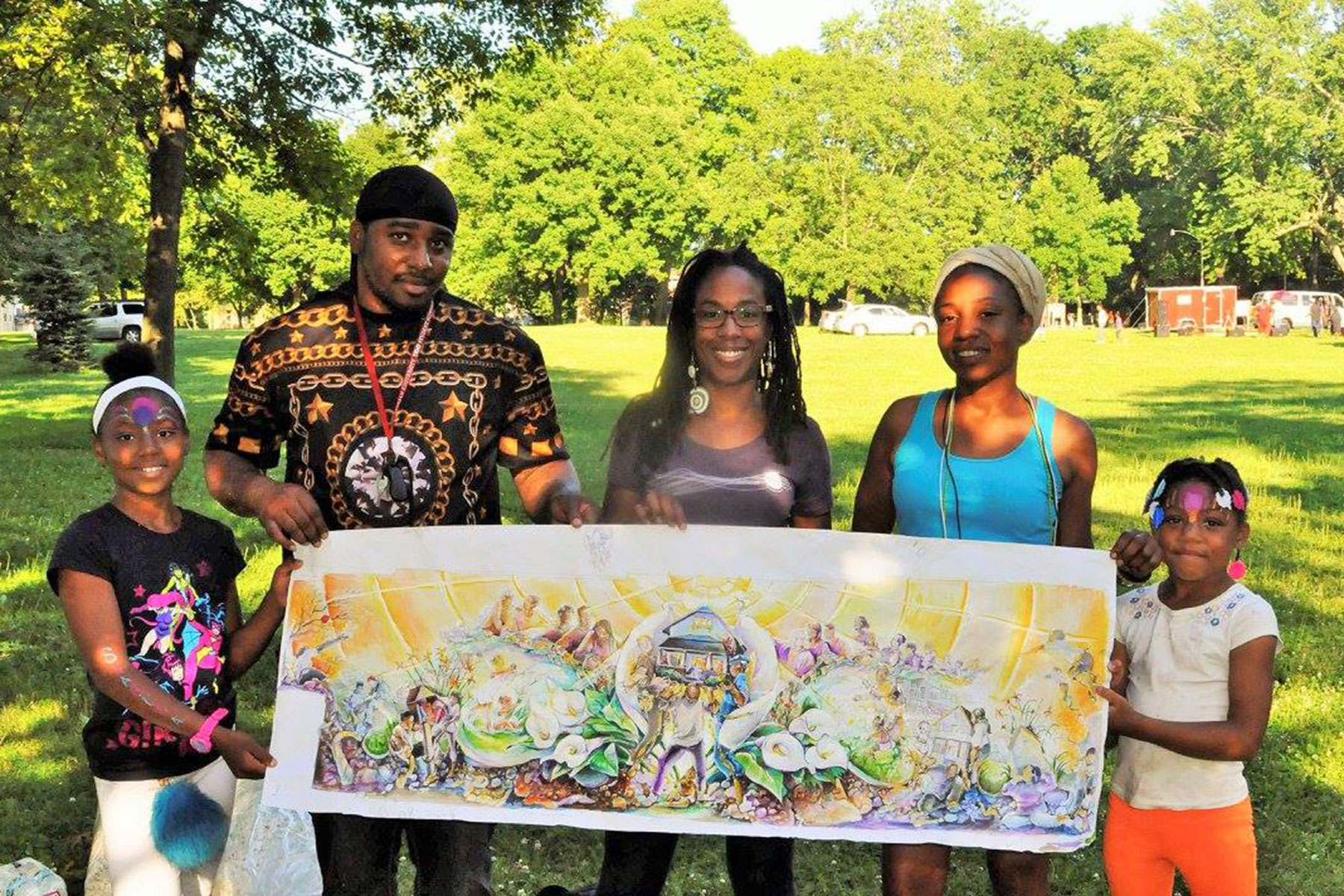 Painting together as a community brings the vision of unity to life for Sherman Park residents, as all ages come to witness and participate in the event from July 19 to 23.
Community artist Tia Richardson was selected to lead a collaborative mural design with residents living in the Sherman Park area for the east-facing brick wall of the property located at 4715 W. Center.
The mural design process began with two creative workshops on June 22nd where a diverse group of community members named common neighborhood concerns and ways they continue to work on those issues.
The purpose of the mural is to present these many concerns, while also acknowledging the improvement efforts on the part of community members that are and have been underway for many years, and reflect a vision that unifies and uplifts.
The mural design, originally titled 'Sherman Park United,' was revealed to the community on July 11th with a warm reception.
"I was inspired to change the name of the mural to 'Sherman Park Rising' to reflect the stage of positive transformation underfoot in the community." said Richardson. "I feel it resonates more, and is more dynamic and poetic. Unity is still an important part of the message."
A series of community paint days will launch the summer project. The public announcement formally invites the community to come help 'paint by numbers' and fill in areas of the mural, with supervision and guidance from the artist and volunteers. The project is family-friendly, and children under 12 must be supervised by an adult.
Tia Richardson is an Integrative Community Artist, using collaborative murals as a tool to build empathy and connection among the groups she works with. She has a holistic and trauma-informed approach, combining a variety of methods that engage youth and adults in creative ways of sharing stories and ideas with each other in ways that foster trust and collaboration.
Since 2007 she has contracted as a mural artist-in-residence for Milwaukee Public Schools, social services agencies, after-school and neighborhood organizations, and grassroots collectives
The dates and times for community painting are Wednesday July 19 from 3:00 p.m. to 7:00 p.m., Thursday July 20 from 10:00 a.m. to 2:00 p.m., Friday July 21 from 3:00 p.m. to 7:00 p.m., Saturday July 22 from 1:00 p.m. to 5:00 p.m., and Sunday July 23 from 1:00 p.m. to 5:00 p.m.
In the event of rain there will be no painting for that day. The 17' x 56′ mural will be completed by the artist this summer.