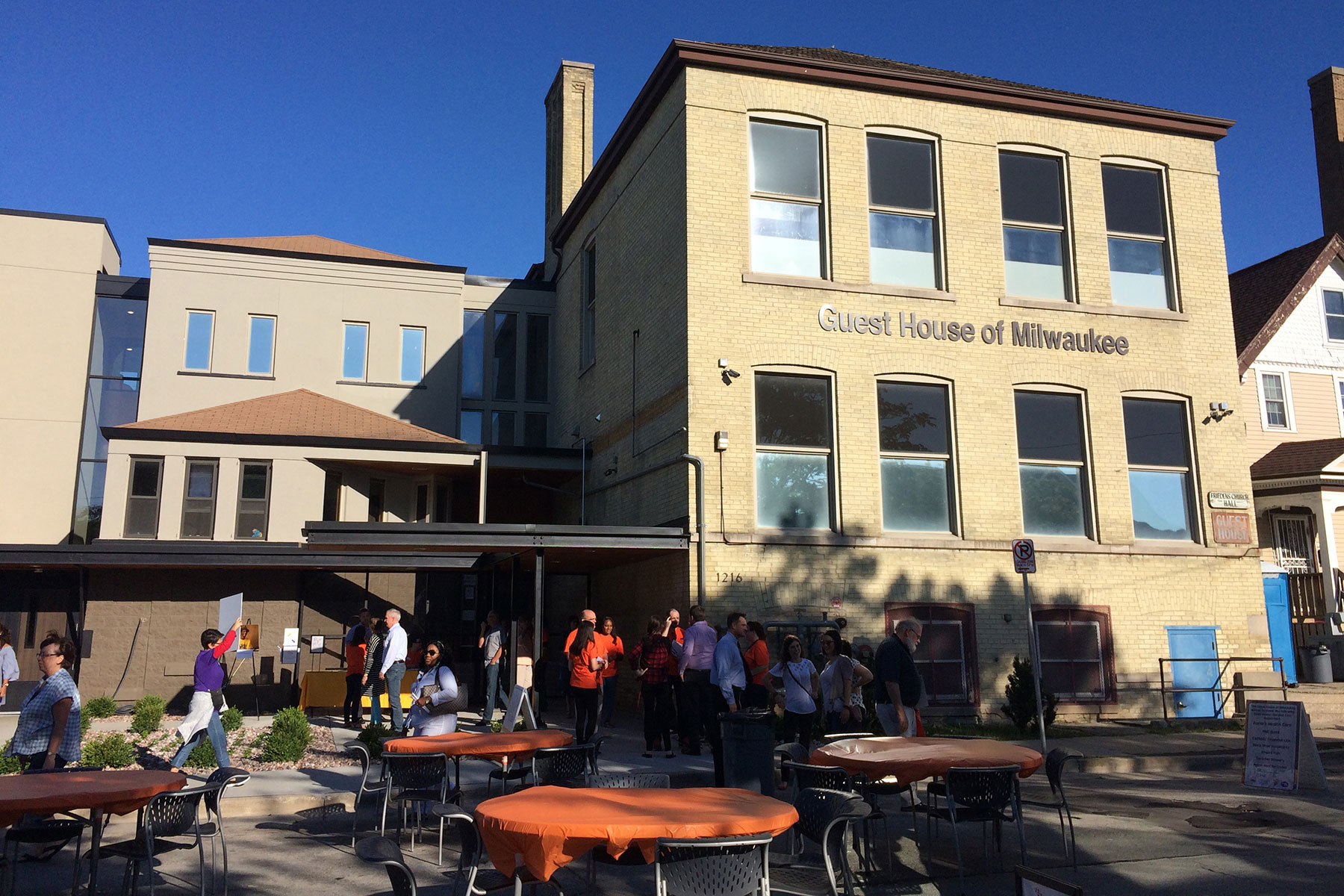 The Guest House of Milwaukee welcomed the public to an Open House event that showcased the organization's missions to support the homeless in the local community.
The Guest House of Milwaukee hosted an Open House on September 15 in celebration of its brand new 8,000 sq. ft. expansion and renovation. The street location was blocked off a at 13th and Juneau Avenue for the event, which was open to the public. It featured self-guided tours, live music, and dinner provided by Black Shoe Hospitality.
The Guest House is a homeless shelter for men that provides housing, education, and counseling services both on-site and in the Milwaukee community. Their new logo reads "Guest House: More Than Shelter" and the expansion will help them continue to embody this saying.
"When someone becomes homeless they lose their sense of worth, their sense of dignity," said Cindy Krahenbuhl, Executive Director of the Guest House. "We're a place where people are starting to build that back up and to get their lives back in order. But how can people do that in a place that's falling apart?"
When Krahenbuhl started as Executive Director nine years ago, the Guest House had 20 apartment units for formerly homeless men interspersed throughout the Milwaukee area. They now have nearly 400 units. The 2.6-million dollar expansion project has allowed Guest House to improve and expand such programs, as well as improve their own facilities, which are now handicap accessible.
The expansion, however, was not without challenges. In its initial construction, workers discovered a 19th century cemetery and had to bring in the archaeology team from UW-Milwaukee. The team, who had a table at the Open House event presenting their findings, discovered over 100 bodies at the cemetery.
After the cemetery remains were respectfully processed, the Guest House strategically chose an architecture firm that would provide a warm, homelike feel. For its residents, the Guest House is home. Some residents stay in its facilities for up to two years, while others are on a short-term program for up to 90 days.
The expansion also included a state-of-the-art kitchen and new dining hall facilities, as well as more spacious dorms. The Guest House Counseling Clinic, which provides on-site behavioral health, along with drug and alcohol abuse counseling, also received new offices. According to Amy Rowell, Events and Outreach Manager, such services are essential for men at the shelter.
"For a lot of the gentlemen we serve, homeless isn't really their lead problem," said Rowell. "There are other factors that lead to their homelessness, such as mental health and addiction. To be able to have on-site services is key to their recovery."
Rowell was in charge of organizing the Open House event, which began at 4:00 when attendees could start taking self-guided tours through the house's new facilities. Near the end of the tour attendees would meet artist Larry Leake, former resident of Guest House.
After Leake left the Guest House 20 years ago, he became established as an artist. He then came back to the Guest House paint a mural on the house's second floor, which featured a group of homeless men. In celebration of the new expansion, Leake painted a new piece, that depicted a line of men entering the Guest House's doors.
When asked about his inspiration for the piece, Leake said, "I was homeless before and I came through those same doors."
His new painting will be used on postcards and other marketing tools to present the Guest House's mission.
For the past 30 years, the Guest House has been helping people like Leake get back on their feet. According to Krahenbuhl, right before the event a gentlemen who was just leaving the Guest House told her that he was moving out because he found his own place and would not be able to attend the event that night because he had to go to work.
This year the Open House event was combined with the Guest House's annual Harvest Festival, which celebrates their Cream City Gardens, an urban garden program located across the street from the Guest House. Fruit and Vegetables grown there are used in the facility's kitchen or donated to Friedens Community Ministries. Residents also work on the garden plots and can become certified by their Urban Agriculture Training Program.
At the event's 5:00 program, which featured speeches by Krahenbuhl, Mayor Barrett, and Alderman Robert Bauman, graduates of the Urban Agriculture Training Program were acknowledged and applauded.
"The people with the greatest challenges in terms of poverty and the other challenges that go with that are located right here in the City of Milwaukee," said Mayor Barrett. "That becomes our challenge, but it also becomes our opportunity. And that's what we're celebrating today, getting the training to plant these beautiful gardens, learning self-sufficiency and learning how to get back on your feet."
After the speeches, event attendees ate dinner and enjoyed dessert provided by Purple Door Ice Cream. Attendees then sampled produce from the Cream City Gardens and enjoyed a campfire with s'mores.
Not only does the Guest House serve the men that come through its doors and the people who live in their apartment units, they help individuals in the surrounding community. All day long, people with food insecurities are given bagged lunches. In the winter, they also hand out warm clothes.
Everyday, the Guest House passes out about 200 bagged lunches. They do not have a budget for food, so all meals are provided by volunteers and organizations in the community.
Krahenbuhl said that people are often not aware of all of the services the Guest House provides outside of shelter. She wanted people to know that the Guest House is out in the community doing important work, such as leading homeless prevention programs, rapid rehousing programs, and care coordination for people with chronic and persistent mental health conditions.
The Guest House's work thus does not stop at the expansion. They will continue to provide essential services for people throughout the community for many years to come.