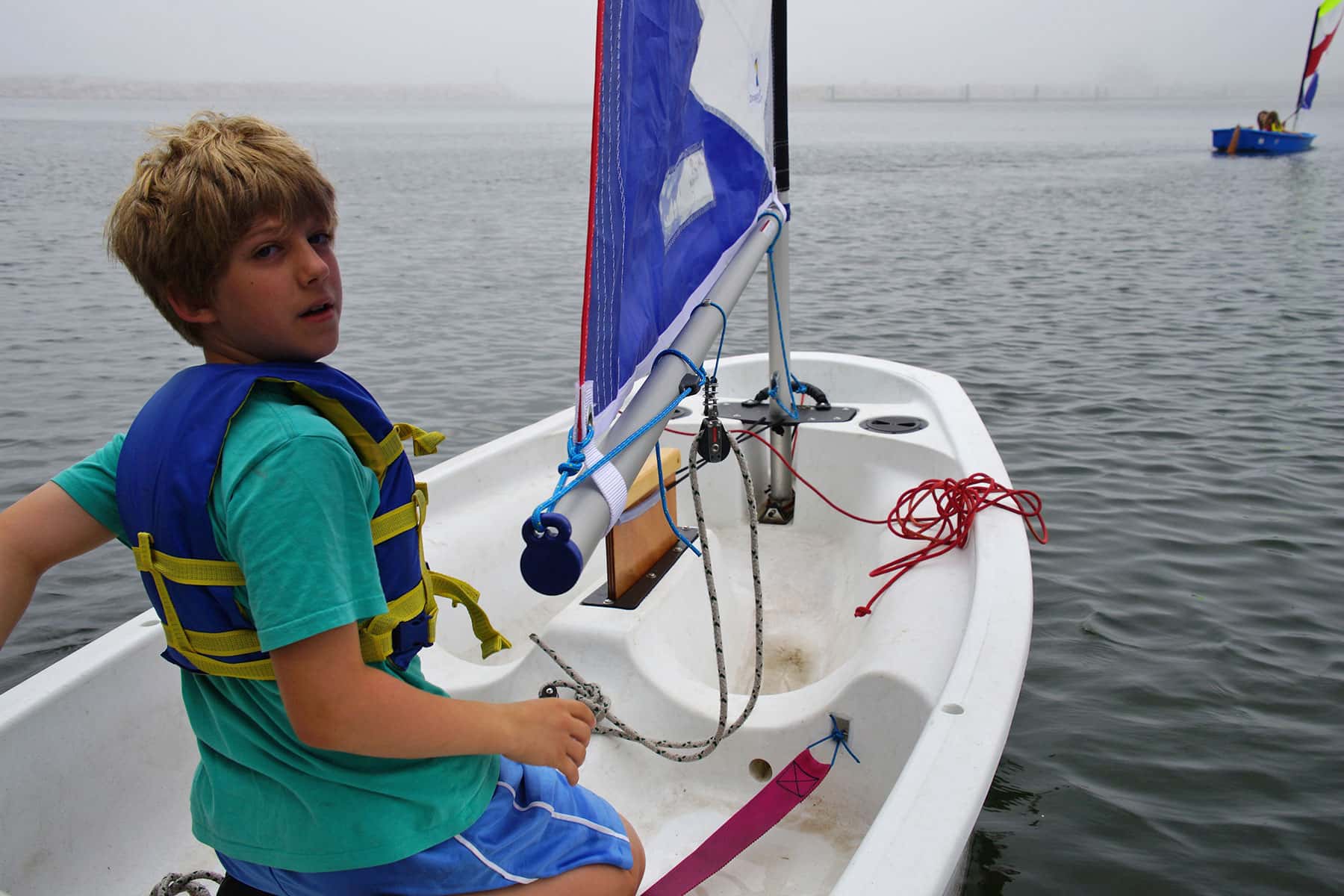 Along Lake Michigan for the next few weeks, Milwaukee's future sailors are perfecting their nautical skills as part of a joint program from Discovery World and the Milwaukee Community Sailing Center.
The partnership continues efforts by both organizations to teach local youth the world of sailing. From water safety to sail rigging and theory, students between the ages of 8 to 17 will spend an entire week at Discovery World in new Learn to Sail Summer Camp. The program began on July 10 and runs through August 4.
"We always talk about the scientists sailing, which is a big part of our Denis Sullivan curriculum. So this gave us a chance to actually get students on the water in their own boats," said Paul Fladten, Public Relations Manager at Discovery World. "It's young kids from eight year olds out there learning to sail on Lake Michigan. To me, that sums up the scope for all we do at Discovery World."
The week-long Learn to Sail camps are offered three times over the summer. The camp is open to the public and is designed to immerse students in all aspects of sailing. Campers will spend half the day sailing on the waters of Lake Michigan learning water safety, sail rigging, and basic sailing maneuvers, and then spend the other half of the day exploring the science of engineering and sail in Discovery World's Freshwater Sustainability Lab.
"Discovery World is thrilled to partner with the Milwaukee Community Sailing Center to expand our summer camp program and help local students explore the world of sailing in a whole new way," said Discovery World President and CEO Joel Brennan. "Collaborating with the MCSC allows us to offer campers the most comprehensive experience in which they'll not only learn how to sail but also the amazing science behind sailing."
Featuring over 100 camps ranging from Underwater Robotics to Fashion Design, Discovery World summer camps will host more than 1,500 campers between June and August. Thanks to the generous gifts from individuals and partner organizations, 200 local students will attend this year's summer camp on scholarship.
Many of the scholarship students will join the program from Milwaukee Public Schools, Big Brothers and Big Sisters, Journey House, Silver Spring Neighborhood Center, and COA Youth & Family Centers. While attending a camp offers students an important exposure to knowledge and possibilities, to really build on that educational foundation requires repeat engagement.
"One of our instructors remembered the first week of a recent camp, there were two kids who wouldn't speak," added Fladten. "By the end of that camp, over the course of several repeat visits, those two were teaching all the other kids."
Discovery World Summer Camps run from June 12 to August 25, and are available for students in grades 1 through 8. Participants must be entering the grade required for the camp of their choice by the start of the 2017-2018 school year.