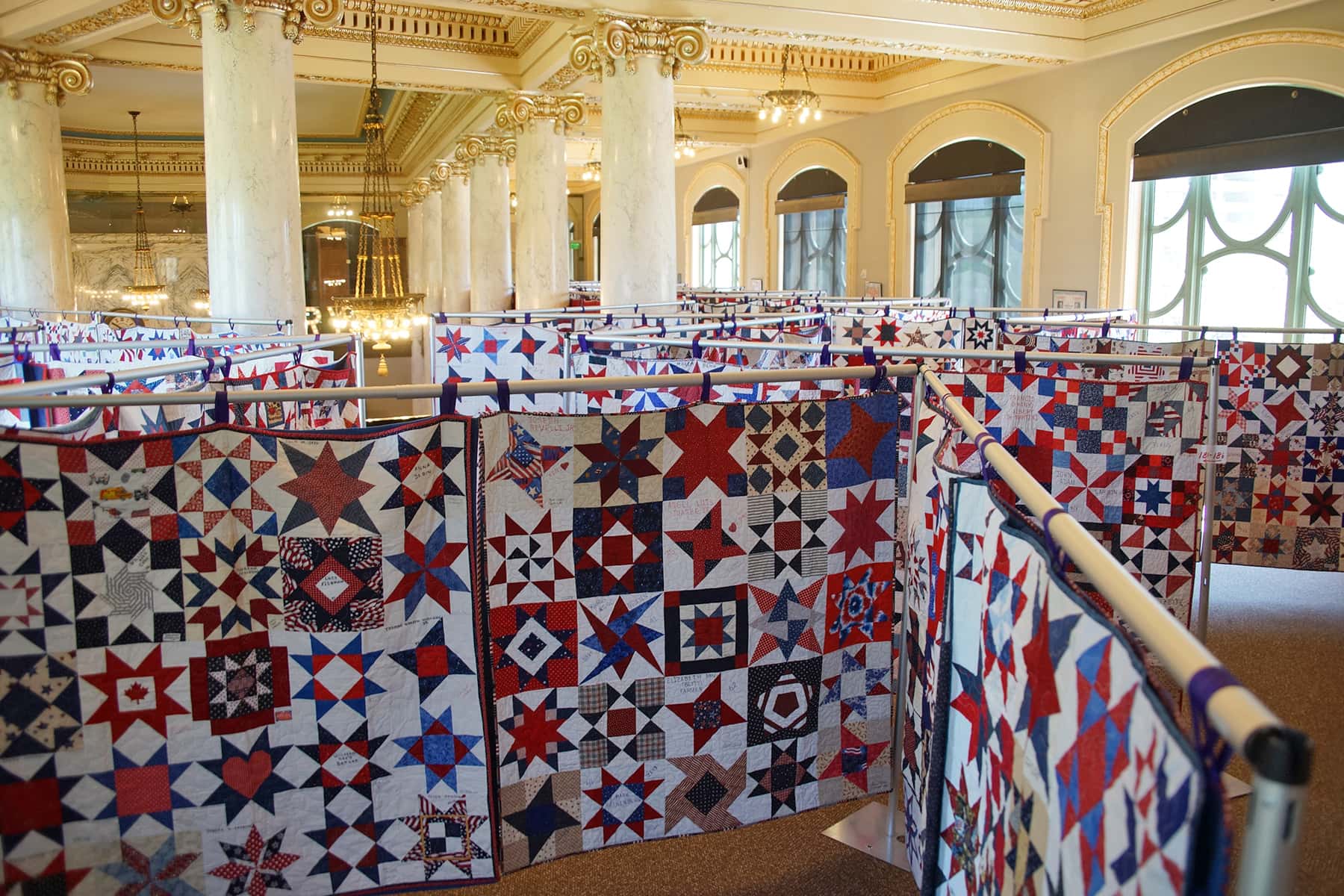 As part of a national tour, the 9/11 World Trade Center Memorial Quilt Project visited Milwaukee during the week leading up to Memorial Day.
Hosted by the Milwaukee County Historical Society, the exhibit represented a time when people across America from diverse backgrounds came together for the purpose of paying tribute to the victims and heroes of 9/11.
The exhibit featured over 300 quilts as part of the "Sew" We Never Forget: 9/11 Memorial Quilt Project. The name of each one of the 2,977 people who died on September 11, 2001 is displayed on the quilts.
Immediately following the tragic events of 9/11/2001, Amy Sie Leasure-Hedt, an avid quilter and 911 sheriff's dispatcher from Arizona, felt the need to create a symbol to honor those who lost their lives that day. Her quilt design provided a way for the nation to channel its collective grief through participation in the production process.
Amy lost her battle with undiagnosed cancer in 2002, and the uncompleted quilt project was put on hold. Brian Kohler, an experienced quilter from Seattle, recognized the significance of the project and volunteered to complete it. Kohler finished in 2004, and the first public showing of the exhibit when on display that year. However, Kohler was unable to dedicate the time and resources needed to take the quilts to cities around the country.
"It all went into storage for ten years. So I had requested to Brian Kohler off and on over the years, how we could get the quilts to Michigan because we'd love to see them," said Beverly Kuemin. "So, he shipped it to me. Now I'm the keeper of the quilts, and I'm trying to take it on tour around the country."
The quilt designs were made from 20,000 squares of material and crafted by contributors from across America and 30 countries around the world, with the goal of making sure future generations did not forget about 9/11. In addition to a name, each quilt has the victim's age.
Kuemin plans to take the quilts around the country when they are not on in display in Michigan, with an eventual permanent display potentially in New York.