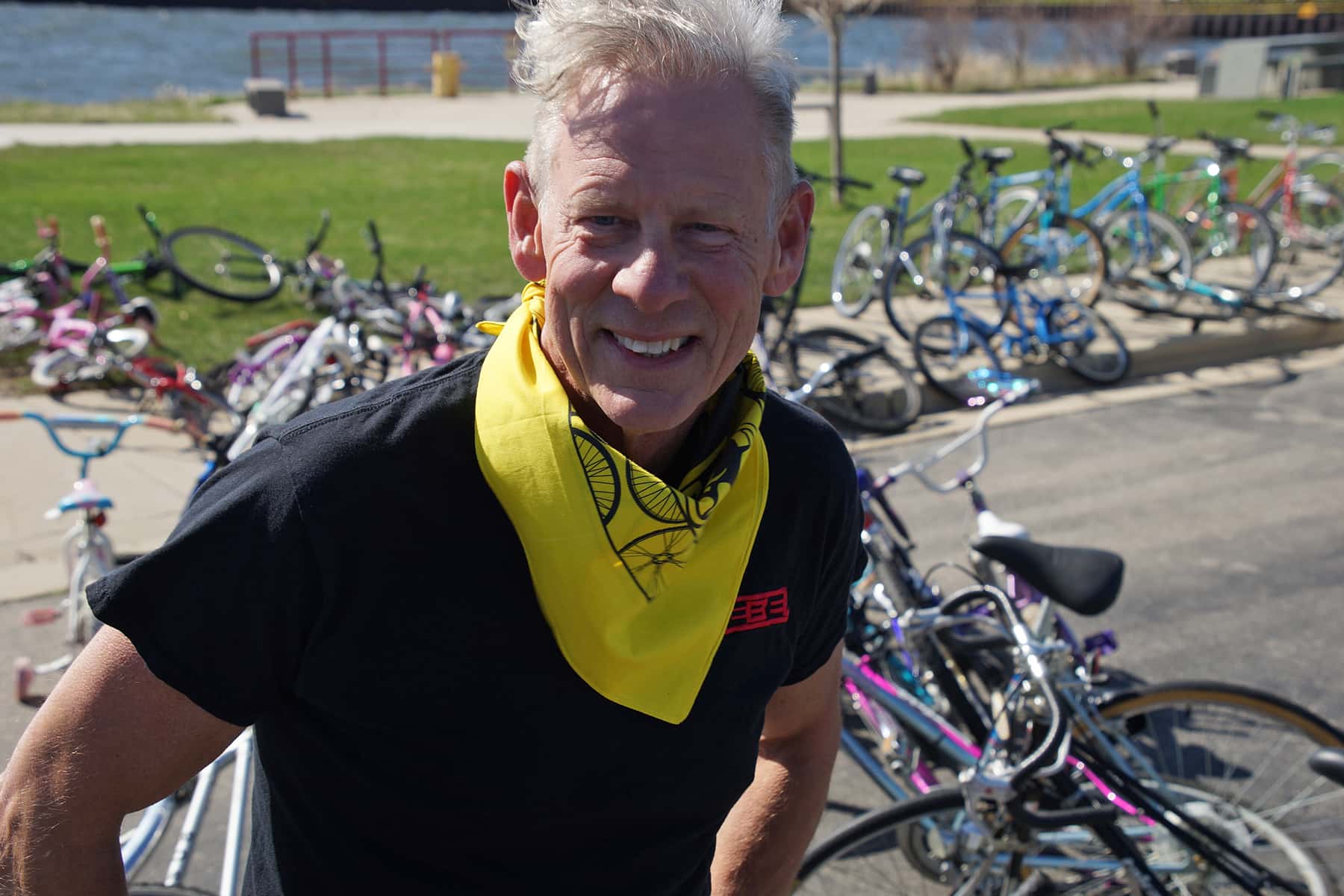 Rebel Converting, a Saukville-based manufacturer of hospital-grade disinfectant wipes, is tripling its initial donation of face mask kits in Wisconsin, and through the MaskUpMKE program will help deliver several million to those in need.
After learning of the shortage of masks nationwide and how it was affecting Milwaukee, Thaddeus Kryshak, a recent graduate in engineering and physics from the University of Miami, spoke to his father Mike Kryshak, owner of Rebel Converting, about how they might be able to develop face masks from the materials that the company was already using in its production process.
"The same fabric that we use in our medical-grade disinfectants wipes happens to come from the same roll of polymer that surgical mask are made of, so it has very good filtration properties," said Mike Kryshak, Owner of Rebel Converting.
The company then shifted production in early April to meet the growing need for personal protective equipment. Demand for face masks grew exponentially with daily requests pouring in from hospitals and clinics, EMTs, first responders, emergency food workers, city bus drivers, nonprofits and retirement homes.
"Our initial donation was a million masks, it was the very least we could do to help people out," said Kryshak. But then we saw that amount wasn't going to come close to handling the need Southeastern Wisconsin had."
To help meet the ongoing and increasing need, Kryshak pledged that his company would increase its donation to 3.5 million face mask kits. Additionally, Rebel has been supplying the materials to Wisconsin manufacturers that are donating the manpower and space to assemble the masks.
Rebel began donating mask "straps" to major national retailers whose tailors are sewing them and working with health care systems to distribute them nationally. So far, those masks have been distributed to Washington, Oregon, Texas and California. Plans are currently underway to expand to New York, Illinois, New Jersey, and Florida.
Milwaukee nonprofits have also organized hundreds of volunteers by forming the Milwaukee Civic Response Team. It has provided the project strategy, funding, and volunteer management for a campaign called MaskUpMKE – a social awareness campaign that was initiated by Rebel to encourage Milwaukeeans to wear face masks when they go out.
As part of the MaskUpMke effort, UniteMKE and the Office of Violence Prevention at City of Milwaukee Department of Health mobilized to get masks to individuals standing in line at the polls during the controversial April 7 election. UniteMKE also got them into the hands of community health workers and immune-compromised.
Fiserv Forum recently joined the project to serve as the distribution site for 2.5 million masks for the MaskUpMKE campaign. The first of three semi-loads of kits were delivered to the location on April 22. The Bucks opened Fiserv Forum to house the growing supply of kits and to speed up the delivery of masks in the community. Along with Rebel Converting, Fiserv Forum and the Bucks, the organizations involved in MaskUpMKE include Medical College of Wisconsin (MCW), Greater Milwaukee Foundation, Zilber Family Foundation, United Way of Greater Milwaukee and Waukesha County, and Milwaukee Habitat for Humanity.
"Rebel Converting is proud to be producing 3.5 million face mask kits for our community, and we are excited to receive this substantial commitment from the Bucks and Fiserv Forum to help us to stop the spread of COVID-19 and save lives," added Kryshak. "We are looking forward to working with the Bucks and Fiserv Forum to help us distribute these mask kits and get them into the hands of our local health care heroes and community workers in the metro Milwaukee area."
Healthy individuals are invited to visit the MaskUpMKE website to sign up for a volunteer shift, and schedule a time to drive by the Fiserv Forum loading dock to pick up a box of mask kits to take home for assembly. Kits contain instructions and materials to make 700 masks. Each mask takes approximately one to two minutes to assemble. Volunteers will return their boxes to Fiserv Forum upon completion.
Before and after completion, volunteers will answer questions to ensure they are not exhibiting COVID-19 symptoms, among other precautions. After a 72-hour quarantine period, the masks will be distributed to the community at risk of contracting COVID-19.
The
Milwaukee Independent
began reporting on what was then referred to as the mysterious "Wuhan Virus" in January 2020. Other local media did not picked-up on the story until many weeks later. Our early features focused on the economic impact, social issues, and health concerns long before other Milwaukee news organizations even mentioned the coronavirus. Over the following year, we have published hundreds of articles about the pandemic and how it has affected the lives of Milwaukee residents. This extensive body of work can be found on our
COVID-19 Special Report
page, a chronological index of links by month. Our editorial voice remains dedicated to informing the public about this health crisis for as long as it persists.
For medical resources, please visit the
CDC's COVID-19 page
or the
Wisconsin Department of Health Services
. All editorial content published by
Milwaukee Independent
can be found at
mkeind.com/COVID19
. With a mission of transformative journalism, our staff is free from commercial bias and are not influenced by corporate interests, political affiliations, or a public preferences that rewards clicks with revenue. As an influential publication that provides Milwaukee with quality journalism, our award-winning photojournalism and features have helped to achieve a range of positive social impact that enriches our community. Please join our effort by entrusting us with your contribution. Your Support Matters -
Donate Now